Content note: this post refers to lesbophobic discrimination, including threats of violence.
Hello! I'm Lucy, an archivist and PhD researcher from the University of Sheffield, and I'm cataloguing the Camden Lesbian Centre & Black Lesbian Group Archive as part of my placement with GWL. This blog is the first in a series tracing the history of the UK's only dedicated lesbian centre.
Tucked down a narrow, leafy street on the edge of Camden, just behind the hustle and bustle of London Euston and King's Cross St Pancras stations, is the former site of the UK's only dedicated lesbian centre. It doesn't bear the usual markers of a heritage site – no commemorative plaques, no signage, not a QR code in sight – but for nearly a decade, 54-56 Phoenix Road was home to Camden Lesbian Centre and Black Lesbian Group (CLC&BLG).This shuttered shopfront was once a thriving nexus of the local lesbian community, providing a space for women of all backgrounds to come together, forge support networks, and organise in the face of active hostility from society and state. The history of the CLC&BLG's Phoenix Road premises reveals a lot about the growth of women's and queer spaces in the 1980s – and about how and why so many of these venues have sadly since closed their doors. In this blog we'll chart the early beginnings of the Centre and the search for a physical space, from fighting discrimination to picking up the keys.
Establishing CLC&BLG
The Camden Lesbian Centre Project began in 1982 when a group of white lesbians met via the Kentish Town Lesbian Group, a loosely organised community which held regular socials at the neighbouring Kentish Town Women's Workshop. The Kentish Town Lesbian Group then became the Camden Lesbian Working Group when it was adopted as a subcommittee of Camden Council Women's Committee. Members of this working group then successfully applied to the Council for a grant, which allowed them to begin realising their ideas for lesbian spaces – albeit without a permanent venue yet.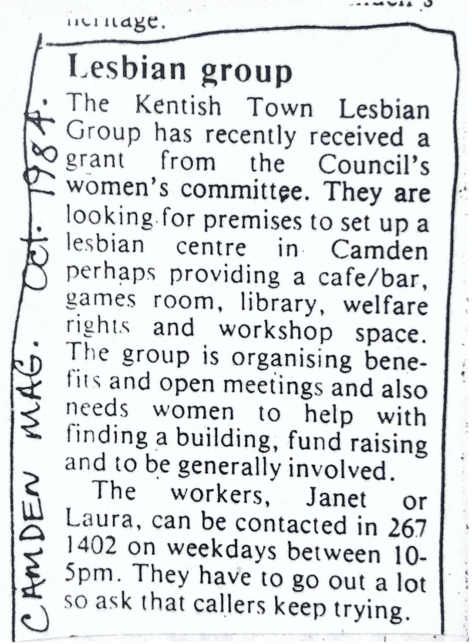 Two years later, the Camden Black Lesbian Group (BLG) was established as a support group specifically for Black lesbians and lesbians of colour. The term 'Black' was used in the political sense, encompassing 'lesbians originating/descended from Africa, Asia (i.e. the Middle East to China, including the Pacific nations), the original inhabitants of Australasia and North America, [and] Latin America.' Contending with the intersecting oppressions of racism and cultural difference, along with misogyny and lesbophobia, Black lesbians and lesbians of colour were often alienated from other lesbian and gay spaces, which were overwhelmingly white. In the words of one BLG member:
Our sexuality as Blackwomen has been historically denied and distorted. All too often issues of sexuality [and] lesbian identity are discussed without taking account of our cultures and experiences. The group has helped Blacklesbians to gain strength and to affirm our identities in a space free from racism and anti-lesbianism.
While carving out its own space, the BLG did work closely with the Camden Lesbian Centre Project and in 1985, the two groups merged on the agreement that the Management Committee must comprise at least 50% Black lesbians and that the BLG remain an autonomous group. As such, the group held separate meetings and ensured that the Centre upheld its commitment to holding safe, supportive spaces for Black lesbians and lesbians of colour only. Along with coordinating courses, workshops and events, many BLG members were centrally involved in organising for Black women's struggles and international solidarity campaigns, including those across Latin America, in Apartheid-era South Africa, and in the Philippines. Much of the material in the CLC&BLG archive is testament to the leading roles that Black lesbians and lesbians of colour have always played in revolutionary feminism, and it provides a necessary corrective to the continual erasure of this history.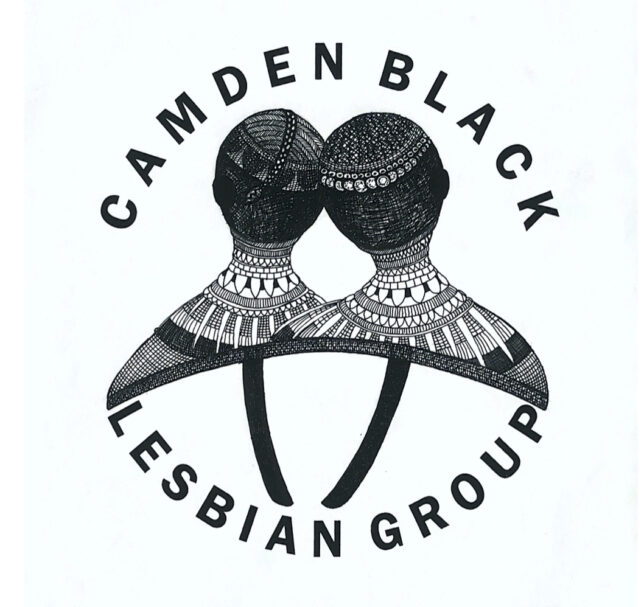 Finding a space
Although CLC&BLG merged in early 1985, it would take time to find a venue. Here, it's important to note the context in which the project emerged and the challenges that the group faced: namely, a lack of resources and mounting hostility toward queer communities, bolstered – and actively enacted – by the central Conservative government. In 1986 Margaret Thatcher abolished the Greater London Council, the Labour-led local government body which foregrounded the rights and freedoms of minorities by establishing committees representing women, gays and lesbians, and people of colour. As well as providing grant funding to community and grassroots organisations like CLC&BLG, these committees also wielded some political power; by funding and advocating for the communities they served at local government level, they provided some institutional representation for their struggles. Having been initially supported by the GLC, the Camden Lesbian Centre and Black Lesbian Group found themselves looking for a home just as the GLC was unceremoniously dismantled and some of their core supporters were stripped of their powers.
Coupled with funding issues, CLC&BLG also contended with the antagonism that came from being a visibly queer group, particularly as the Government pushed ahead with plans to criminalise the 'promotion of homosexuality' through a homophobic law known as Section 28. Although CLC&BLG had found premises by the time Section 28 came into effect in May 1988, they were venue-hunting in the same climate of self-censorship and scarcity that forced the closure of many such spaces from the late 1980s onwards. Scoping out potential venues required discretion, and CLC&BLG often had to cloak what they really did – as one member wrote, '[w]e feel that our best hope is to try and get a Council-owned building, as we've found estate agents to be extremely unhelpful to community groups in general and to lesbians in particular.' In an effort to minimise some of the blunt discrimination they faced, and following a long tradition of queer euphemism, CLC&BLG adopted the trading name of 'Friends of R. Lilian' in subtle homage to local lesbian woman Dame Lilian Barker, the UK's first female assistant prison commissioner. They also relied on support from local councillors – Labour's Anna Bowman and Kate Allen were both vocal advocates – and existing women's and community centres, many of which provided temporary meeting spaces. Above all else, though, CLC&BLG was a grassroots project and in its archive, countless posters like the one below show that collaboration and community consultation were mainstays in its search for a home.
There were plenty of false starts. The group got as far as an architectural survey for a property on Carol Street before the private seller pulled out, and Camden Council's Lettings Department – predictably – gave preferential treatment to other community groups. Finally, in August 1985, a letter arrived from the Lettings Officer: a ground-floor unit on Phoenix Road was vacant and would CLC&BLG like to view it? It was half the size of what they wanted, but after a fruitless search elsewhere, the group applied to change its use from retail to community space. They were met with intense resistance from some residents who sought to depict lesbians as a corrupting influence on young women, with one local tenants' association circulating a petition that decried the 'moral danger' posed by CLC&BLG's arrival. A spat played out in the readers' letters pages of the local papers, with local SDP candidate Betty Wilson emerging as one of the most vocal – and vitriolic – critics of the proposed Centre. 'Concerned parents' wrote anonymously of their distress at the venue's proximity to their children's schools and (inaccurately) portrayed CLC&BLG members as not local to the area. As the row reached a fever pitch in February 1986, Cllr Anna Bowman defended CLC&BLG from these smears in the Evening Standard:
There are about 8,000 lesbians living in Camden and paying rates to Camden Council, it seems reasonable, therefore, that they too should benefit from Council services.
On Tuesday 18 February 1986, Camden Council granted the change of use to CLC&BLG at a public meeting – and chaos ensued. Members of the tenants' association that had petitioned against the Centre erupted into threats of violence and lesbophobic jeers, threatening to 'have buckets of piss thrown at [members]' and accusing the women of sexual perversion. In the CLC&BLG archive, carefully annotated news cuttings document the mixed reactions – shock, condemnation, support – to this public attack. The extreme hostility and aggression toward the group intensified in March 1986 when, following an International Women's Week event held by CLC&BLG at a regular hire venue, Hampden Community Centre, they received an anonymous arson threat filled with slurs. Threats such this one roused very real fear – the Met Police, notorious for their abuses of power and discrimination against minorities, couldn't be trusted to protect and serve queer communities. Instead, support and protection came in the form of community care, with grassroots organisations like the Lesbians and Policing Project (LESPOP) and feminist self-defence practitioners providing many women with the vital information and skills they needed to survive.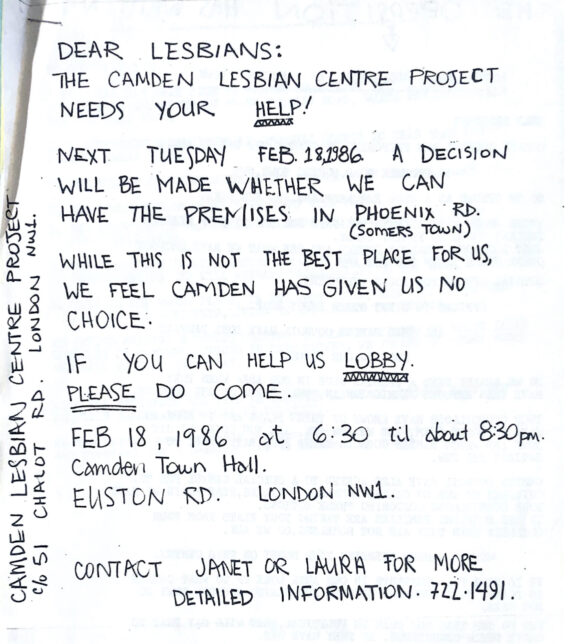 The key to the door
Despite the widespread hostility, the group finally signed off the lease and got the keys to 54-56 Phoenix Road a full seven months later, in September 1986. Next, all hands on deck were needed as the group began to gauge the lesbian community's needs, get word out, and get the Centre fit for purpose and ready to open. In the next post in this series, we'll explore CLC&BLG's efforts to build a space that was uniquely theirs by tapping into a network of feminist design co-operatives – and dress to impress, because we're going to the Centre's opening party at Phoenix Road!
About the author: Lucy Brownson (she/her) is an archivist and PhD candidate at the University of Sheffield. In her doctoral research, Lucy explores the history of archival practices at Chatsworth House through a feminist lens. She's also an organiser of Sheffield Feminist Archive, a community archive documenting grassroots feminism in the Steel City. Lucy is undertaking a placement in the GWL archives from July-October 2021; you can keep up to date with her work on Twitter.