My 1960s Wedding, by Nancy Macdonald
I met my husband in 1959 when we were both working in a builders Ironmongers on Hope Street in Glasgow. I was 17 years old and a junior short-hand typist and he was a 20 years old storeman. We both went to the same dance halls, particularly the F&F in Partick and that's where the romance began. We courted for a year and then he proposed. Our Wedding was a year later on 30th June 1962.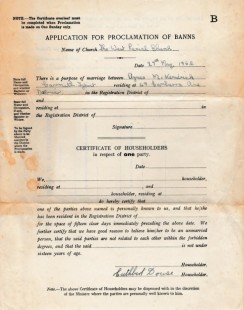 About three weeks before the wedding you had to apply to the local registry office for entitlement to be married and these were the 'Wedding Banns'. These were displayed in the window of the Registry Office for the purpose that anyone could put in an objection if they knew you were already married (which is an offence) or if you were too closely related to your spouse to be. Also being under 16 was an offence. A householder also known to the bride or groom had to witness the signing of these Banns and testify their personal knowledge of either party and where they lived. These are mine [on the left] which my Dad had actually held on to and kept safe all these years.
The lead up to the wedding was quite hectic getting prepared for the 'Big Day'.
I hired my wedding dress from a shop on Union Street in Glasgow and it was about £20 to hire. The style of the dress was fitted heavy lace in the skirt to the waistline and finer lace above in the bodice and down the arms. The skirt part had a stiff underskirt to make it stand out more. I bought my headdress in Lattas, a shop on Stockwell Street in Glasgow. It had a satin rose with a clip to the veil. I felt very dainty in it and was very pleased in it.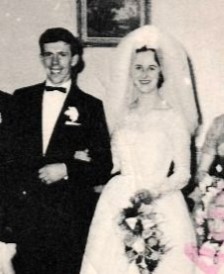 We had been given many gifts, including 10 table covers which was a usual gift then (we still have one unopened). The 'Show of Presents' was another big event and it was held over three days – one for each of the families and the third night for my friends and workmates.
On this night of my friends and workmates showing they dressed me up in a fake wedding veil and a coat covered on decorations. I was taken round our street in a barrow with a potty on my lap that was half filled with salt. After walking so far the girls would then form a circle in the middle of the street and put the potty in the middle. I had to jump over it three times while they sang pre-wedding songs and rhymes. One song was…
"Down in yonder meadow where the green grass grows, where Nancy Carruth bleaches all her clothes, she sang, she sang so sweet that she sang Lewie Macdonald across the street, Shecuddled and kissed him and sat upon his knee and said dear Lewie will you marry me"
And one of the rhymes they would chant went…
"Hard up tin can Nancy Carruth's got a man horray"
They also had old pots and pans with them that they banged on to make sure they were heard. They would stop any men who passed to have them kiss the bride and put a money donation into the potty. That was not too bad as many brides were taken round pubs and made to kiss the men as they put donation in the potty. The potty, the salt and the money were traditionally meant to be for fertility, good luck and prosperity. This night was called a 'Bottling Night' but nowadays it is called a 'Hen Night' and off to Spain for three days!
We were married in the West Church on Kilbowie Road in Clydebank and it was a lovely sunny day.
Our Reception was held in the Windsor Rooms which was the upstairs part of the City Bakery shop on Glasgow Road [seen on the left of the photograph below].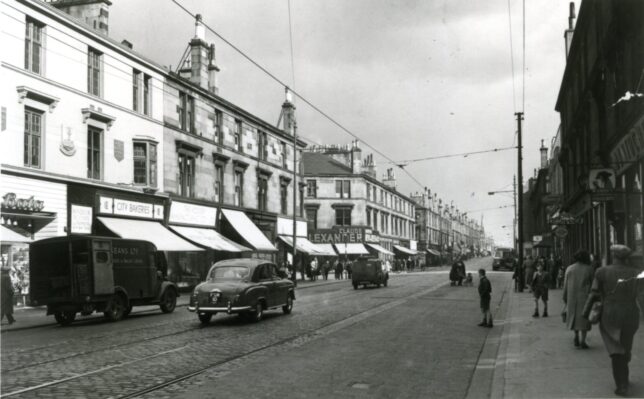 We hired the Windsor Room from 6pm till midnight for our 60 guests. They got a meal, we had a three-piece band and it was a free bar as our parents saved every week to do this for us so a great night was had by all. The full catering cost was £55.14p and I still have the receipt for this [below].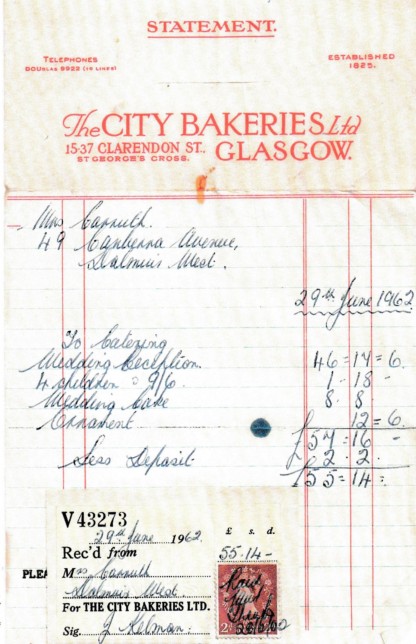 We had many congratulation cards and Telegrams from people who could not attend our wedding. These were read out by our Best Mans after his speech. (There is a copy of one of my beautiful telegrams [below])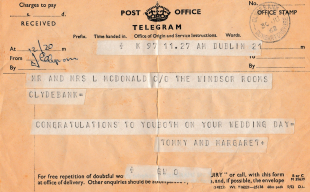 We then left our reception around 10pm to catch a train at Glasgow Central Station for our Honeymoon in Saltcoats (no less). We were given this 'room and kitchen' there for two weeks as a wedding gift from a friend. It was the top floor flat and there was not a light on the landing and we had trouble getting the key into the door. After an hour we discovered the key went upside down. No more said!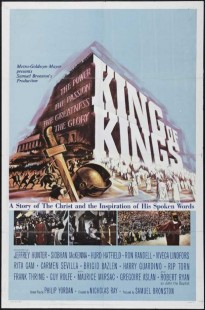 Ten Pin Bowling had become very popular at this time and there was a bowling alley very near the 'room and kitchen' and as we both loved this we frequented and played it every day as well as we played putting every day too.
On our second last night I also remember us going to see the film 'King of Kings' at the cinema which had just been released around that time.
We got dressed up to go to see this film but our money was getting short. My husband put his hand in his top pocket of his jacket and found a £5 note he had forgotten about. This would be the equivalent of £74.58 today, so we were rich again as we were almost down to our last.