To mark Vote 100, our Women Make History detectives have been researching Scottish suffragettes and have developed two trails round the west and east of Glasgow.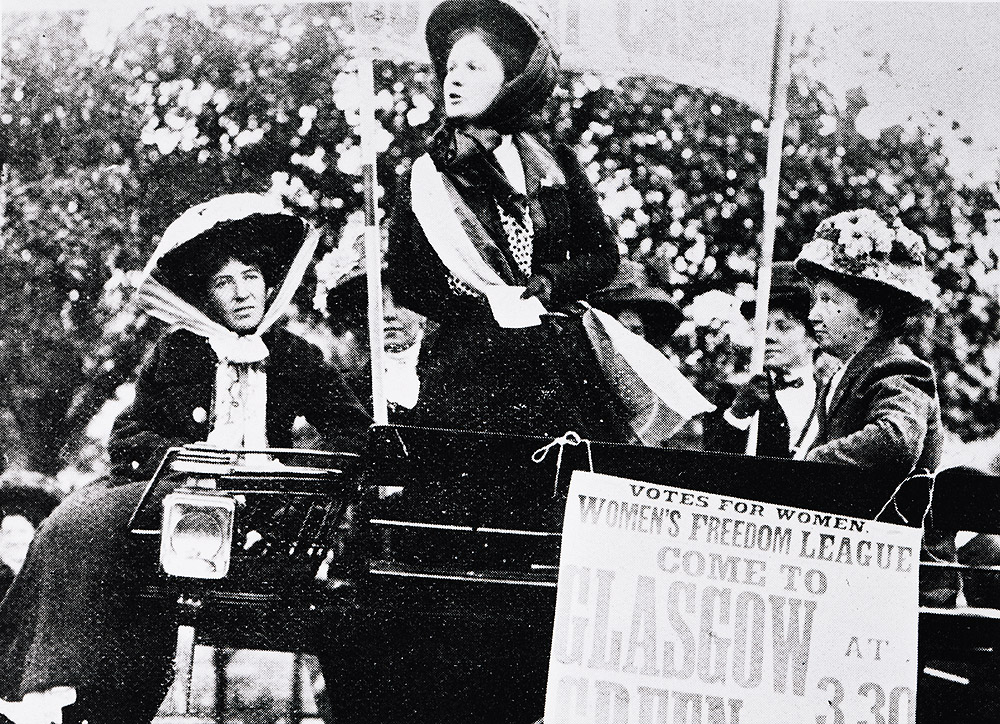 Suffragettes have been honoured with trees and buildings (albeit temporarily) in the west of the city, but who were they? Our Suffrage City West Trail tells the stories of these women and more.
Download the map and/or audio tour to follow the trail. The full trail is approximately 6km / 3.7 miles and will take 1.5 hours at an easy walking pace. The terrain is flat pavements but includes a steep hill on University Avenue. If you wish to tackle the trail in sections, the map indicates transport links at different stages of the trail.
Suffragette City West Trail Map
The Suffrage City West Trail is available as a map, so you can enjoy the highlights of the trail in your own time. The map is free to pick up from GWL or you can download a copy here.
Download: Suffragette City West Trail Map (PDF)
Suffragette City West Trail Audio Tour
The audio version is available to download below in either MP4 or MP3 versions. Please note that the audio tours are supplied as a .zip folder – you will have to download and un-zip this folder before transferring the audio tour to your audio player or smart phone.
Explore further
Explore the Suffragette City East Trail, or find out more about the women who campaigned for women's right to vote in Scotland and across the world in Vote 100: The Moving Story.
Or find out more about Glasgow's women in our original Heritage Walks.
Audio Tour Credits
Script editor: Heather Middleton
Narrators: Heather Middleton and Marie Campbell
Additional voices: Chas Lalli, Fraser Middleton
Sound production: Chas Lalli
Location photographs: Heather Middleton
March of the women performed by Glasgow University Chapel choir, directed by Katy Lavinia Cooper; lyrics Cicely Hamilton; music Ethel Smyth.
Les Rues de Londres Valse performed by Zain Cruickshank; composed by Henri Laurent.
Women hail the dawn written and performed by Kittlin (Lesley O'Brien: guitar and vocals; Mags Smith: vocals and cajon; Maddi Cassell: fiddle).
Sound FX: Audio Productions; All Sounds; NBeats; Sound Effects Guy; Sound Effects Archive; Sound Effects Laboratory; Sounds Recorded; Utoobasaurus