If you are interested in applying to volunteer please read the "How to apply" information below. The next round of recruitment will be in Spring 2024 but you are welcome to submit an application any time (please note our priority groups in the section "Who can apply").
Volunteers have always been at the heart of our work and contribute to everything we do.
Our Volunteering Programme supports dozens of volunteers each year, aiming to give everyone the training and support they need to allow them to find their place within the organisation, regardless of how much or how little previous experience they have, and whatever their reasons for volunteering.
What volunteers do
"Volunteering helps my reading, learning about the archives and about history, meeting new people, getting involved in events, learning new skills"
Volunteers are involved in all aspects of our work and all our projects:
delivering workshops
tour guiding
researching our archive
cataloguing
staffing reception
doing admin work
teaching literacy and numeracy
and much more.
We always try to find a volunteer role which matches individuals' interests and motivations. Some come with particular skills, others may not have worked before, but are keen to learn and try new things.
You can find out more about what our volunteers are up to by reading their volunteer stories here!
Who can apply
Due to the ongoing high demand for volunteering with us and in line with our Equality, Diversity and Inclusion Action Plan, we are currently only accepting new applications from:
• Women who live in our neighbourhood (G40 postcodes)
• Women who identify as having a disability, long-term or chronic health condition, sensory impairment, cognitive or learning disability or mental health condition
• Women of colour or women from an ethnic minority
We also accept referrals from organisations and services providing support to women who they feel would benefit from volunteering with us (whether they identify with any of the above or not). Please get in touch to find out how to make a referral.
We also prioritise applications from women who are familiar with our work through borrowing books, attending events, groups or exhibitions. Sometimes we need support with specific aspects of our work and we put a call out for volunteers who have particular skills or are interested in specific projects. You can see any current call-outs here.
All women-only opportunities and events are inclusive of trans and intersex women, as well as non-binary and gender-fluid people who are comfortable in a space that centres the experiences of women.
About our recruitment policy
We are of course aware that our current recruitment policy might be a disappointment for those who do not fall within our priority groups. We would love to involve an indefinite number of volunteers in our work but sadly, we simply do not have the capacity to offer opportunities to everyone who is interested.
This policy will be reviewed regularly, so please visit this page again if you are still interested and available to get involved, and take a look at 'Other ways to get involved' below.
What we are looking for
"It has really been a whole amazing experience for me l never thought volunteering could have made me feel so alive and wanting to learn more. Pushing me but in a good way. Helping with the amazing work that the GWL does and being part of this organisation who value their volunteers."
Above all we are looking for volunteers who:
• Share GWL's vision and values
• Are familiar with our work, through borrowing books, attending events, groups or exhibitions
• Are flexible, friendly and fun
• Have a positive, optimistic outlook
• Value others' contributions and views
• Are supportive team members
• Are willing to learn
• Have a desire to make their experiences of working as enjoyable as possible
We are also keen to have volunteers who are interested in developing: communication skills; an understanding of the GWL team structure and function; an understanding of feminism, the importance of 'women's space' and the history and uniqueness of GWL; an awareness of equalities issues (racism, homophobia, disability issues, transphobia, mental health issues, the impact of violence against women etc.)
There is no set requirement in terms of time commitment, which can range from a few hours per month to a full day per week. In addition, we ask volunteers to make time for an induction (1.5 hours) and to attend one of our regular This Is Who We Are sessions (3 hours) to find out more about our history, values and work.
Please note that we have limited volunteering opportunities available on the weekend. If you are interested in volunteering but unable to get involved during our core opening hours (Tues-Fri) please drop us an email at info@womenslibrary.org.uk.
What we offer
"Allows me to engage with art in a space where I feel comfortable and confident. Makes me happy just being in the library and feeling part of it. Provided a routine and regularity to my week."

"Having not worked for a number of years it has given the confidence to apply for jobs and to build my confidence in a work situation doing work I really enjoy."
All volunteers receive a full induction when they start, ongoing support from staff and more experienced volunteers, and training as required.
Support is tailored to each volunteer and takes into consideration individual needs and motivations for volunteering.
We endorse the social model of disability and are keen to make volunteering accessible to women with disabilities by removing any barriers which might hinder volunteering
We tailor roles to suit our volunteers' interests, confidence, skills, literacy, language skills and availability
We reimburse travel expenses (up to £5.50 a day), daily, easily, and when necessary in advance.
How to apply
If you identify with any of our priority groups we'd love to hear from you. We recruit three or four times a year and the next round will take place in Winter 2023.
You can download an application form and email it to info@womenslibrary.org.uk or post it to the address on the form.
GWL-Volunteer-Application-Form-2023
When completing the form don't feel you have to share personal or sensitive information unless you are comfortable doing so, and be assured that all information is treated in the strictest of confidence and only used in order to make volunteering as enjoyable and beneficial for you as possible.
If you need any assistance completing the form or have any questions, please contact our Volunteer Coordinator Gabrielle or Volunteering Programme Assistant Ren: phone 0141 550 2267 or email info@womenslibrary.org.uk
Other ways to get involved
If you are not eligible to apply for our Volunteering Programme, you may like to support us in these ways:
• Recommend us to a friend or bring a friend with you next time you visit
• Join our fleet of PaperGrrls and help us spread the word
• Join our Digital Book Group
• Become a Friend of GWL
• Follow us on social media and sign up to our monthly newsletter
• Come along to a Regular Event: Story Café, the monthly Creative Writing Support Group, or fortnightly Women Making It.
---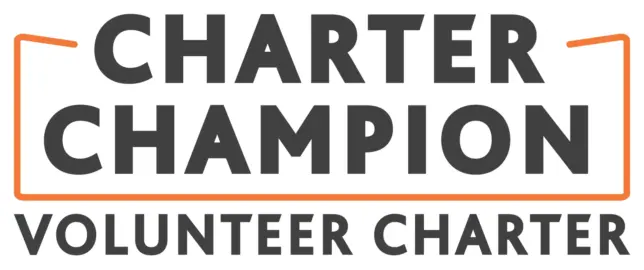 We recognise and are committed to the values and principles of the Volunteer Charter: helping to ensure that volunteers are engaged in meaningful, inclusive and legitimate tasks which do not undermine the role of paid workers.
---
The Volunteering Programme is generously funded by the Robertson Trust and the National Lottery Heritage Fund thanks to National Lottery Players.