Our Decoding Inequality project will use feminist object interpretation to generate meaningful discussion on issues of women's structural inequality with our visitors and learners.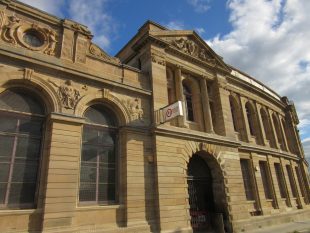 We are happy announce that we have received funding from Museums Galleries Scotland to conduct a process of feminist interpretation or 'decoding' of our museum collection. This will result in a new body of innovative object interpretation and a temporary exhibition with accompanying learning programme, outreach handling resource and an online digital collection and interpretation resource.
Our exhibition (launching Wednesday 6th March 2019) will frame a selection of objects in feminist analysis and theory to produce narratives of structural inequality. The exhibition can also be explored online: Decoding Inequality Online Exhibition.
The project will support visitors to consider the social history of objects relating to women's history, illustrating their historical and contemporary inequality – and linking interpretation with political campaigns for reform such as reproductive rights, domestic abuse, maternity leave, equal pay, women's suffrage, sexual harassment, and sexual violence.
The catalogue and resulting exhibition will provide a foundation for GWL's rapid response collecting, exhibition and interpretation strand. This will  support staff across the organisation in the longer term to create exhibitions and outreach archives of existing items alongside newly acquired objects of timely relevance that tell a larger story about contemporary issues of women's inequality and their historical provenance.
On Friday 15th March 2019 we will launch our sectoral report at our Decoding Inequality event, sharing our equalities-led approach to object interpretation with museum and archive colleagues in the sector.
For more information contact the Decoding Inequality Coordinator, Rachel Thain-Gray rachel.thain-gray@womenslibrary.org.uk