Would you like to be involved in an exciting project exploring writing by women in Commonwealth countries? And along the way play an active part in developing a new Commonwealth Women's section for the reading collection at Glasgow Women's Library?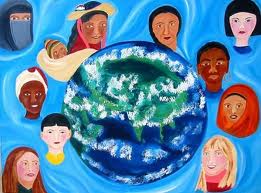 In the year that Glasgow hosts the Commonwealth Games, this group will explore together contemporary writing by Commonwealth women. In these reading-aloud sessions we will uncover and share stories and poems reflecting women's experiences around the globe, and take time to reflect on the similarities and differences.
There will also be fantastic opportunities – regardless of previous experience – for those who would like to develop skills in research, review writing and creative writing, as well as direct contact with readers and writers abroad. This group will be led by Reader in Residence, Magi Gibson. The group is free and open to women only. Come along when you can!
Fridays, 2-3.30pm, until 29th August during our Summer programme.
Check our Events Calendar for upcoming sessions.
Funded by the National Lottery through the Celebrate programme.