The Bower of Bliss exhibition by Linder Sterling was commissioned in 2018 by the Glasgow Women's Library and Glasgow International Festival.
The outcome of this commission was a short film, artwork, a Bottle of Ginger drink and an artists' talk. All of these were displayed at the exhibition which took place at the Glasgow Women's Library as part of the Glasgow International Festival.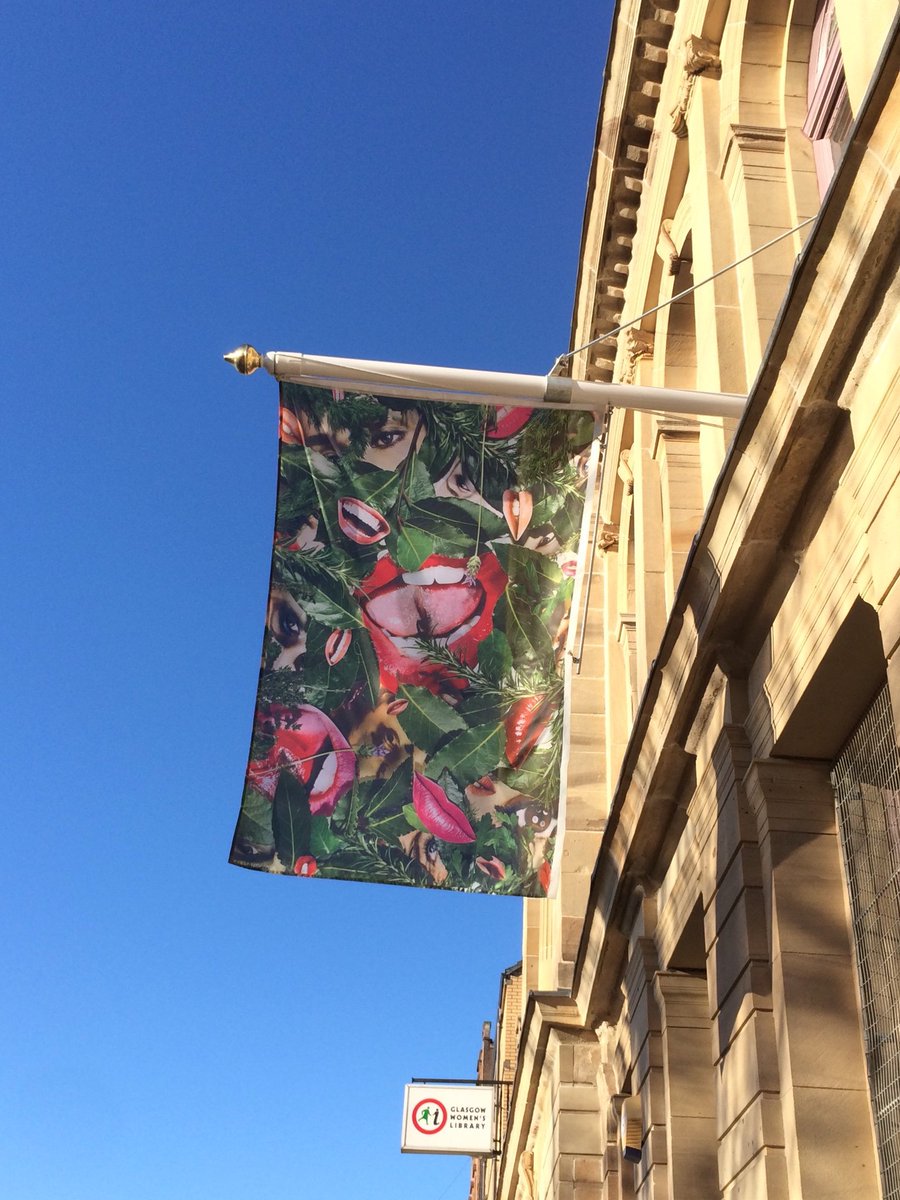 The main themes throughout this women-led project were empowerment, female agency and relationships. The inspiration behind this came from women's history; with research Linder conducted taking place at the library and Chatsworth House, where the film was shot. She utilised the library's archives and found inspiration from the historical artifacts that lay in it. These included radical feminist artifacts, lesbian texts, different artworks, and a multitude of historical sources associated with the persecution of women accused of being witches, chants and the alchemy of royal anointing. Alongside Linder's artworks, sketches, items which inspired her throughout the process, and works by Louise Gray were also showcased, with Gray's work had also been specially curated for the Bower of Bliss film.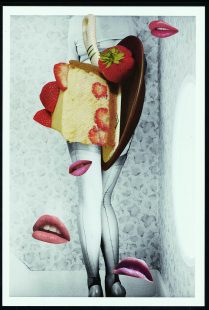 Linder Sterling is a Manchester-born artist, who began to come to prominence in the late 1970's punk era. She began using her signature photo-montage technique, which she has used throughout her career since, developed and applied it to many of her artworks.  She is well known for doing album cover work for the Buzzcocks "Orgasm Addict" 1977, and being a collaborator of Morrissey, photographing him for the album "Very Best of Morrissey". She was also awarded the Paul Hamlyn Foundation Award in 2017. Bower of Bliss was one of three commissions she had in 2018.
Bower of Bliss was launched at the Glasgow Women's Library as part of Glasgow International Festival of Visual Art on Thursday, April 19th and ran until Monday, May 7th, 2018. 
---
---
---
Artist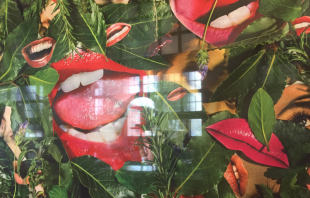 Linder Sterling – Linder Sterling is an internationally famous artist, most recognised for her photo montage technique and having worked with the likes of the Buzzcocks and Morrissey. She is known for her punk origins in the art world and also was part of the punk band called "Ludus". There was also another Bower of Bliss installation for Art in the Underground, in London's Southwark Station in later 2018.
Commissioned by Glasgow Women's Library and Glasgow International 2018 with support from Outset Scotland and Clyde Gateway.
Glasgow International Festival – The Glasgow International Festival takes place every year, over 18 days in the springtime. It is a contemporary arts festival, celebrating the artists around the world and the art scene in Glasgow.
https://glasgowinternational.org/events/linder-2/ 
Outset Scotland – Outset Contemporary Art Fund is a charity which gathers donations from partners, donations, supporters, and patron circles to help new art for any type, range or size of audience it can. It is based in 8 countries, including Scotland.
Clyde Gateway – Clyde Gateway is the largest regeneration programme in Scotland. It is in partnership with Glasgow City Council, South Lanarkshire Council and Scottish Enterprise, with backing from the Scottish Government directly and financially. They helped to provide the Glasgow Women's Library with the very building it is based today.
Collaborators
Kirstin Halliday – Played Bess of Hardwick in the Bower of Bliss film. She is a dancer, and previously studied at the Scottish School of Contemporary Dance and at SMASH Berlin, doing two months of training in experimental physical performance.
Lauren Fitzpatrick – Played Mary Queen of Scots in the Bower of Bliss film. She is an actress and dancer, previously collaborating with Linder on a number of different projects, including "Hollywood Medieval" with Maxwell Sterling at IMMA in Dublin.
Louise Gray – She created the costumes for the Bower of Bliss film. She is a fashion designer with a background in fashion and textiles, and has collaborated previously with Marques' Almeida at London Fashion Week, the Victoria and Albert museum and more.
Fatosh Olgacher – She was the cinematographer for the Bower of Bliss film. She previously studied Msci Mathematics at the University of Nottingham, and has combined her passions for film and math to create art.
Maxwell Sterling – He is a composer and musician who worked on the music for Bower of Bliss. In 2016, he released his debut album "Hollywood Medieval".
Teresa Winter – She worked on the music for the Bower of Bliss film. She is an artist which worlds with ambient, avant-pop and psychedelic music paradigms. Her first vinyl record was released with label The Death of Rave, called "Untitled Death".
Bottle of Ginger – Bottle of Ginger, a community drinks cooperation based in Bridgeton, East End of Glasgow helped to create a bespoke cordial for this exhibition, in a collaboration with the library, with Linder designing the label on the bottle.
Just click on the links below for more information on the Bower of Bliss 2018 events.