Our librarian has been funded by Glasgow City Council since 2005, and plays a vital role in making our library books accessible to library users, visitors, staff and volunteers.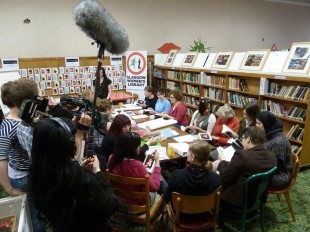 Encouraging a love of reading and writing and an appreciation of women's writing is at the core of what makes Glasgow Women's Library such an amazing, inspirational place. Based on our experience that access to books and reading can be life-changing for women, the librarian is working hard to support and encourage library users to develop and expand their reading horizons. Reader development activities include: encouraging women to recommend or review books that have inspired them; themed book displays to encourage women to try new or unusual books from the library collection; taking part in national initiatives such as World Book Night; and chatting informally to women about their reading and gently supporting them to try something new.
A major part of the librarian's role is the classification and cataloguing of the library's extensive book collection. This is a huge job, since the library's collection grew for many years without being classified. We are making great progress with this, and were delighted to launch our online library catalogue in September 2011. This is a really exciting development for us, making it possible for the first time in the library's history for people to search the library collection online.
The library collection is a unique and important resource in Scotland, so the librarian is always busy helping people with their research enquiries. Examples of recent enquiries include: the history of women in Scottish football, speeches by UK lesbian activists and iconic female figures in literature and fine art.
The librarian is integral to the work of the other library projects, supporting their work with books from the library collection. For instance, the Adult Literacy and Numeracy Project uses books from the library collection to support their learning programme, and lifelong learning courses such as Steps to Social Science and Care have specially selected reading lists for use by the women attending the course. The librarian also works closely with the archivist to manage, develop and promote both the library and archive collections.