Joining the library is easy and completely free!
Joining means you can borrow books from our lending library with your very own GWL borrower card, but you're welcome to come and visit us and browse our collections without becoming borrower.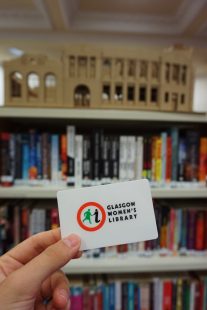 To become a borrower, all you need to do is pop by the Library, fill in our Borrower's form with your name, address, and email or phone number, and get your very own library card. You can start borrowing straight away!
If you would like to support our work, you can become our Friend from as little as £2 per month. At Glasgow Women's Library we have been supporting women from all walks of life across Scotland through our life-changing work since 1991. Help us continue this work and celebrate the lives, histories and achievements of women. You can also visit our online shop which is a treasure trove of books, heritage walk vouchers, posters and special GWL merchandise.
If you would like to keep up to date with all our news, you can join our mailing list. We send out a monthly newsletter with details of what's coming up in the Library.
What can I borrow?
You can borrow 8 books at one time.
You can borrow fiction books for 4 weeks and non-fiction books for 2 weeks.
You can renew your books through our online catalogue – all you need to do is log-in using your GWL borrower number, which you will find on the back of your borrower card e.g. R01555.
We really value and respect our library users, so we don't have any late fees if your book is overdue, but we will send you a letter or an email to remind you. Since all of our books are donated and we have no budget for new books, please value and respect us by returning borrowed books. Happy reading!