Roller derby is an exciting, innovative sport that has been pioneered by women and gathered a loyal following in the first decade of the twenty-first century. Seeing the parallels between the Women's Liberation Movement and the Roller Derby scene inspired artist Ellie Harrison to found the National Museum of Roller Derby as her contribution to 21 Revolutions.
If you would like to access the NMRD, please note that the collection is accessible by appointment. Email info@womenslibrary.org.uk to arrange.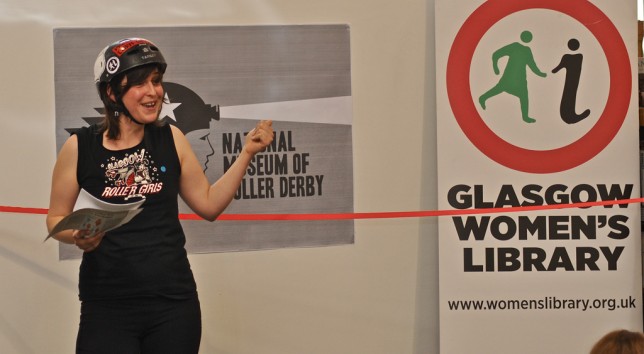 The Museum was launched in June 2012 and the Museum's contents have been growing slowly but surely. Its holdings include:
Sports equipment including helmets, wrist sweat bands and roller skate accessories
Bout programmes from teams including Glasgow Roller Derby League, London Rockin' Roller Girls, Leeds Roller Girls and many more
A nurses' uniform worn by a roller derby girl during the opening ceremony of the London Olympics 2012
Roller derby influenced publications including Inline.
As well as launching the collection, Ellie Harrison designed a logo for the NMRD – T-shirts and stickers featuring the logo are available in the GWL Shop, and every penny raised goes towards supporting the work of GWL.