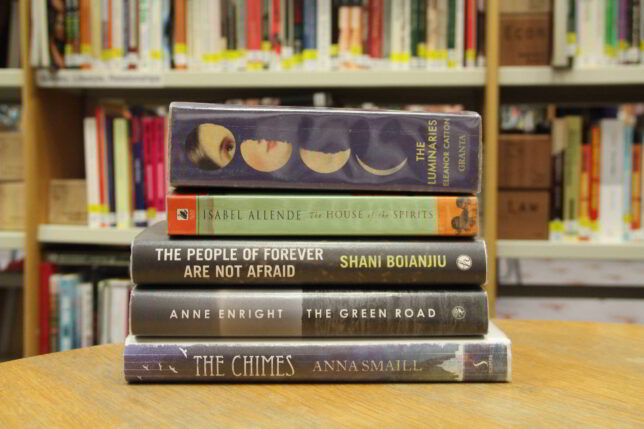 Glasgow Women's Library's book group is welcoming and inspiring, connecting women who like reading with each other and to a host of amazing and surprising new reads.  The book group is one of the Library's longest running and most popular regular groups, meeting approximately once a month at the Library.
As times and technologies have changed in the 10+ years since our book group was created, we've thought about ways in which we can connect to even more women and spread a little of the book group magic to a wider audience. With this in mind, we present the GWL Digital Book Group!
The digital branch of the GWL book group will complement the book group that meets at GWL, looking at the same books but discussing them in a slightly different format. This will enable people from across Scotland, the UK and (we hope) internationally to take part in discussions around books written by women and engage with GWL even if they can't make it through our doors.
Taking part in our GWL Digital Book Group is easy and you can get as involved as you like. If you'd like to keep up-to-date with the latest read and our online discussions, sign up to our newsletter below to receive a once a month update. If you'd rather check our website for information, keep an eye on this page to keep abreast of all the latest content and discussions around our latest book. You can follow us on Facebook and Twitter and keep an eye out for our #GWLBookGroup hashtag. We've also created a closed Facebook group where we can connect and have discussions – just request to join the group if you'd like to join.
We're really excited about this online ambition and we hope that you'll join us in discussing and celebrating books by women. If you like the sound of our new book group but you're a little new to digital technologies or you have any questions or suggestions, please do get in touch with us.
February's Book
The next book we're reading as part of our GWL Digital Book Group is Amy Liptrot's compelling memoir, The Outrun. Winner of The Wainwright Prize 2016, The Outrun is a beautiful, inspiring book about living on the edge, about the pull between island and city, and about the ability of the sea, the land, the wind and the moon to restore life and renew hope.
When Amy Liptrot returns to Orkney after more than a decade away, she is drawn back to the Outrun on the sheep farm where she grew up. Approaching the land that was once home, memories of her childhood merge with the recent events that have set her on this journey.
Amy was shaped by the cycle of the seasons, birth and death on the farm, and her father's mental illness, which were as much a part of her childhood as the wild, carefree existence on Orkney. But as she grew up, she longed to leave this remote life. She moved to London and found herself in a hedonistic cycle. Unable to control her drinking, alcohol gradually took over. Now thirty, she finds herself washed up back home on Orkney, standing unstable at the cliff edge, trying to come to terms with what happened to her in London.
Spending early mornings swimming in the bracingly cold sea, the days tracking Orkney's wildlife – puffins nesting on sea stacks, arctic terns swooping close enough to feel their wings – and nights searching the sky for the Merry Dancers, Amy slowly makes the journey towards recovery from addiction.