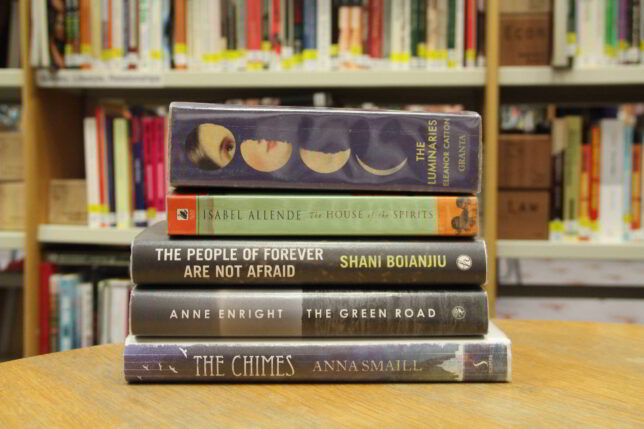 Glasgow Women's Library's book group is welcoming and inspiring, connecting women who like reading with each other and to a host of amazing and surprising new reads.  The book group is one of the Library's longest running and most popular regular groups, meeting approximately once a month at the Library.
As times and technologies have changed in the 10+ years since our book group was created, we've thought about ways in which we can connect to even more women and spread a little of the book group magic to a wider audience. With this in mind, we present the GWL Digital Book Group!
The digital branch of the GWL book group will complement the book group that meets at GWL, looking at the same books but discussing them in a slightly different format. This will enable people from across Scotland, the UK and (we hope) internationally to take part in discussions around books written by women and engage with GWL even if they can't make it through our doors.
Taking part in our GWL Digital Book Group is easy and you can get as involved as you like. If you'd like to keep up-to-date with the latest read and our online discussions, sign up to our newsletter below to receive a once a month update. If you'd rather check our website for information, keep an eye on this page to keep abreast of all the latest content and discussions around our latest book. You can follow us on Facebook and Twitter and keep an eye out for our #GWLBookGroup hashtag. We've also created a closed Facebook group where we can connect and have discussions – just request to join the group if you'd like to join.
We're really excited about this online ambition and we hope that you'll join us in discussing and celebrating books by women. If you like the sound of our new book group but you're a little new to digital technologies or you have any questions or suggestions, please do get in touch with us.
What we're reading
Month
Title
October 2018

Things a Bright Girl Can Do by Sally Nichols

Through rallies and marches, in polite drawing rooms and freezing prison cells and the poverty-stricken slums of the East End, three courageous young women join the fight for the vote.

Evelyn is seventeen, and though she is rich and clever, she may never be allowed to follow her older brother to university. Enraged that she is expected to marry her childhood sweetheart rather than be educated, she joins the Suffragettes, and vows to pay the ultimate price for women's freedom.

May is fifteen, and already sworn to the cause, though she and her fellow Suffragists refuse violence. When she meets Nell, a girl who's grown up in hardship, she sees a kindred spirit.

Together and in love, the two girls start to dream of a world where all kinds of women have their place. But the fight for freedom will challenge Evelyn, May and Nell more than they ever could believe.

November 2018

A Court Of Thorns and Roses by Sarah J. Maas

In this book we will follow Feyre, a huntress who has to fight for her family's survival in a world run by magic. She is not afraid to kill a wolf to assure her survival, without even thinking about the price that this choice might come to. And what a price… killing a magical creature brings her to an enchanted court where Feyre is not allowed to escape, and has to face life with a masked captor.

But what seems to be her new destiny is turned upside down by the feelings that flourish between her and the one who should have been her tormentor. As she reveals herself, there are other secrets shaking a whole kingdom that will be revealed to her in the most terrible way.

Once again, Feyre will have to fight for her life and her freedom, by herself, trusting only the unsuspected strength that inhabits her.

This book is much more than just a love story, it is a story about standing up for yourself and what you believe is right, facing the consequences of the paths chosen by your heart…

December 2018
TBC
January 2019

Nina is Not OK by Shappi Khorsandi

Nina does not have a drinking problem. She likes a drink, sure. But what 17-year-old doesn't?

Nina's mum isn't so sure. But she's busy with her new husband and five year old Katie. And Nina's almost an adult after all.

And if Nina sometimes wakes up with little memory of what happened the night before, then her friends are all too happy to fill in the blanks. Nina's drunken exploits are the stuff of college legend.

But then one dark Sunday morning, even her friends can't help piece together Saturday night.

February 2019
TBC
March 2019

Paradise by Toni Morrison

"They shoot the white girl first. With the rest they can take their time." So begins Toni Morrison's Paradise, which opens with a horrifying scene of mass violence and chronicles its genesis in an all-black small town in rural Oklahoma. Founded by the descendants of freed slaves and survivors in exodus from a hostile world, the patriarchal community of Ruby is built on righteousness, rigidly enforced moral law, and fear. But seventeen miles away, another group of exiles has gathered in a promised land of their own. And it is upon these women in flight from death and despair that nine male citizens of Ruby will lay their pain, their terror, and their murderous rage.

In prose that soars with the rhythms, grandeur, and tragic arc of an epic poem, Toni Morrison challenges our most fiercely held beliefs as she weaves folklore and history, memory and myth into an unforgettable meditation on race, religion, gender, and a far-off past that is ever present.

April 2019
TBC
May 2019
TBC
June 2019
TBC
July 2019

Song of a Captive Bird by Jasmin Darznik

A spellbinding debut novel about the trailblazing Iranian poet Forugh Farrokhzad, who defied society's expectations to find her voice and her destiny

All through her childhood in Tehran, Forugh Farrokhzad is told that Persian daughters should be quiet and modest. She is taught only to obey, but she always finds ways to rebel—gossiping with her sister among the fragrant roses of her mother's walled garden, venturing to the forbidden rooftop to roughhouse with her three brothers, writing poems to impress her strict, disapproving father, and sneaking out to flirt with a teenage paramour over café glacé. During the summer of 1950, Forugh's passion for poetry takes flight—and tradition seeks to clip her wings.

Inspired by Forugh Farrokhzad's verse, letters, films, and interviews—and including original translations of her poems—this haunting novel uses the lens of fiction to capture the tenacity, spirit, and conflicting desires of a brave woman who represents the birth of feminism in Iran—and who continues to inspire generations of women around the world.

August 2019

TBC

September 2019

Asking for It by Louise O'Neill

In a small town where everyone knows everyone, Emma O'Donovan is different. She is the special one – beautiful, popular, powerful. And she works hard to keep it that way.

Until that night . . .

Now, she's an embarrassment. Now, she's just a slut. Now, she is nothing.

And those pictures – those pictures that everyone has seen – mean she can never forget.