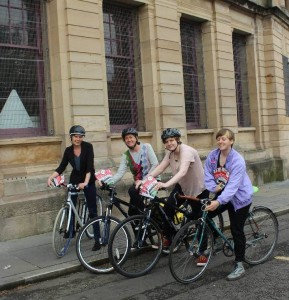 We're always looking to reach new audiences and let more people know about the activities and resources on offer at GWL, and we rely on our fleet of PaperGrrls to help us get our seasonal programme brochures available in other organisations, cultural venues, coffee shops, nurseries, and other businesses right across Glasgow!
And anyone can be a PaperGrrl! Whether you drop a small bundle of programmes off in your local community centre once or canvas a whole area three times a year, we'd love your help and it's all helpful.
If you're not sure where to go we can provide a list of suggested venues in different parts of the city but we're also happy to rely on your local knowledge and for you to decide where you think the programme should go.  Our interactive map allows PaperGrrls to log what venues have been covered, avoid duplication, and keep track of where everyone has been.
As well as championing the Library (and having our eternal gratitude), the PaperGrrls also get the chance to explore new parts of the city on their bike (or on foot if you prefer) and discover local coffee shops, tea rooms, independent shops and art galleries.  You can buddy up with a PaperGrrl who knows the area or head out solo if you prefer.
We have bimonthly PaperGrrls meetups, a WhatsApp group for those who wish to stay in touch, and PaperGrrls badges so that you can feel like one of the gang!
Get in touch to find out more or get involved by emailing emily.ilett@womenslibrary.org.uk