Glasgow Women's Library is a unique resource in Scotland, housing a huge collection of materials by, for and about women. Until recently, the most visible aspect of the Library was the lending library, where every single volume on the shelves has been donated. However, visitors to our permanent home on Landressy Street might have been surprised to know that we also hold museum and archive collections.
The collections have always been freely accessible to all by making an appointment in advance but for those just popping in or interested in browsing the collections the material was hidden from view, stored in museum-standard storage spaces within the building.
In 2016 we received funding from Museums Galleries Scotland's Recognition Fund to create displays showcasing artefacts from the collections, giving us the opportunity to make a larger part of our unique collections more open and accessible for all.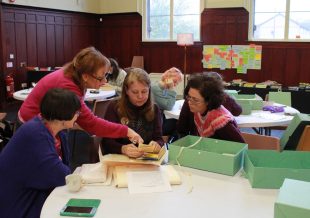 Our rich collections of books, objects and archives contain rare and unique items that explore every aspect of women's lives from the early 19th century right up to the present day, and we are the only accredited museum dedicated to women's history in the whole of the UK. Taken together, our collections tell the stories of how women have shaped their own lives and those of their broader communities – and how ultimately they have changed hearts, minds and laws.
We want people reflected on our bookshelves and in the display cases, we want to connect inspiring women from the past with the next generations, we want many different voices telling stories…
…and we needed YOU to tell them!
In April 2017 we put out a call for a group of up to 12-15 women to be our volunteer Community Curators. We wanted women who could meet regularly to take part in activities such as:
Exclusive behind-the-scenes access to our stores and our experts
Exploring our museum, archive and library collections in depth
Outings to exhibitions and museums for inspiration
Learning the basics of museum work from collections care to exhibitions
Choosing and interpreting what to showcase in our exhibition
Playing detective and researching the hidden histories of the artefacts going on display
Digitising material to include on our website and online catalogue
GWL worked with a group of 12-15 Community Curators from May 2017 to March 2018, who were up for quite literally making an exhibition of themselves. Over this period our Community Curators learned how to explore the collections and select, research, digitise and interpret artefacts for display.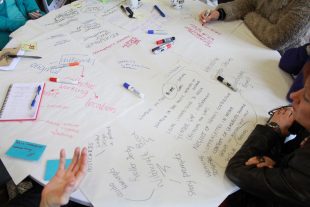 The Community Curators worked alongside staff and a local designer to create a permanent set of display units in which to showcase GWL's Recognised Collections within our building in Bridgeton. The project also enabled us to develop a handing collection, which can travel across Scotland to community settings.
To mark the halfway point of the project in November 2017, the Community Curators shared their ideas and vision for GWL's new permanent displays and curated a pop-up exhibition of their favourite objects from the collections stores.
Some of the Community Curators also took part in Museums Galleries Scotland' high profile 10th Anniversary Showcase for Recognised Collections of National Significance at the National Mining Museum Scotland. They also assisted with the Open Archive: Tracing Stories in the East End event in February 2018, shortly before the installation of GWL's new permanent display units.
—