Put the kettle on, will you? We've a group of tired women here in paint-splattered overalls, all in dire need of a cuppa! In our previous blog on Camden Lesbian Centre & Black Lesbian Group (the UK's first and only dedicated lesbian centre, FYI), we traced the collective's early days and their search for a permanent home as they ran up against lesbophobia, institutional discrimination, and violent hostility from some members of the local community. Today, we'll meet the women in happier circumstances as they collect the keys to their new premises at 54-56 Phoenix Road and begin fixing up the place and opening it up to the community.
Getting the builders in
Prior to finding a more permanent home of its own, CLC&BLG ran its operations out of a string of venues including members' homes, a rented office space in nearby Chalk Farm, and existing women's and community spaces such as Hampden Community Centre and London Women's Centre (a once thriving hub of grassroots feminism, now largely forgotten). It must've been a great relief for the group, then, to sign off on a five-year lease in September 1986, and a great excitement to have a space to call their own.
Grant funding from Camden Council Women's Committee, along with the funds raised by the local queer community through benefit bops like the one below, meant that CLC&BLG could invest in making their new home fit for their needs. During their search for a venue the group was in regular conversation with another feminist collective, Matrix Feminist Design Co-operative, who assisted them with surveying potential sites and offered technical and architectural advice. When CLC&BLG moved into Phoenix Road, Matrix workers completed a condition report and feasibility study to help the group figure out what they wanted from the space. How should the new Centre feel to its users, for instance? How were access needs factored into the building's design? These questions formed part of Matrix's collaborative, intersectional feminist approach to architecture.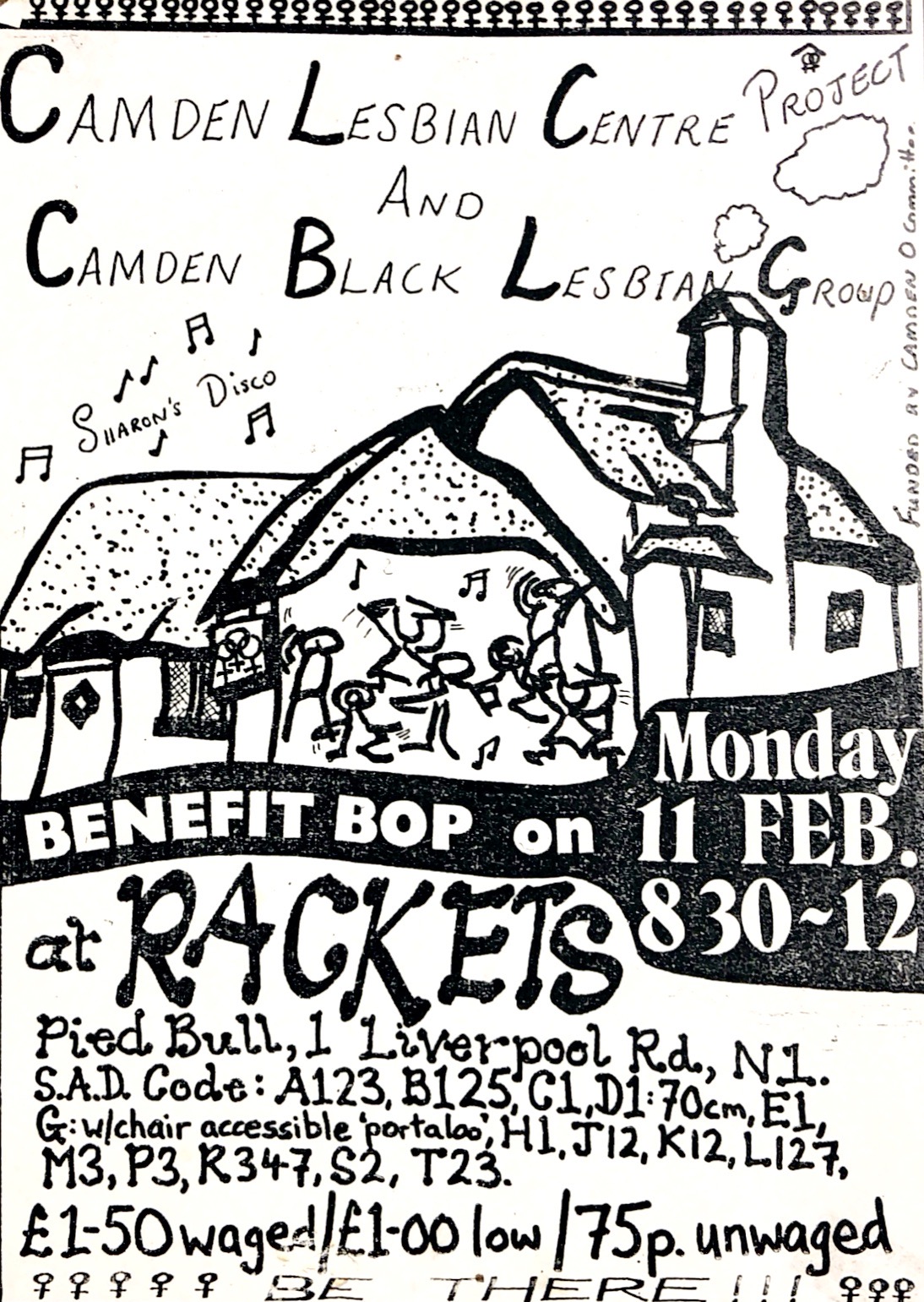 Before work could begin, CLC&BLG needed to find a construction firm to take on the job. The group felt strongly that the project should be executed by women in construction – writing to a potential contractor, one member stated plainly:
We'd like to emphasise that we would prefer that the building work be carried out by women builders.
With this in mind, CLC&BLG initially approached the all-women Strawberry Builders Co-operative, although this apparently didn't amount to much other than Strawberry hanging onto their spare key for much longer than was needed. The architectural plans for renovation and alterations were carried out by Support Community Building Design, another co-operative and (like Matrix) a Community Technical Aid Centre offering free or minimum-cost services to voluntary and community organisations. It appears Support also helped CLC&BLG to find a building contractor, a firm called Common Ownership Design and Construct (CODAC). While CODAC didn't comprise an all-women team, they were a part of the same radical community architecture movement as Matrix and Strawberry, which had its roots in squatting; they would've therefore had similar politics to (likely even collaborated with) several contemporary feminist design co-operatives.
Although the building works were originally scheduled for completion in March 1987, lengthy delays on licensing and planning permissions meant that construction work began around this time. It would be more than six months until the Centre was complete and ready to open.
Cutting the tape
On Saturday 31 October 1987, Camden Lesbian Centre opened its doors to the public. The invitation was open to all lesbians, with food, drinks and a creche all provided free of charge. Recent GWL resident artist Ingrid Pollard was on hand with her camera to document the occasion, and her photographs capture the thriving community of women that would make the Centre their home in the coming years. Women give poetry readings, make new friends, hand out cups of tea and bottles of beer, with the Black Lesbian Group's hand-stitched banner (a regular sight at protests and marches throughout the 1980s) providing the backdrop to many of these images. In one iconic photo, the writer and long-time friend of GWL Jackie Kay cuts the CLC&BLG ribbon with a giant labrys, a double-headed axe used by lesbian feminists as a symbol of strength and self-sufficiency. Journalists and creatives from feminist media outlets including Spare Rib, Outwrite and Shocking Pink! were there to celebrate and show their support, along with community leaders, Camden councillors, and the local press.
The opening of the new Centre marked a new chapter for CLC&BLG. Things at 54-56 Phoenix Road weren't all plain sailing, but this new physical space gave them a platform from which to socialise and organise; having a meeting place enabled them to strengthen and grow the vast network of feminist, queer, anti-racist collectives of which they were a part. In our next blog, we'll focus on some of the many, many groups that made the Centre their base and worked closely with CLC&BLG to build solidarity across difference.
About the author: Lucy Brownson (she/her) is an archivist and PhD candidate at the University of Sheffield. In her doctoral research, Lucy explores the history of archival practices at Chatsworth House through a feminist lens. She's also an organiser of Sheffield Feminist Archive, a community archive documenting grassroots feminism in the Steel City. Lucy is undertaking a placement in the GWL archives from July-October 2021; you can keep up to date with her work on Twitter.