The Sex in the Women's Library season included screenings curated by young film programmers Megan Mitchell and Ashley Dick. The GWL team had our own film favourites that linked to the terrain of sex and sexology from Harold and Maude to Pariah, Water Lilies (Naissance des Pieuvres) to Something in the Air and we were keen to screen movies that offered up more honest representations of (young) women's sexuality especially those being created by women writers and directors such as Tiny Furniture or Juno.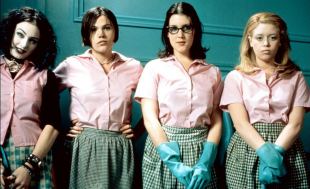 But what about films that truly grappled with the 'intersectional' and the films that were not being distributed and therefore not seen by mainstream cinema goers? Megan, who, for the past five years has been working as a programmer and events co-ordinator across youth and community engagement projects, including Glasgow Youth Film Festival and Glasgow Film Pop-Up Programmers, discusses below the rationale for curating a Sexology themed film programme at GWL:
"Film can be a facilitator for a lot of important conversations and for this season we wanted to find films which could begin a dialogue between women about their sexuality, their relationships, how society reacts to them because of it and how they operate due to this. When researching for the season it became more obvious than ever that with such little real representation of any women on the big screen the stories of disabled women, queer women, black women, asexual women, and really any women who exist out with the normalised one dimensional cinematic portrayal were hard to come by. The final selection of films below all in some way explore the intersectional identities of women in the context of sexuality."
Read more from Megan about programming the film season on the Sexology blog.
The films screened where But I'm A Cheerleader, directed by Jamie Babbit (1999); Margarita, with a Straw, directed by Shonali Bose (2014); Turn Me On, Dammit!, directed by Jannicke Systad Jacobsen (2011); and Who's Afraid of Vagina Wolf?, directed by Anna Margarita Albelo (2013).
Watch the trailers:
In addition to the film season, Womanhouse, directed by Johanna Demetrekas (1974), and Sara's Story, by the Women's Support Project, screened as part of the Sex Between the Covers exhibition.
Sara's Story, Women's Support Project, www.fgmaware.org (2015)
The Hens Tae Watch Oot Fur Playlist
The Hens Tae Watch Oot Fur zine group also curated a playlist of videos on YouTube: