From its origins as a wholly voluntary organisation, the Library has grown into a thriving 25-strong team, working on our learning programme, with the collection, and keeping the Library running.
The Lifelong Learning Team
Adele Patrick
Co-Founder and Director, Creative Development, Delivery and Engagement

Adele Patrick has been involved in Glasgow Women's Library since its launch, first as a volunteer, then as the Lifelong Learning Development Worker. She is now one of the two Directors alongside Sue John. Adele works with the library staff team and the Board developing ways that Glasgow Women's Library can have positive, change making, creative and cultural influence locally, nationally and internationally.
Adele is particularly interested in the creative and imaginative development of the Library as a unique feminist arts provision; (re)defining through its physical spaces, digital platforms, learning approaches, programmes and resources what a library, archive and museum can be.
In 2018/19, Adele undertook a Clore Leadership Fellowship. She has subsequently developed Post Fellowship Research on Feminist Leadership. You can read Adele's published writing about her approach and work with GWL here and via this blog post
Adele currently works part time.
[Pronouns: she/her]
Email: adele.patrick@womenslibrary.org.uk
Caroline Gausden
Development Worker for Programming and Curating

Dr Caroline Gausden is a new addition to the team having joined GWL in December 2018. Before working at the Library Caroline was based in Aberdeen where she completed a practice based PhD in Feminist Manifestos and Social Art Practice. She is a Development Worker for Programming, Curating, Partnerships and Participation at GWL. This role involves her moving between all the different facets of the organisation, from the archive to the library shelves and surrounding neighbourhood, to think about how the collection and public programme continue to speak to each other and to the diverse groups of people who are at home in the Library.
Caroline is full-time and usually works Monday to Friday
Email: caroline.gausden@womenslibrary.org.uk
Syma Ahmed
BME Women's Project Development Officer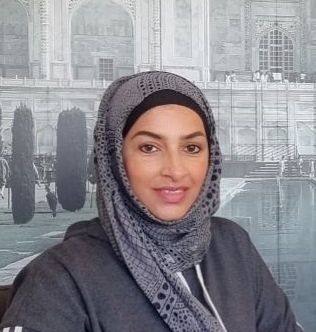 Syma Ahmed joined the Library in August 2007 as the Development Officer for the Black & Minority Ethnic (BME) women's project. She is responsible for promoting lifelong learning, arts and creative opportunities for BME women. Syma is keen to celebrate the success and achievements of BME women in Glasgow through capturing and compiling their life stories and preserving them at Glasgow Women's Library. Syma has worked in the voluntary sector for over 6 years and enjoys developing new projects to support the local community. Her previous job with a unique charity called Ethnic Enable involved supporting disabled people and their carers from minority ethnic backgrounds.
Email: syma.ahmed@womenslibrary.org.uk
Farzane Zamen
Production Co-ordinator

Farzane joined the library in February 2022 to work as a Production Coordinator. Working alongside other colleagues in the production team, she is responsible to ensure all events and exhibitions within GWL's learning programmes take place successfully for all our audiences, learners, staff, volunteers and the creatives and partners we collaborate with.
Farzane is originally from Iran and her background is in visual arts, music, and design. She is an active member of Scotland's cultural scene, as a musician, sound designer and event organiser.
She studied at the Glasgow School of Art during the pandemic in Master of Design Innovation and Service Design.
While working in the voluntary sector, she has been involved with a range of organisations and community groups. Leading and supporting various programmes, events, educational workshops, and music tutorial sessions.
[Pronouns: she/her]
Farzane works part time, her usual days are Tuesday, Wednesday, Thursday and Friday
Email: farzane.zamen@womenslibrary.org.uk
Mattie Roberts
Production Co-ordinator and Admin Assistant

Mattie Roberts joined the library as a Seeing Things volunteer in 2017 before becoming an Admin Assistant in 2018. Since 2023 Mattie works alongside Farzane as part of the Production Co-ordinator team and is excited to support GWL's programme of events and exhibitions into being, with the incredible creatives and partner organisations who collaborate on it. With each role held at GWL Mattie's enjoyed considering the multiple ways in which people engage with the learning programmes and collections and how that can lead to unexpected and inspiring interactions.
Mattie has an MLitt Curatorial Practice (Contemporary Art) from the University of Glasgow and Glasgow School of Art, is a programmer for Supernormal Festival and sometimes freelance arts producer.
[Pronouns: she/her]
Email: mattie.roberts@womenslibrary.org.uk
Kirstin Halliday
Project / Admin Assistant
Kirstin first became involved in Glasgow Women's Library as a member of the Young Critics Group in 2014, before becoming a volunteer tour guide for the East End Women's Heritage Walk. Kirstin is now an Admin and Project Assistant, alongside Mattie. Together they undertake administrative tasks and develop systems to support the library's wide ranging work. Kirstin loves working within a feminist organisation that is deeply committed to life-long learning.
Kirstin has a background in Human Geography and Dance. They have previously researched women's experience of walking in public space, and are interested in the political potentials of dance and movement research.
Kirstin is genderqueer and uses they/them pronouns. You can find out more about pronouns here: https://www.mypronouns.org/
Kirstin works part-time, usually on Wednesdays, Thursday and Fridays.
Email: kirstin.halliday@womenslibrary.org.uk
The National Lifelong Learning Team
Morag Smith
National Lifelong Learning Development Worker
Morag Smith studied English Literature in Glasgow then lived in Germany for some years before returning to Scotland where she worked in community learning and development, adult literacies, creative writing and literature development. In July 2009 she joined Glasgow Women's Library as National Lifelong Learning Development Worker and now has a breathtaking knowledge of Scotland's minor road and rail networks through taking the library's learning programme to many places, including Aberdeen, Skye, Dundee, Inverness, Dunoon, West Dunbartonshire and Wigtown. She works with GWL's learning team and a wide range of partner organisations, including libraries, community groups and women's prison services, to deliver bespoke learning programmes, events, and workshops. She also develops new networks and access to the library's unique resources for women of all ages and backgrounds.
Morag is particularly interested in working with new partner organisations and community based women's groups, and supporting and developing new projects which enable women to develop their skills, creativity and confidence and connect with their own life history and the histories of other women past and present.
Morag is part-time and usually works Wednesday to Friday, she is often working out and about across Scotland
Email: morag.smith@womenslibrary.org.uk
Lil Green
National Lifelong Learning Development Worker
Email: lil.green@womenslibrary.org.uk
The Adult Literacy & Numeracy Team
Donna Moore
Adult Literacy & Numeracy Development Worker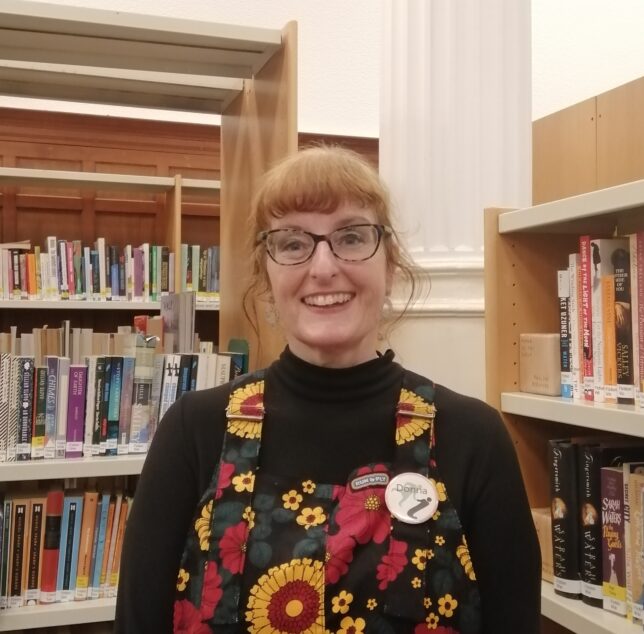 Donna joined the Library as a volunteer literacy tutor in 2010 and has refused to leave ever since. In her role as Adult Literacy and Numeracy Development Worker she works creatively with women with a wide variety of skills, ages and backgrounds – supporting them with their literacy to enable them to improve whatever aspect they want to focus on, to develop their confidence to allow them to progress, to feel better about themselves and to enable them to access a wide range of cultural activities. She loves supporting the women who come to GWL to do whatever they want to do – whether it's to write a poem, do a crossword, set up a budget, put together a CV, write essays for college or help their children with their homework. She also gets involved in a wide range of activities at GWL, supporting ALN learners to access the huge range of wonderful opportunities that GWL offers.
Donna has a Masters Degree in Community Learning and Development, a Masters in Gender Studies and a PhD in creative writing with a gender and history focus. She facilitates creative writing workshops and GWL's Drama Queens and loves women's history, particularly the history of women's suffrage. Having spent 25 years in the soul destroying world of pensions, Donna is so happy to have found her soul again doing something she loves.
Donna is part-time and usually works Wednesday & Thursday.
Email: donna.moore@womenslibrary.org.uk
Dorothy Sichi
ALN Tutor
Dorothy joined GWL as Adult Literacy and Numeracy Tutor after working as a Community Tutor with West Dunbartonshire and then a Workplace Tutor for Glasgow City Council. The ALN post is an exciting opportunity to work with women who live locally and the wider Glasgow area. Dorothy's role as tutor supports women on a 1:1 basis, helping them gain confidence with their reading, writing and number skills and to use the resources in the library to support their learning.
Whilst studying for a Post Graduate Degree at Strathclyde University Dorothy grew to enjoy supporting people with literacies issues and being able to guide learners to become self-directed learners. In recommending GWL to others, Dorothy cannot tell others enough about the fascinating place the library is to visit, to learn and to meet other women, where they can feel adopted by a vibrant team who work together in a very supportive environment.
Dorothy works part-time and usually works Tuesdays and Thursdays.
[Pronouns: she/her]
Email: dorothy.sichi@womenslibrary.org.uk
Deborah Walker
Adult Literacy and Numeracy Volunteer Support Worker and Tutor
Deborah Walker initially started as a volunteer and student on placement at the Library, working with Syma Ahmed on the BME project. Now working as the Adult Literacy and Numeracy Volunteer Support Worker and Tutor, she continues working towards her degree in Community Development at Glasgow University. Community work has always been a strong passion of hers and she enjoys nothing more than helping others on their journey to empowerment.
Deborah is part-time and usually works Monday & Thursday
Email: deborah.walker@womenslibrary.org.uk
The Collections Team
Wendy Kirk
Librarian

Wendy Kirk joined GWL in 2005 as the Librarian, having previously worked in community-based support work and community libraries. She studied English Literature and MSc Library Studies at the University of Strathclyde. Wendy runs a weekly group called Story Cafe, which brings women together over lunchtime to enjoy stories and poems, and which includes regular visits from Scottish and international writers. She is passionate about the life-changing impact of reading and libraries, and enjoys taking part in festivals including Book Week Scotland and World Book Night.
Wendy is part-time and usually works Monday & Wednesday to Friday
Email: wendy.kirk@womenslibrary.org.uk
Email: nicola.maksymuik@womenslibrary.org.uk
Jenny Noble
Museum Curator
Jenny was appointed Museum Curator in 2017. The role combines Jenny's love of heritage and literature, giving her the chance to explore and develop her knowledge of women's history, museum practices and intersectional feminism while managing and caring for GWL's museum collections.
Jenny began her museum career as a seasonal attendant at the Highland Folk Museum in 1996 while studying for her MA in English Language & Scottish Literature at Glasgow University. She has worked continuously in the sector since 2001. Previous roles include Education Facilitator at the National Museum of Rural Life, Education Officer at Paisley Museum, Outreach Officer in a pan-Lanarkshire partnership project and, most recently, Social History Curator at CultureNL.
Jenny works 28 hours p/w (usually from Monday to Thursday, though this can vary).
[Pronouns: she/her]
Email: jenny.noble@womenslibrary.org.uk
Mae Moss
Archivist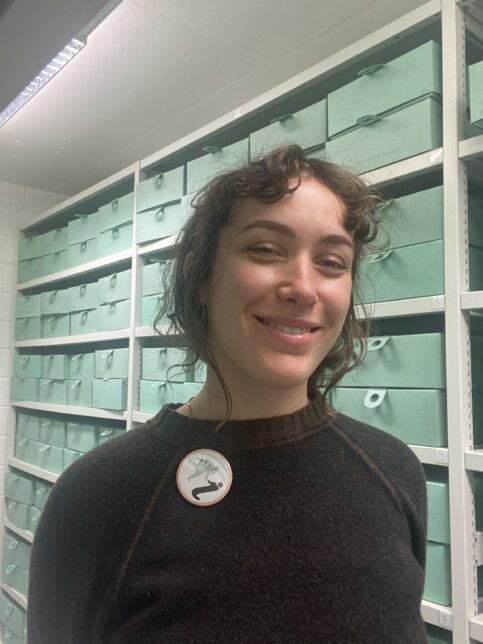 Mae is the Project Archivist of Three Decades of Changing Lives, hand in hand with Nicola, Rachel and GWL team she will be delving into the Glasgow Women's Library history to catalogue, digitise and make accessible this unique material.
Mae's relationship with the library began in 2018 as a volunteer and she has been working in all manner of different roles ever since. In 2018, alongside her archival studies she worked on the Decoding Inequality project which ignited her interest in the intersectional feminist reframing of institutions and their collections and more recently she has supported Adele Patrick, the co-founder and director of GWL, as a research assistant in her post Clore Leadership Fellowship research. This work has left her with a grounding in theory and practice of feminist leadership, how it is cultivated and nurtured, alongside a deep rooted understanding of GWL's history as an pioneering feminist organisation.
She has worked for the Art360 Foundation as an Associate Archivist and most recently at the National Library of Scotland's Moving Image Archive cataloguing a fantastic and varied collection of films from the Screen Scotland collection. You'll find her talking about accessibility in archives, terminology and the application of it, feminist governance and knitting (by machine).
Mae works full time.
[Pronouns: she/her]
Email: mae.moss@womenslibrary.org.uk
Meanwhile, keeping the Library running…
Sue John
Director of Operations, Resources and Enterprise

Sue John is part of the Senior Management Team at Glasgow Women's Library.
She takes a lead role in the delivery of the organisation's Strategic Plan and the Equality, Diversity and Inclusion Action Plan, ensuring sustainability, driving GWL towards achieving its Vision, and fulfilling its Aims and Objectives.
More specifically, Sue's role involves overseeing GWL operations, systems, collections, assets, enterprise and funding. She leads on internal governance in relation to finance, policies, building management, accreditations, risk and opportunity, and legal compliance. Her role includes leading GWL's social enterprise, innovation and entrepreneurial endeavours to establish a mixed financial model, including venue hire and product sales.
Sue role also includes providing strong and inspiring feminist leadership, ensuring that GWL works as a coherent team across the different strands of its work as a library, an archive, a museum and an innovative learning resource.
Sue is the Company Secretary of Glasgow Women's Library Limited, ensuring that all legal requirements as a Limited Company and as a Charity are met and, along with Adele Patrick (her senior colleague in the organisation), advises the Board of Directors so they can provide robust governance and clear strategic direction for the organisation.
Sue is part-time (28 hours per week) and is also a part-time PhD History Researcher at the University of Glasgow, with the topic Satire and Suffragettes: Women's Rights in Everyday Material Culture in Britain, 1900-1930.
[Pronouns: she/her]
Twitter: @SueJohnGWL
Gabrielle Macbeth
Volunteer Co-ordinator

Gabrielle Macbeth joined us as Volunteer Coordinator in 2011. Her role is to ensure that volunteers get as much out of volunteering as they put in and that they are involved in stimulating projects which makes the most out of their interests and motivations for volunteering. Volunteers are encouraged to try new things and broaden their horizons and are offered ongoing support as well as training to equip them with the skills and confidence to get involved in GWL's wide ranging and varied projects.
Gabrielle loves having the opportunity to find ways for so many talented and enthusiastic women to contribute to GWL's work, and is always looking for ways to involve women from all walks of life who can bring fresh perspectives and experiences to GWL.
Find out more about volunteering at GWL here.
Gabrielle works three days a week and currently these days vary
[Pronouns: she/her]
Email: gabrielle.macbeth@womenslibrary.org.uk
Ren Clark
Volunteering Programme Assistant
Ren Clark joined GWL in November 2020 as the Volunteering Programme Assistant. Working alongside Gabrielle Macbeth, the Volunteer Coordinator, Ren assists in recruiting, training and supporting volunteers in the library and remotely. Ren is interested in volunteering as an activist endeavour and is passionate about feminist organisations and how they support and uplift marginalised people.
Ren has recently graduated from their Masters in Applied Gender Studies at the University of Strathclyde. Their academic interests are mainly in queer theory and studies, with a focus on queer anti-assimilation, non-binary and transgender identities, and transgender non-fiction.
Ren is a genderqueer transgender person and uses they/he/she pronouns, meaning they use all sets in that order of preference. You can find out more about pronouns here: https://www.mypronouns.org/
Ren works part-time, usually on Tuesdays, Wednesdays, and Fridays.
Email: ren.clark@womenslibrary.org.uk
Annika Norrvik

Annika joined the GWL team in 2023 as the Facilities Management Officer and looks after the Category B-listed library building. She works to ensure that all facilities management and building related operations run smoothly and safely, and that the needs of the learning/events programmes as well as all visitors accessing the building are met.
Annika studied History of Art and Architectural History, and has a Master's degree in Architectural Conservation (MSc) from the University of Edinburgh. She is passionate about the historic built environment, especially the ways in which historic buildings can be adapted to modern environmental and accessibility standards while preserving their historical importance and architectural character.
She has volunteered with Doors Open Days Festival, the Architectural Heritage Society of Scotland and Govanhill Baths Community Trust to deepen her knowledge about built heritage in Scotland and Glasgow specifically, and feels very lucky to get to work in a building with such a strong connection to the surrounding area and community.
Annika works four days per week (usually from Tuesday to Friday, though this can vary.)
[Pronouns: she/her]
Email: annika.norrvik@womenslibrary.org.uk
Naomi Brown
Digital and Marketing Officer

Naomi Brown joined GWL in May 2020 during the first Covid-19 pandemic lockdown. Naomi is responsible for GWL's marketing, Social Media and other digital output. In her role she aims to increase and diversify the reach of GWL's work to expanded audiences through the use of digital technologies. Naomi has worked for a number of Arts organisations within the city including Glasgow Print Studio, Glasgow Sculpture Studios and as Research Coordinator for AHM (Sam Ainsley, David Harding, Sandy Moffat). Naomi has worked at Glasgow Print Studio for over 10 years and continues to do so on a part time basis as Marketing Officer. She has an MA (Hons) in History of Art and Philosophy (Joint Honours) and an MLitt in The History of Collecting and Collections both from the University of Glasgow
Naomi works part-time and she works Mondays, Tuesdays and Wednesdays.
[Pronouns: she/her]
Email: naomi.brown@womenslibrary.org.uk
Yuliia Babenko
Finance Officer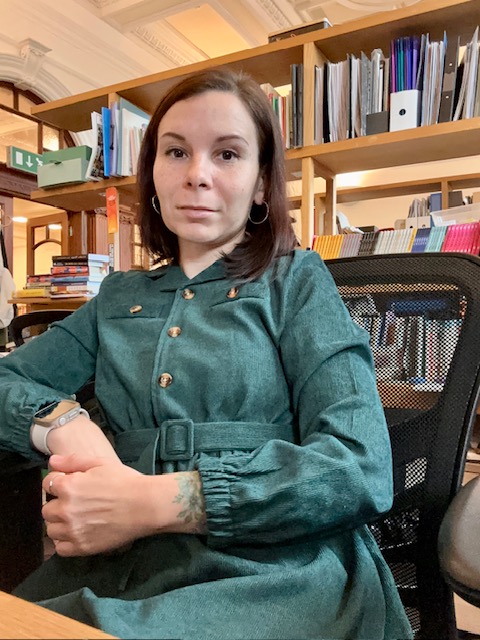 Yuliia Babenko joined GWL in October 2023 as the Finance Officer. Yuliia has a master's degree in accounting and auditing (Mykolaiv University of Shipbuilding named after Admiral Makarov, Ukraine). Has 7 year of education in Accounting and Finance and 13 years of experience working as an Accountant in Ukraine.
Yuliia works part-time and she works Mondays, Wednesdays and Thursdays.
Email: Yuliia.Babenko@womenslibrary.org.uk
Helen MacDonald
IT Worker

Helen MacDonald has worked at GWL since 2005, with a focus on IT support and digital development, including managing GWL's online presence and developing its bespoke Monitoring & Evaluation and CRM system, Library Out Loud. She is also the developer & moderator of the Women of Scotland website, created by GWL in partnership with Women's History Scotland, and represents GWL on the WHS steering committee.
Helen works full time
[Pronouns: she/her]
Email: helen.macdonald@womenslibrary.org.uk
Doreen Kelly
Cleaner

Doreen joined the paid staff team in August 2019 after volunteering since summer 2018. Her volunteering role (which continues alongside her paid work) is difficult to pin down, due to her wide interest in the heritage, learning and intersectional activities of GWL. Doreen applied to be the cleaner after helping in the creation of the GWL garden (in association with the RHS). She is a member of the Green Cluster which tries to ensure the library is as carbon neutral as possible. She helps Syma with the Women Making It fortnightly creative sessions. Doreen helped to research GWL's two new suffragette heritage trails. She is a member of the Reader Development Cluster and immensely enjoys Wendy's story cafes. She helps Deborah and Dorothy with Conversation Cafes for ALN learners whose first language is not English. She is a learner in GWL's empowering ALN programme.
Doreen's interest in volunteering began when she was a Girl Guide and learned to use her time wisely and for the benefit of others. She volunteers with Dyslexia Scotland as she has dyslexia herself and wants to help her community. Dyslexia Scotland have recently published a book of illustrated poetry by Doreen, it is available here.
Doreen graduated from the University of Paisley (as it was in 2000, now the University of the West of Scotland) with an honours in Biology with Geology. She has worked in many seasonal, temp(orary) and part-time jobs after university. She tries to use her entire life experience in her work at the library.
Eloise Birtwhistle
Front of House

Eloise Birtwhistle joined the Glasgow Women's Library team in January 2023 as our Front of House Receptionist. She first developed a relationship with the Library through community arts collaborations and exhibitions, and as a freelance workshop facilitator. Eloise moved to Glasgow in 2012 to study English Literature and she has since enjoyed working with a range of organisations on community arts projects. She is excited to extend the Library's warm welcome to the public and to encourage people to engage with our wonderful resources, events and opportunities.
[Pronouns: she/her]
Email: eloise.birtwhistle@womenslibrary.org.uk
Contacting Staff
All the Library staff can be contacted via email or at the Library. If you're contacting the Library with a proposal for an event, exhibition, workshop or other project, please take a look at our guide to working with GWL, and submit a copy of our 'Working with GWL' form.