GWL doesn't stop at Glasgow! Our National Lifelong Learning project offers a rich, diverse programme of activities, events, courses and online resources for women of all ages and backgrounds across Scotland.

View GWL National Lifelong Learning Map in a larger map
Whether you'd like an introduction to who we are and what we do, a women's history quiz tailored to your local group, a training session on how to develop your own women's history walk, accessible arts and crafts activities linking into women's history and women exploring their own personal histories or even a small 'satellite' collection of books installed at a community venue in your local area, we're happy to help. We also work with secondary schools and can offer a range of workshops linking into current and historic gender equality and history themes, including discussion based and craft activities to suit different age groups.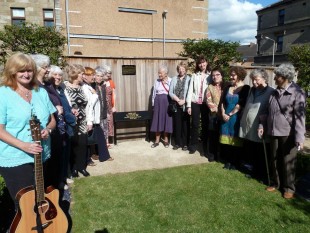 We've worked with women's groups and partner organisations all over Scotland, from Inverness to Skye, Argyle and Bute to Dundee, Dumfries and Galloway to Dumbarton and Clydebank to Falkirk. You can read about some of the work we've done and the groups we've worked with using the map above, checking out our partners section, or by browsing our National Lifelong Learning Blog. We've had the pleasure of working in partnership with a huge range of organisations and are always looking for new ways to develop opportunities for women across Scotland.
If you'd like to find out more about the training opportunities offered by GWL and the National Lifelong Learning Project, visit the Be Inspired! section, which showcases some of the events, workshops and courses we can offer. We also have a range of learning resources for women across Scotland, including videos, oral history resources, workshops on how to research women's history in your area, information on research sources and advice on developing your own women's heritage walk.
If you would like to arrange a visit from our National Lifelong Learning Team, or to book a workshop or session from our Be Inspired! training palette and resources, contact our National Lifelong Learning Development Worker, Morag Smith, at morag.smith@womenslibrary.org.uk or give us a call on 0141 550 2267.