Women Making a Show of Themselves was a short series of workshops delivered as part of the Sex in the Women's Library season. The workshops were devised and delivered by Glasgow based artist Sarah Short. The overarching aim of these workshops was to explore a new way in which women could engage in conversations about sex.
Sex is a hugely important subject matter that affects as all in some way or another but, unfortunately, it is often a topic that is 'not for women' to discuss. That being said advertising, products and mainstream media target women and objectify women as sexual objects designed to look a certain way in order to be desirable.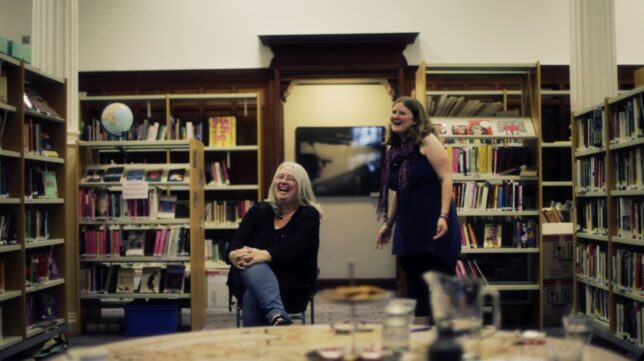 As a woman the importance of a space to open up my thinking towards these issues is invaluable, as a female comedian it is even more important to me. I am interested in the idea that 'women aren't funny' a well-worn mantra within comedy clubs and their audiences up and down the country. For a woman, talking about sex is a political act, doing comedy is a political act and indeed combining the two offers a strength and empowerment in today's society.
These workshops within Glasgow Women's Library offered a safe and supportive environment for these political actions to begin.
Sources
Some of the key sources I used in preparing for the workshops included:
'Throwing like a Girl: A Phenomenology of Feminine Body Comportment Motility and Spatiality'
Iris Marion Young, Human Studies, Vol. 3, No. 2 (Apr., 1980), pp. 137-156
Link to article on JSTOR
Blog post: On 'Throwing like a Girl', by Sydney researcher and writer Dr Penelope Robinson.
Women Aren't Funny, 2014, by Bonnie McFarlane: "Comedian Bonnie McFarlane dons her investigative journalist's hat to find out once and for all if women are funny and report her unbiased findings in what some are calling the most important documentary of our generation."
(This documentary is on Youtube, but unfortunately can't be watched in the UK due to copyright restrictions.)
Amy Schumer SNL Late Night Talkshow sketch
---
Some of the writing produced in these workshops features in the film Sex in the Women's Library – Reading, Writing and Discussions About Sex.