Since its founding in 1991, Glasgow Women's Library has been based in a number of locations including Garnethill, Trongate and, for several years prior to our last move, in temporary premises including the Mitchell Library.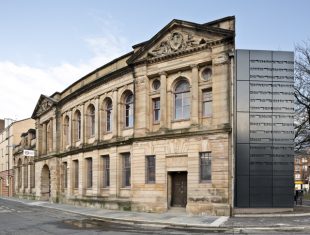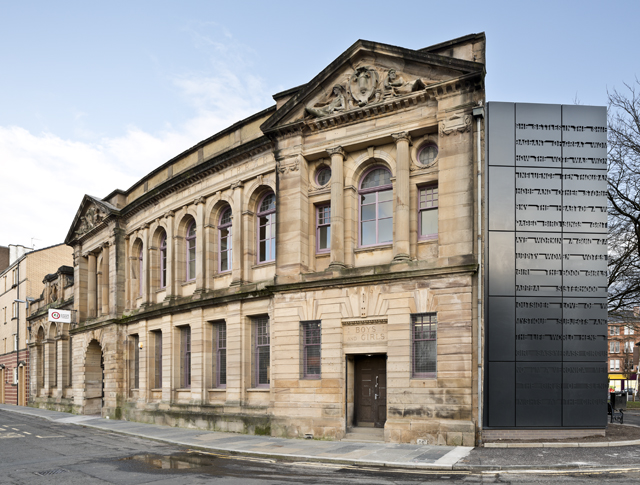 We moved into our permanent premises in 2013 and are now the sole occupants of a Grade B Listed Carnegie Library. We completed a major £1.8 million renovation project to transform the building, creating dedicated archive and museum stores, several new learning and events zones, gallery spaces and a mezzanine floor. We also invested in the building to ensure that accessibility was improved.
GWL hosts hundreds of events each year, from small meetings and one-to-one learning sessions to live performance events and international conferences. We pride ourselves on our warm welcome and this extends to all of the events that take place within our building. In October 2016, GWL was awarded Venue of the Year at The Icon Awards. These Awards, founded in 2015, recognise organisations and individuals across Scotland that excel in the areas of equality, diversity and inclusion.
Since 2021 we have been happy to welcome back smaller groups and venue hires to the library spaces. Now, in April 2022, we have decided to continue to take a cautious and steady approach to lower the risks of Covid-19 for our visitors, volunteers and staff.
We have reduced the capacities of the spaces, to allow for 1m social distancing. We ask everyone in the building to wear face coverings, and only to remove them if they're sitting at least 1m from others. There are photos in the descriptions below, to help you to imagine the layouts of GWL spaces.
Due to our planning schedules, it is only possible to arrange venue hires with at least two weeks notice.
Hosting your event at GWL
We have two main spaces available for hire in our building – – the Events Space and the Community Room. All our spaces are accessible with level access from the street, lifts to our upper levels and induction loops that can be set up in each area. Our prices start from £30 per hour and we can offer tours of the library and an introduction to the organisation as part of your hire. We also offer teas, coffees and biscuits at competitive rates. The money we make from our venue hires goes back into the organisation and to keep GWL running and developing.
We are open from 10am to 4.30pm Tuesday to Friday, until 7pm on Thursday, and 12pm to 4pm on Saturday. We can sometimes offer additional access depending upon staff availability at an additional cost.
Main Events Space
The revamp of our Events Space was completed in November 2015 as part of the major refurbishment project. Formerly the 'Gentlemen's Reading Room', we are delighted to now have a purpose built space for conferences, workshops, exhibitions and more.
With 1m social distancing, The Event Space seats up to 80 theatre style or standing, and up to 45 cabaret style.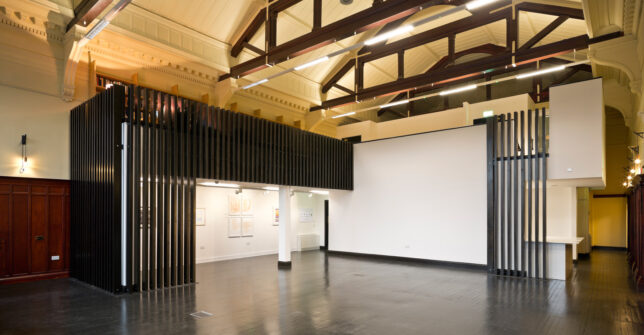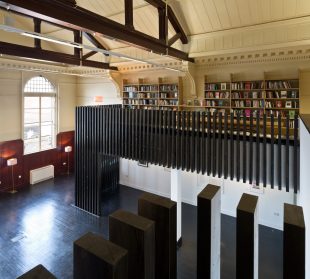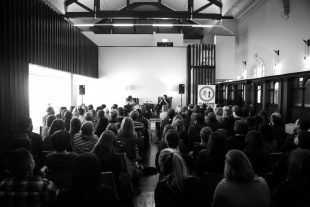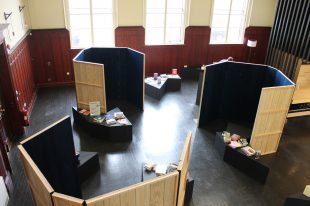 Community Room
The Community Room is situated on the first floor of the building. It has a capacity of 35 theatre style, and 20 meeting style. The room is accessible via a newly constructed passenger lift and automatic door, and has an accessible toilet on the same floor. As part of our Life Support project, the room has been beautifully redecorated by Olivia Plender and includes a beautiful bespoke curtain.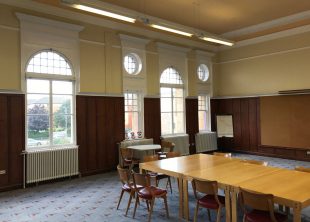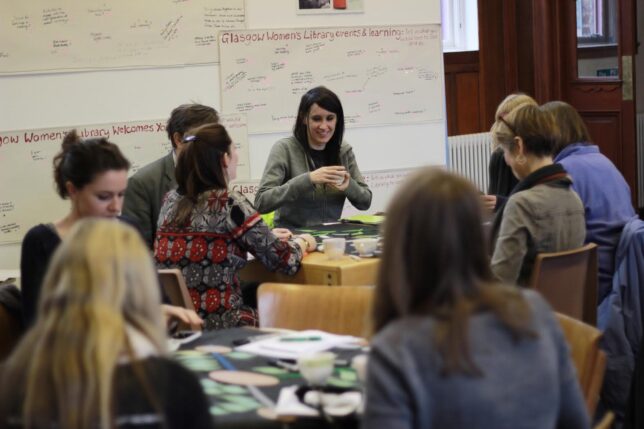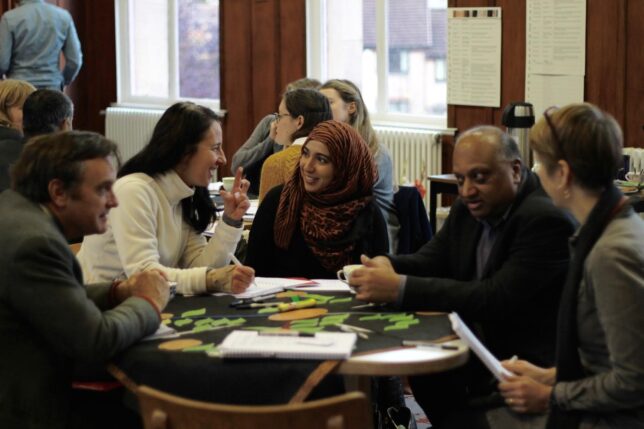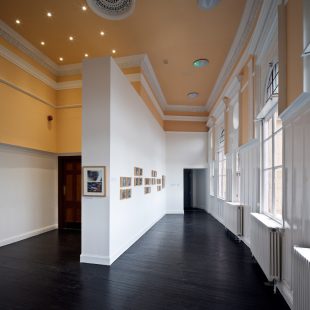 The Lending Library & Other Spaces
The Lending Library, Mezzanine and Upstairs Gallery are open to the public during our opening hours. They are often busy, as spaces central to the libraries activities, but can sometimes be booked out. The Mezzanine level and our Upstairs Gallery accommodate around 15 guests.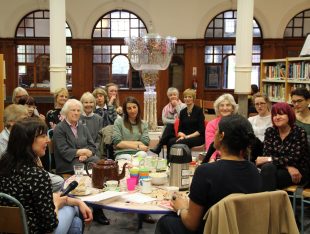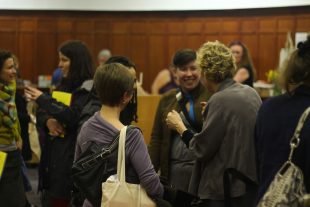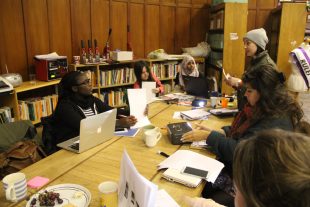 Accessibility Information
Level access from the street.
One fully accessible WC on the ground floor with grab rails/alarm (but no power assisted doors).
One fully accessible WC on the first floor (again no power assisted doors)
Power assisted doors in to the Main Library space
Power assisted doors from the Main Library to the lift, and from the lift and Gallery to the Community Room
Passenger lift to the first floor
Platform lift to the mezzanine level
Baby changing unit in both accessible toilets
Induction loop fitted in the main events space
Portable induction loop that can be set up elsewhere in the building.
Booking your event at GWL
If you would like to make a Venue Hire booking please read our Terms and Conditions and fill in the GWL Venue Hire Booking Form to send to venuehire@womenslibrary.org.uk. Any questions you have prior to making a booking can also be sent to this email, or your answers may be found in our GWL Venue Hire Guidelines. For enquiries related to including your event in the GWL programme, please take a look at our Working with GWL criteria.
Venue costs
| | | | |
| --- | --- | --- | --- |
| Space | Hourly Cost | Half Day Cost | Full Day Cost |
| Event Space | / | £250 | £500 |
| Community Room | £30 | £100 | £200 |
Prices for booking our mezzanine and lending library meeting spaces for groups are available on request.
Costs can be amended for non-profit or community groups at GWL's discretion.
Please note the costs provided above are a guide, and may be subject to change dependent on the numbers, complexity of event set up or if the event falls out of hours.
Catering Costs
Tea/Coffee: We provide this in-house at the cost of £1 per head per round.
We recommend the use of local external caterers for any events requiring lunches or further catering. We can provide contact details so that you can place your order. We recommend that you order vegetarian and vegan food, and under-order as there are always leftovers and we would like to minimise food waste in line with our Environmental Policy. We will provide cups and glasses for events so there is no need to provide disposable take-away cups.
Cancellation Policy
Please alert us as soon as possible if you no longer require your booking. We require notice of at least one week for cancellation of a Community Room booking, and a fortnight for cancellation of an Events Space booking. If you make a cancellation at short notice, we charge a cancellation fee of 25% of the total room hire charge.