Throughout our history volunteers have been at the heart of our work: without their dedication the library would not have become the successful and vibrant organisation it is.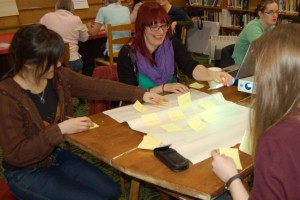 Volunteers contribute huge amount of energy, time and enthusiasm to all aspects of our work and bring skills and experiences which enrich the organisation. In exchange we hope volunteers will gain confidence, skills and experience, meet new people, and feel they are involved in meaningful projects which benefit their communities.
Our volunteers come from all walks of life and from all backgrounds and many of them had no previous experience of working in libraries or museums. You can meet some of exisiting and previous volunteers here.
And if you're interested in helping out, why not contact us for more information or find out more and download our Volunteer Application form here.