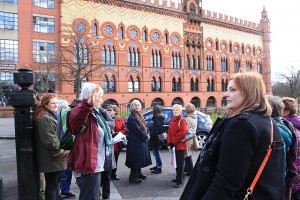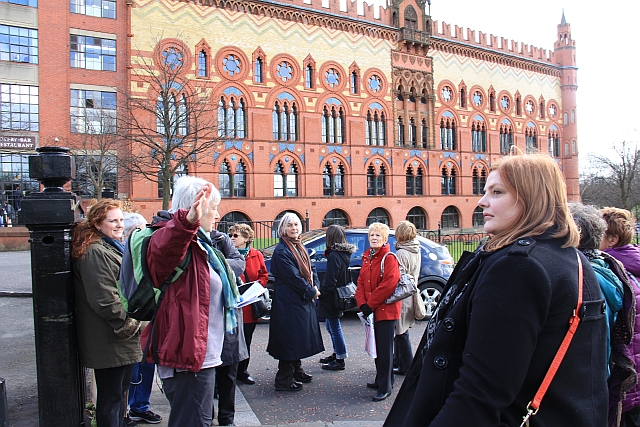 Aufgrund des riesigen Erfolges unseres Glasgower East End-Frauenspaziergangs mit Karte hat unser 'Women Make History Team' eine Audioführung daraus entwickelt.
Wenn Sie mehr über die Frauen erfahren wollen, die in der Templeton Tapentenfabrik arbeiteten, über die Frauenrechtlerinnen, die im Duke Street-Gefängnis sassen, oder die Frau, die den Barras-Markt begründete (und viele andere mehr), dann laden Sie diese Audioführung herunter. Sie wird Sie durch das East End führen, vom Mercat Cross (Marktkreuz) und um das Glasgow Green, entlang Gallowgate und durch die Bridgeton Gegend.
Diese Audioführung wurde 2014 mit Unterstützung von Glasgow International auf englisch, französisch, deutsch und polnisch entwickelt. Das Goethe-Institut hat die Produktion dieser deutschen Übersetzung der Audioführung unterstützt.
Laden Sie Ihre Kopie der Audioführung jetzt herunter! East End Frauen Heritage Walk Audioführung
Kapitel:
The Mercat Cross
St Andrew's in the Square
The Temperance Fountain, Glasgow Green
The People's Palace
The Templeton and Drying Greens
Logan and Johnstone School & Singer Factory
Glasgow Women's Library and Bridgeton Umbrella
Abercromby Street and Betty's Seafood Shop
The Barras and East Campbell Studios
The Saracen Head
Mercat Cross
Sie können die Route für den East End-Frauenspaziergang hier herunterladen. Bitte beachten Sie, dass diese Karte derzeit nur auf englisch erhältlich ist.