We are very pleased to launch our Decoding Inequality Sector Report 2019 which we hope will be widely used and shared by our museum colleagues in the sector.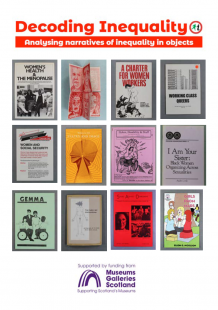 The Decoding Inequality project turns the analytical attention of our Equality in Progress project directly to Glasgow Women's Library's (GWL) collections and interpretation.
To date the Equality in Progress project has used theories of intersectional feminism to interrogate museums as institutions, with the aim of supporting practitioners to develop much better awareness of systems of inequality. The Decoding Inequality project builds on this work by conducting a process of feminist interpretation or 'decoding' of our collection.
This project brings GWL's embedded values of equality to the development of innovative approaches to exhibition and engagement rooted in social justice expertise.
Funded by