The LGBTQ Collections at Glasgow Women's Library feature a wealth of material on LGBTQ lives in Scotland and Glasgow throughout the 1990s to the present day. The library has collected a lot of material related to lesbian and gay lives in particular from its opening in 1991. As well as collecting, the library has also been involved in some important bits or research like the Poverty and Social Exclusion of Lesbians and Gay Men in Glasgow in 1999, and produced work on behalf of Glasgow City Council like the Homophobia handbook in 2005. Our collections on Glasgow and Scotland have a special focus on the period the 1990s and 2000s, and take in a number of prominent campaigns and concerns for LGBTQ people in Scotland during this time period, in particular the repeal of Section 28.
We continue to be an important resource for these histories in Scotland. Recent acquisitions include collections from the Glasgow-based activist group Free Pride and the Scottish Queer International Film Festival (SQIFF).
Lark in the Park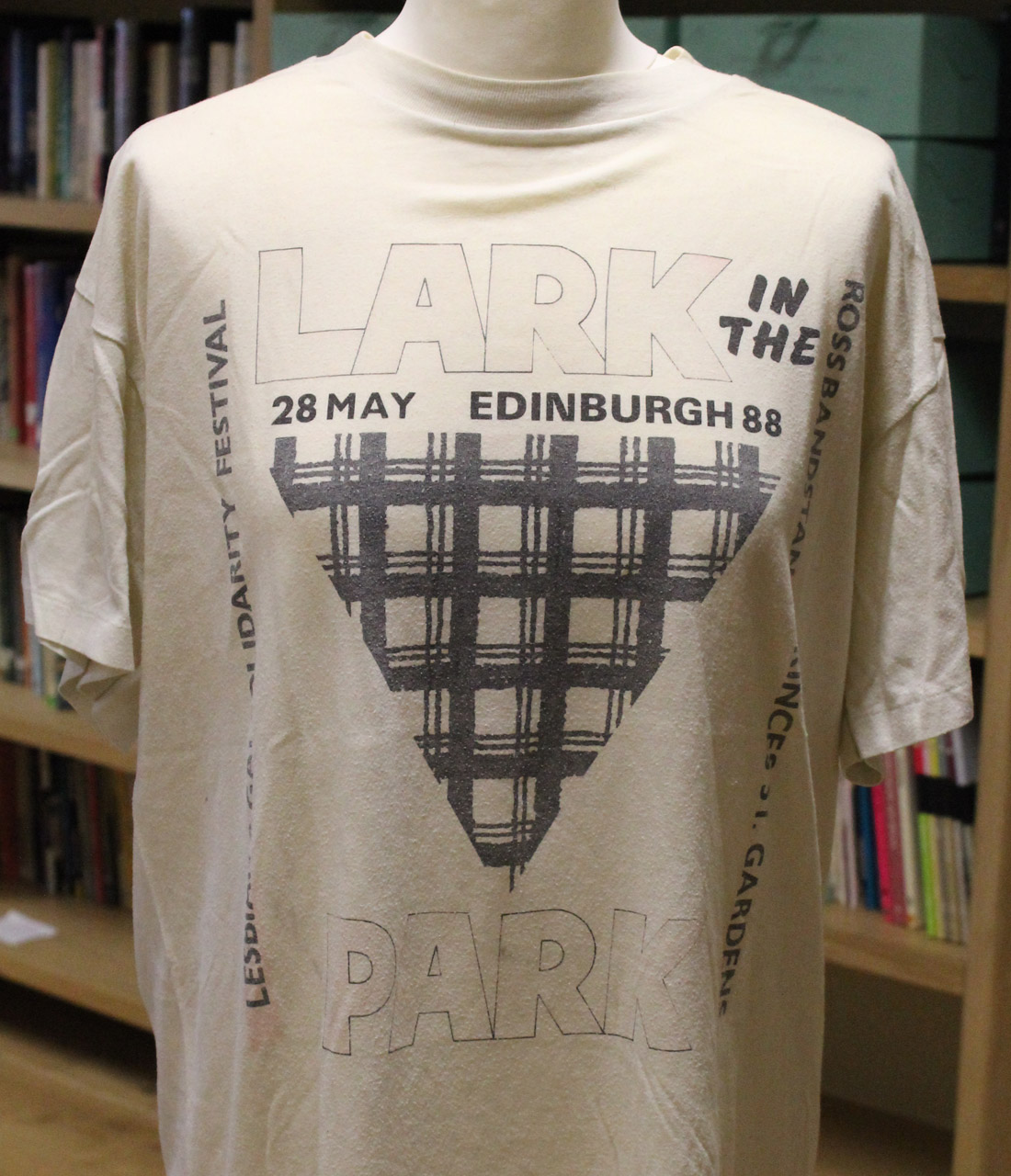 Before Pride Marches began in Scotland in the mid 1990s, other public events were organised, particularly against the backdrop of Section 28, aimed at increasing Lesbian and Gay visibility in Scotland. One such event was the Lark in the Park events organised by the Scottish Homosexual Action Group (SHAG). Lark in the Park took place in Princes Gardens in Edinburgh, and comprised music, comedy and other performances.
Pride Scotland
The first large-scale Pride March in Scotland took place in Edinburgh in 1995 with an estimated 3000 people marching through the streets of Edinburgh. This T-shirt was produced by Pride Scotland for that year's march, whilst the photograph is a view of the Glasgow Lesbian Avengers (see below) Banner as they marched along Princess Street.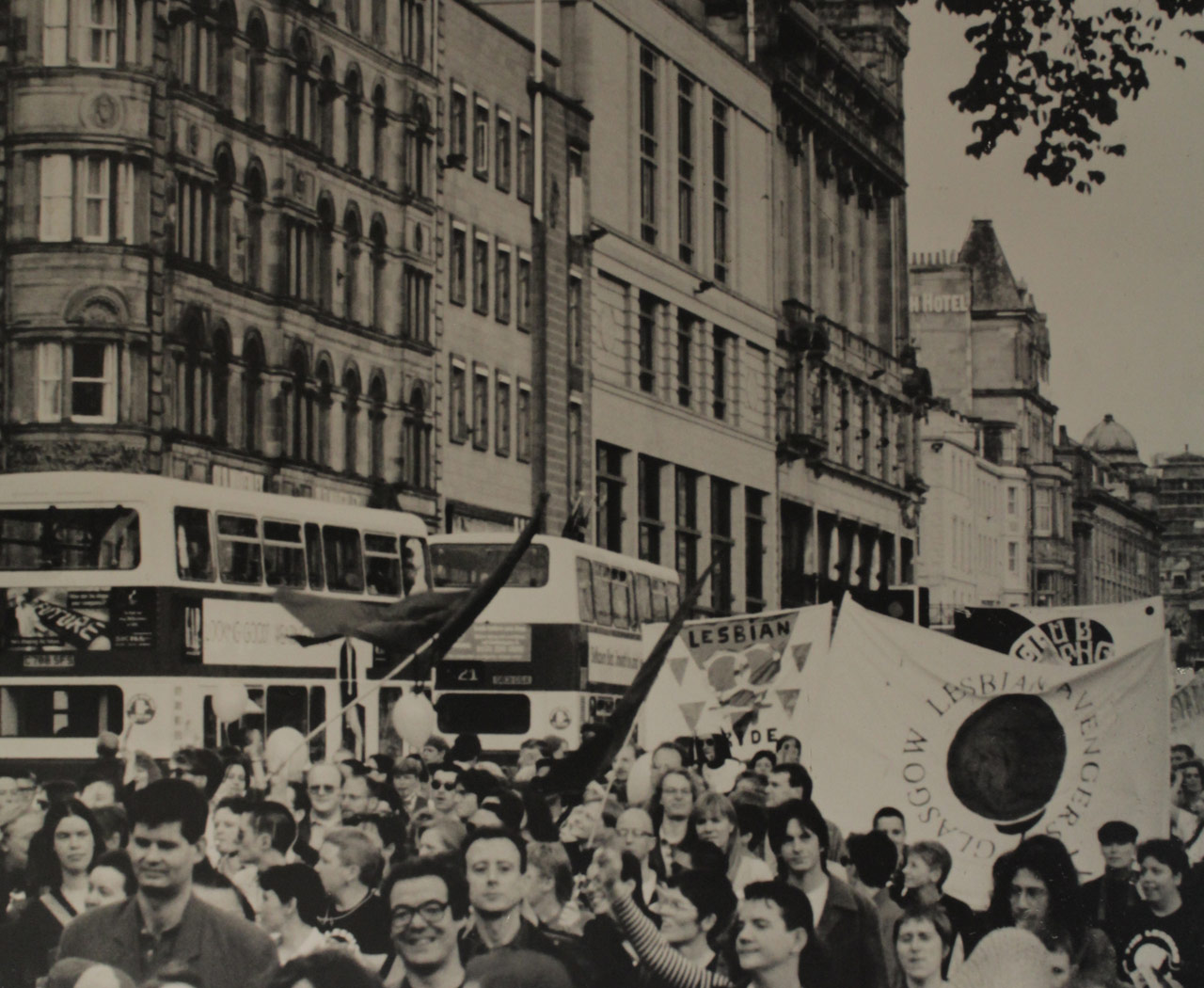 Glasgow Lesbian Avengers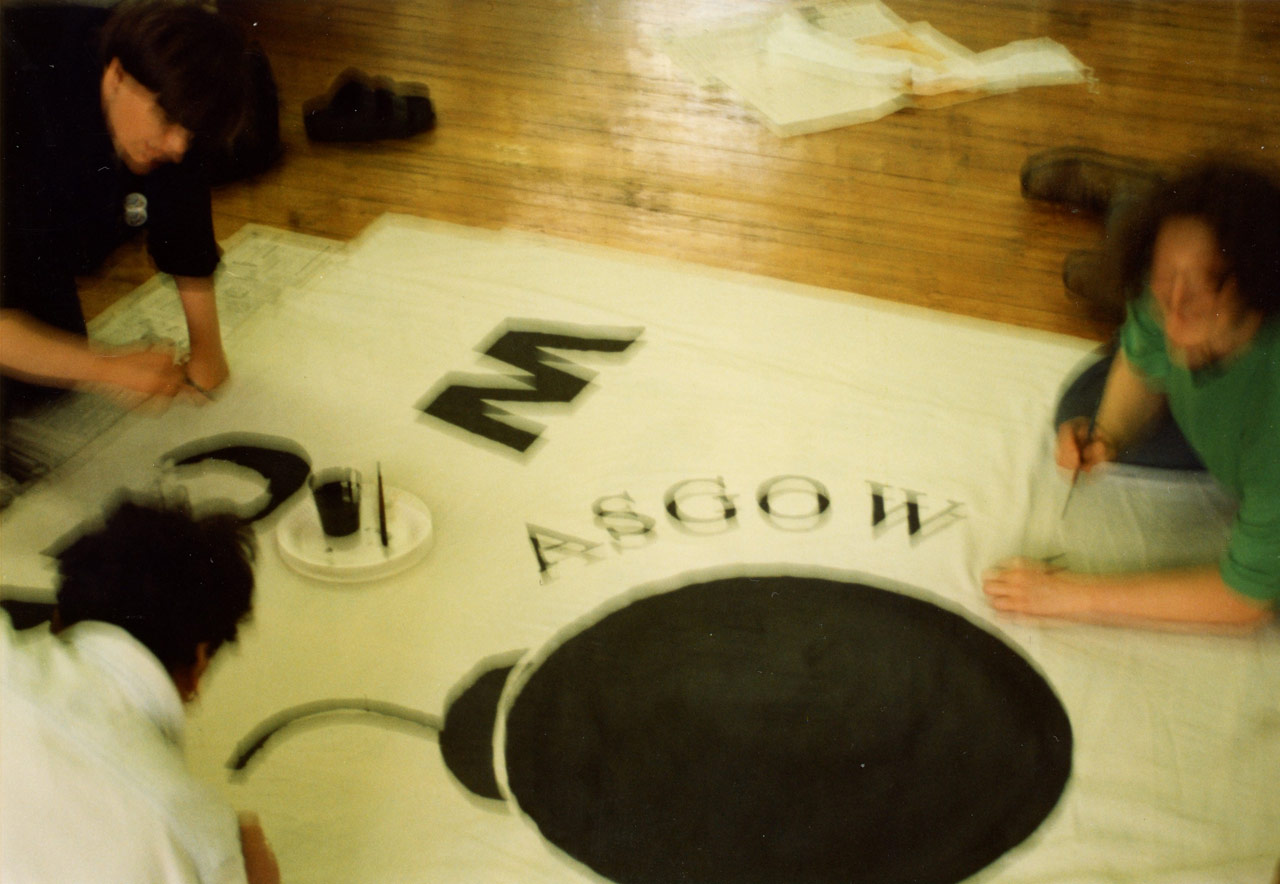 This is a photograph of members of Glasgow's Lesbian Avengers group making a banner for a protest at the Mitchell Library in 1995. The protest was sparked by a decision by the director of Glasgow Libraries to ban the stock of Pink Paper from libraries in Glasgow – the justification for this was the fact that advertisements and personal columns in particular could be interpreted as promoting homosexuality, and therefore the paper's presence might contravene Section 28.
The action by the Glasgow Lesbian Avengers involved flyering people outside and inside the library, as well as planting leaflets and back copies of the Pink Paper on reading desks and workspaces throughout the library.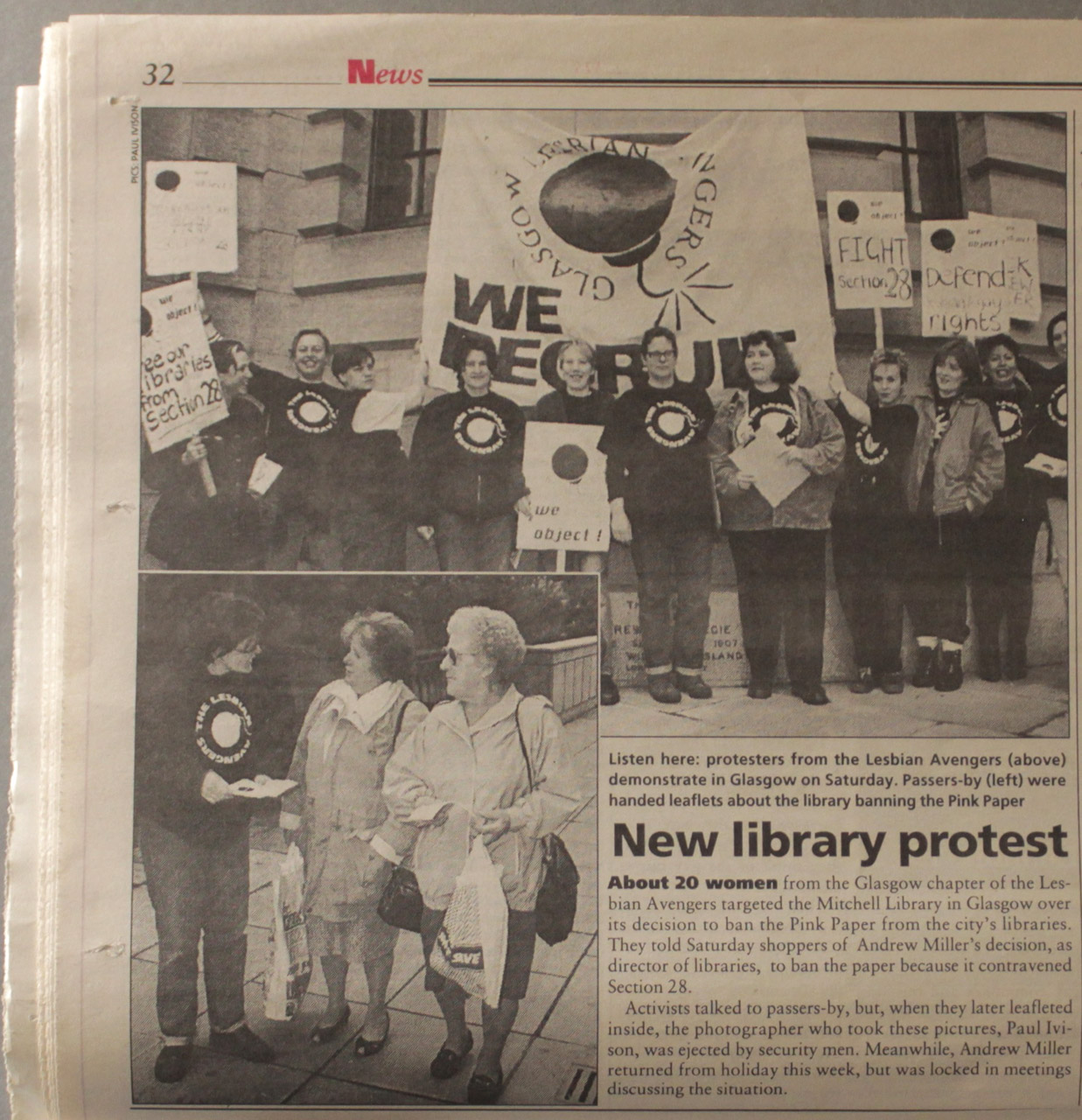 Glasgow Lesbian Line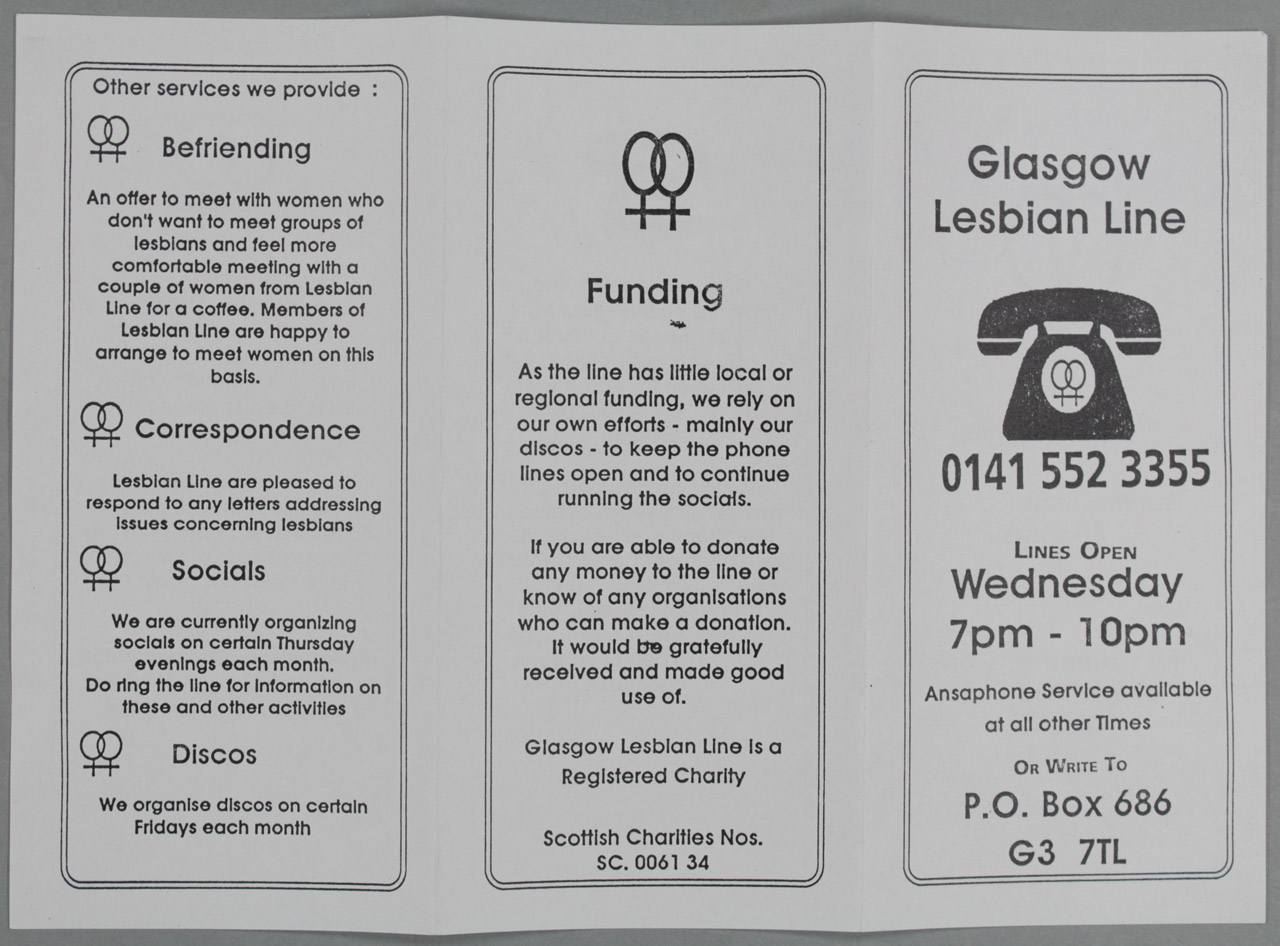 Glasgow Lesbian Line opened in April 1981, and was an important information and support service for Lesbian women in Glasgow. Run by volunteers from a variety of backgrounds, the line supported women in Glasgow and Scotland more widely, providing them with a phoneline support service as well as offering befriending services for women. The line raised funds through its social events programme, most notably its monthly discos.
Homophobia: Taking No Pride in Prejudice handbook
This handbook was developed by Glasgow Women's Library on behalf of the city council in 2005. Its principal aim was to address issues connected to inequality, and specifically homophobia, experienced by LGBT people in Glasgow. Designed for people working within council and local authority contexts, the handbook provides definitions, resources and general information about the specific issues affecting people in lesbian and gay relationships; raises awareness of homophobia as an everyday issue experienced by lesbian and gay people in Scotland; and provides guidance to those working with lesbians and gay men who have experienced all forms of homophobia. The handbook addresses specific issues related to homophobia and homelessness/housing, healthcare, policing, education and social work in Glasgow.
Some twelve years later, the issues discussed in Homophobia: Taking No Pride in Prejudice still remain relevant.
—
Return to the LGBTQ Collections Online Resource
—