A Girl's Career in the 1950s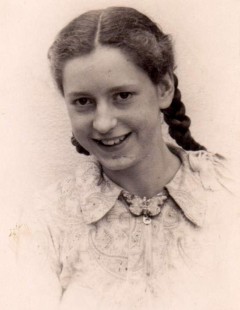 In the photograph [on the left] you can see just how I looked at aged just 15 years old. This is the age I was when I went for my interview at William Denny's Engine Works Admiralty Drawing Offices for my first job to be an Office Girl. I had in those pigtails and I remember my mother got me a pink blouse, with a Peter-Pan collar, and a black A-line skirt that was from C&A in Glasgow. This was finished with a pair of white ankle socks, black flat shoe and black cardigan. I didn't decide my own dress then, it was what I was bought. I was the youngest of nine, so what I wore depended on what my parents could afford and my mother and my father were quite Victorian in their outlook.
Well, I got that job as an Office Girl with William Denny, but it was not the shipyard, as I say it was in the Admiralty Drawing Offices which was the Engine Works Department. You see there were three Denny Companies in Dumbarton; Denny Shipyard that was entered at Castle Street, Denny Forge that was located and entered beside were Dalreoch Train Station is, and my location, the Denny Engine Works, that you entered at Bankend Road. My job there involved many tasks but one task was to go from the drawing offices with engine plans and deliver these to the foremen of all the different departments, like the boiler shop, the pattern makers shop, and the joiners. These would then be used in the factory areas to make the engines up. I done this job for a year so I knew the whole area by that time.
After this first year as an Office Girl I went for an interview with the chief draughtsman at the time to start a five-year apprenticeship in the Tracing Office to become a Tracer and was accepted. I was then tracing the draughtsman drawings of ships, ships like the Frigate HMS Jaguar. In fact, I got an invitation to this ships launch in the shipyard and Princess Alexandra was the one doing the breaking of the champagne bottle for that launch.
I completed my five years Tracer apprenticeship and I still have my union cards for The Association of Engineering Shipbuilding Draughtsmen (copy attached). I have the one that you have as an apprentice and then I've got another one from when I became a Journeywoman. You see, they gave you a different one when you finished your apprenticeship.
It was all women who were Tracers in those days and there was about twenty of us in this office. They used to say it was the old maid's place. The photograph below is a full department photograph that was taken the year of the Queen's Coronation in 1953.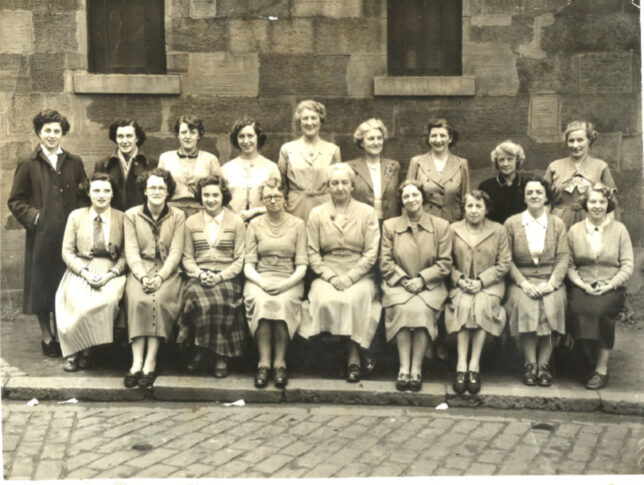 This shows the whole Tracing Office and typist, which in those days she would have been a shorthand typist. It shows you just how we women dressed then.
There was only about five apprentices in the tracing office. That year they photographed all the different departments, the tracing, the drawing, the counting house….and there was a big dance that year too, a dinner dance. It was quite exciting because I was only 18 that year. There were many staff dances throughout my time with Denny's.
I remember the Coronation Dance where a visiting Burmese Drawing Office Apprentice asked if he could have his photograph taken with me! I obliged and this is the photograph [on the left].
I think my wage would have roughly been about £15 a week. Each year it went up and so by the time I got to 21 and was a Journeywoman, my wage had gone up to £21.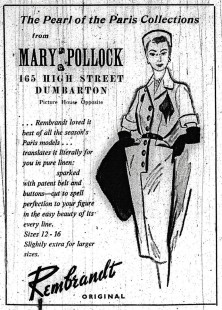 I can remember what I spent my first £21 wage on to… there was a shop called Mary Pollock's in Dumbarton, which was really classy in what it sold. One such item was Dior silk stockings, you know the ones with the line up the back and the pointed bit behind the heel before the line went up? Well they were what I spent most of my first £21 pay cheque on.
Mary Pollock's was different, a kind of classic type shop. It was at the end of the High Street on the corner as you turned to go over the old bridge.
After the stockings, if I bought a dress or bigger item, which was really expensive, you could pay it up. You went in every week and paid so much towards the dress. I can still remember the lady who served in the shop to this day. She was very smart and she had two or maybe three in the shop, juniors they were, who would take you in to the fitting rooms to help you try on your outfit. You got special attention so it was nice. They'd lovely clothes, lingerie and accessories, all good quality items.