The relationship between Lesbian Politics and the politics of Women's Liberation and Feminism now feels very closely aligned. Though initially Lesbian women had a complicated and initially hostile reception in the Women's Liberation Movement, the 1970s witnessed Lesbian women finding more affinity with Women's Liberation as opposed to Gay Liberation which was increasingly seen as male dominated and lacking in nuance around the issues affecting women and girls. Increasingly, though not exclusively, oppressions experienced by Lesbian and Bisexual women came to be understood as being coded by patriarchy and misogyny.
The LAIC collection reflects on the close relationship between feminism and Lesbian politics, housing significant runs of general Feminist newsletters and publications, including more special interest and international publications. The collection reflects on issues of sisterhood, as well as the important bonds of solidarity and sisterhood that women made in this very fertile period of women's activism. However there are many materials which also throw light on the fractures which characterised much of this politics, notably 'The Sex Wars' which erupted around tensions within Lesbian and Feminist communities over pornography and Bondage Domination and Sado Masochistic (BDSM) sexual practices.
Sappho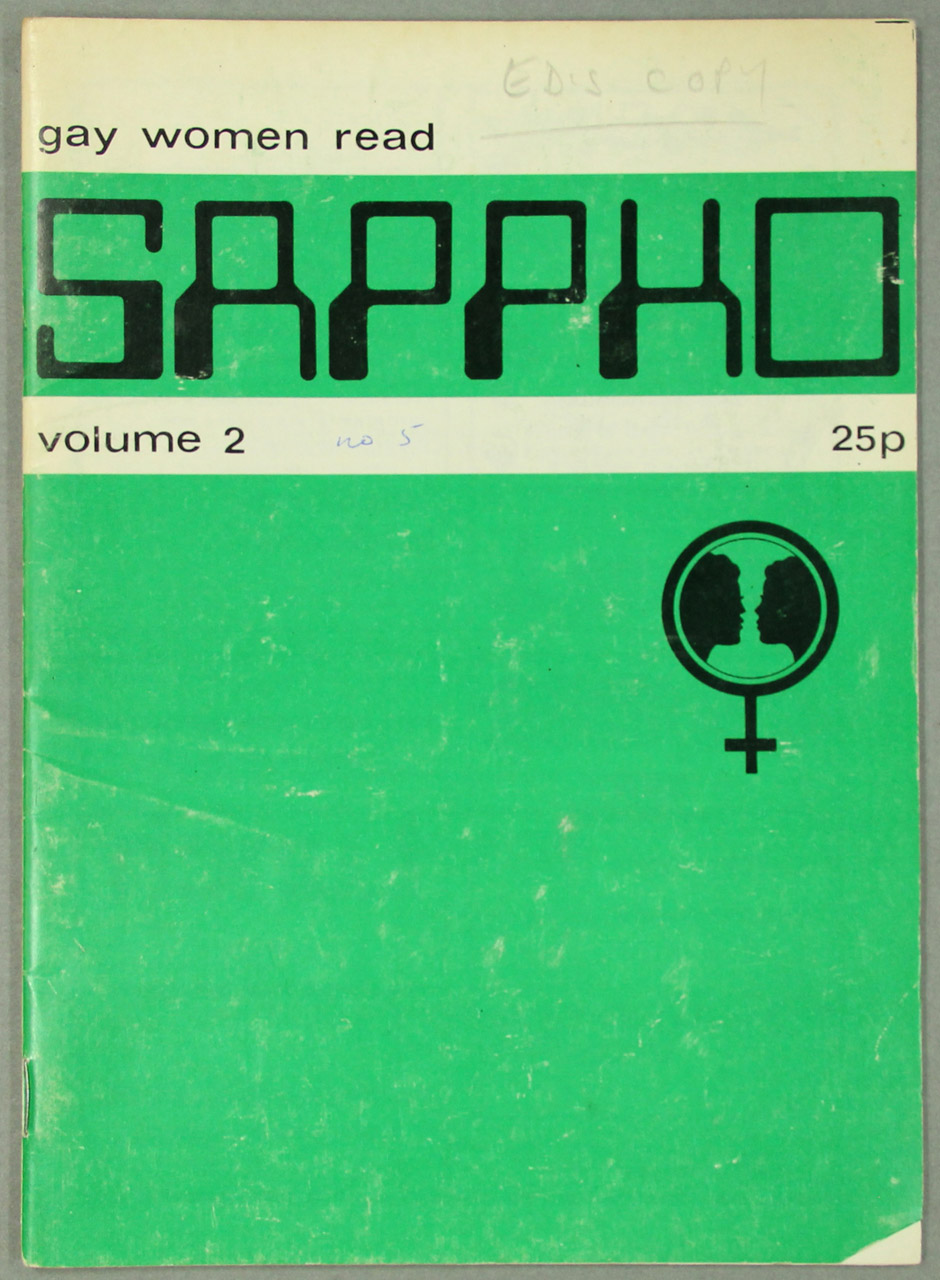 Sappho was an influential publication produced between 1971 and 1982, and edited by the lesbian broadcaster and campaigner Jackie Forster. The magazine had wide ranging concerns, but principally sought to give voice (through its letters pages in particular) to Lesbian women across the UK. The magazine charts the powerful influence of Lesbian women in the feminist movement, as well as the beginnings of visible social and political activities of LGBT women in the UK. As well as the magazine, Sappho organised discos, social events, support groups and talks.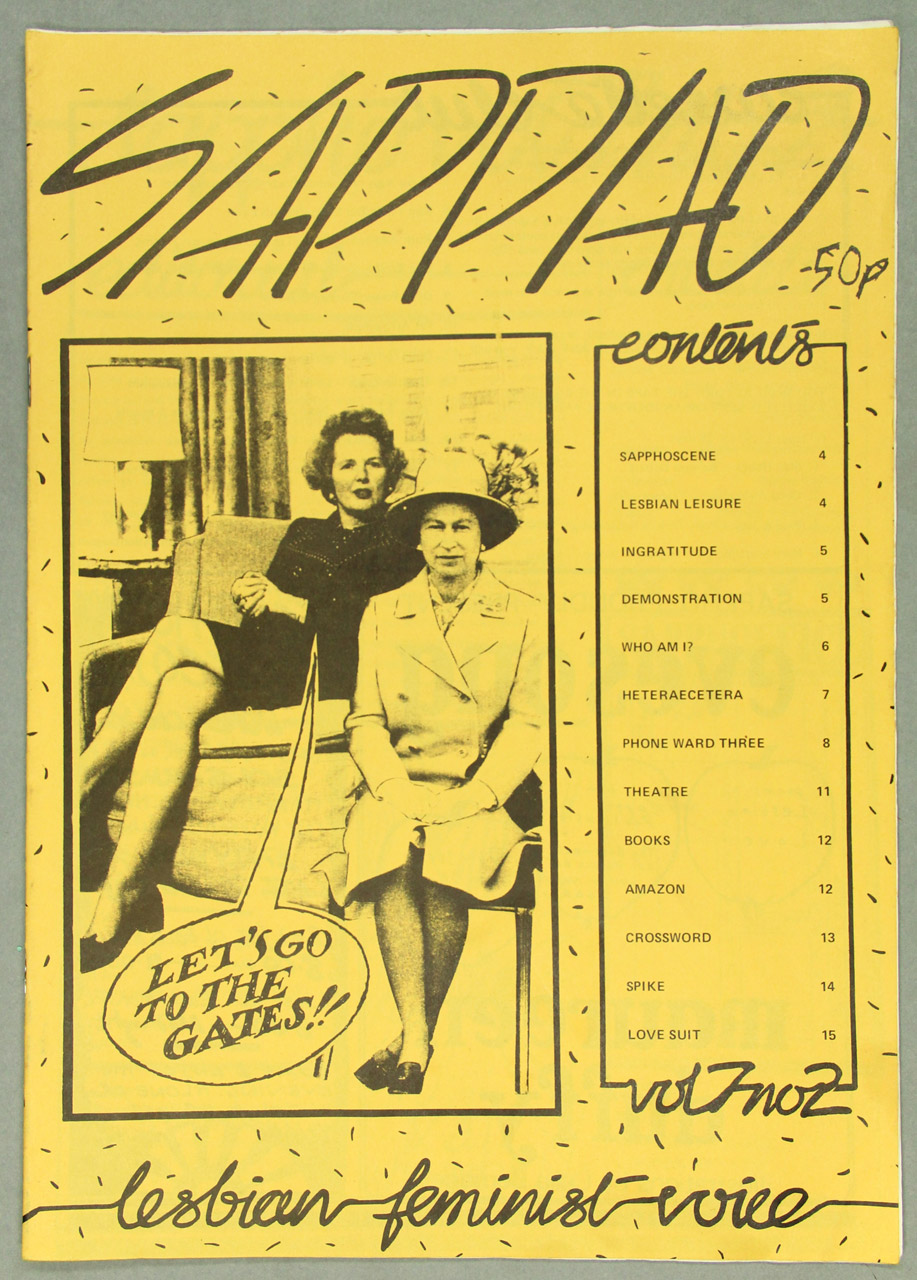 'The Making of a Magazine'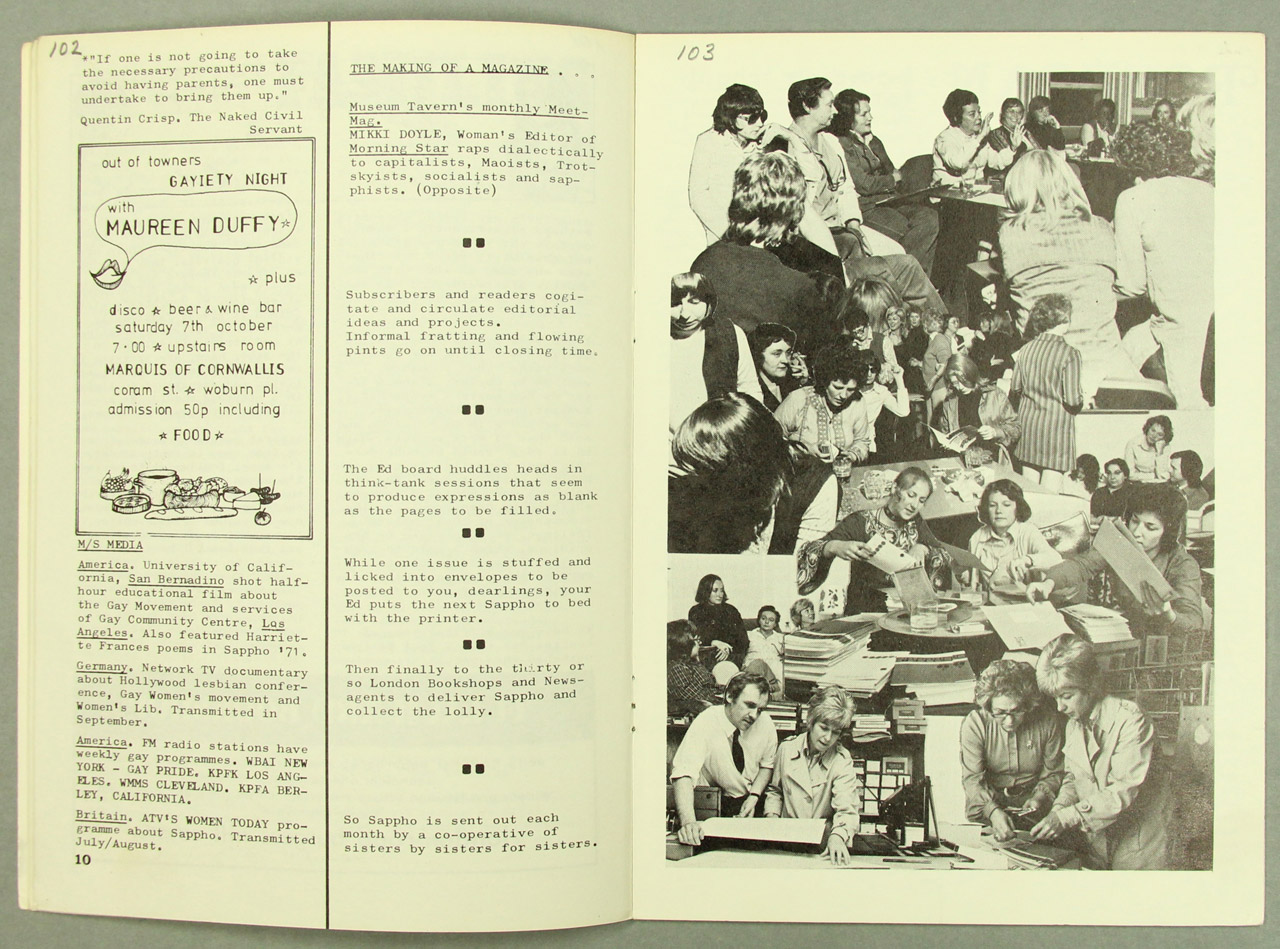 This article appeared in a later issue of the magazine and showed the readership the process by which Sappho was produced and sent out to its readership. Discussions around labour and content creation became an increasing preoccupation in later issues, and these discussions were regularly echoed in wider feminist discourse.
London Women's Liberation Newsletter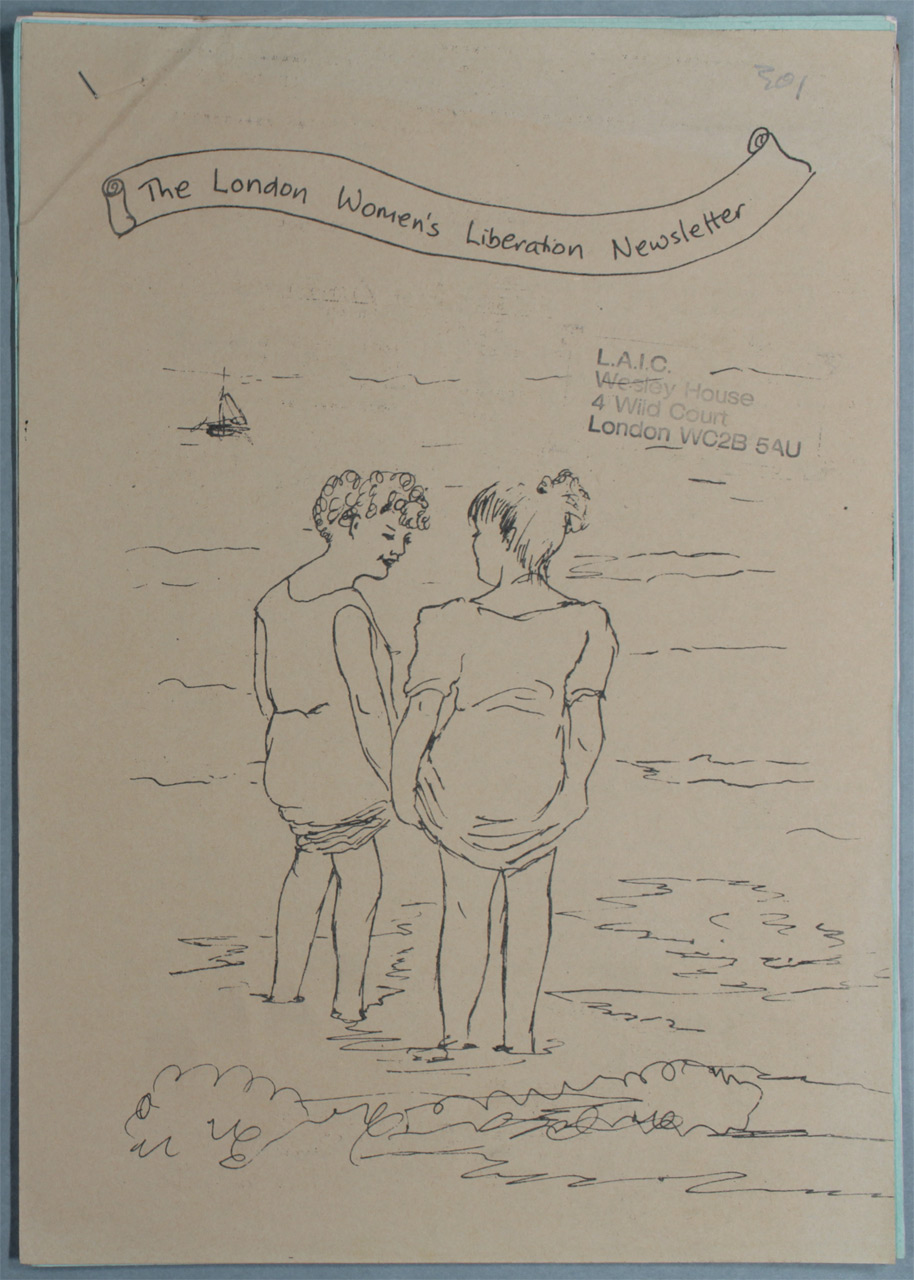 London Women's Liberation Newsletter was a weekly publication which ran between 1978-1985. It was a women- only publication, and served women active within the Women's Liberation movement in London. The newsletter was a forum for many women's liberation and related activities. Among other things it promoted the work of related groups and organisations (in London and across the UK); published opinion pieces written by the readership; advertised accommodation and employment listings for women; and promote women specific cultural, social, political events and activities.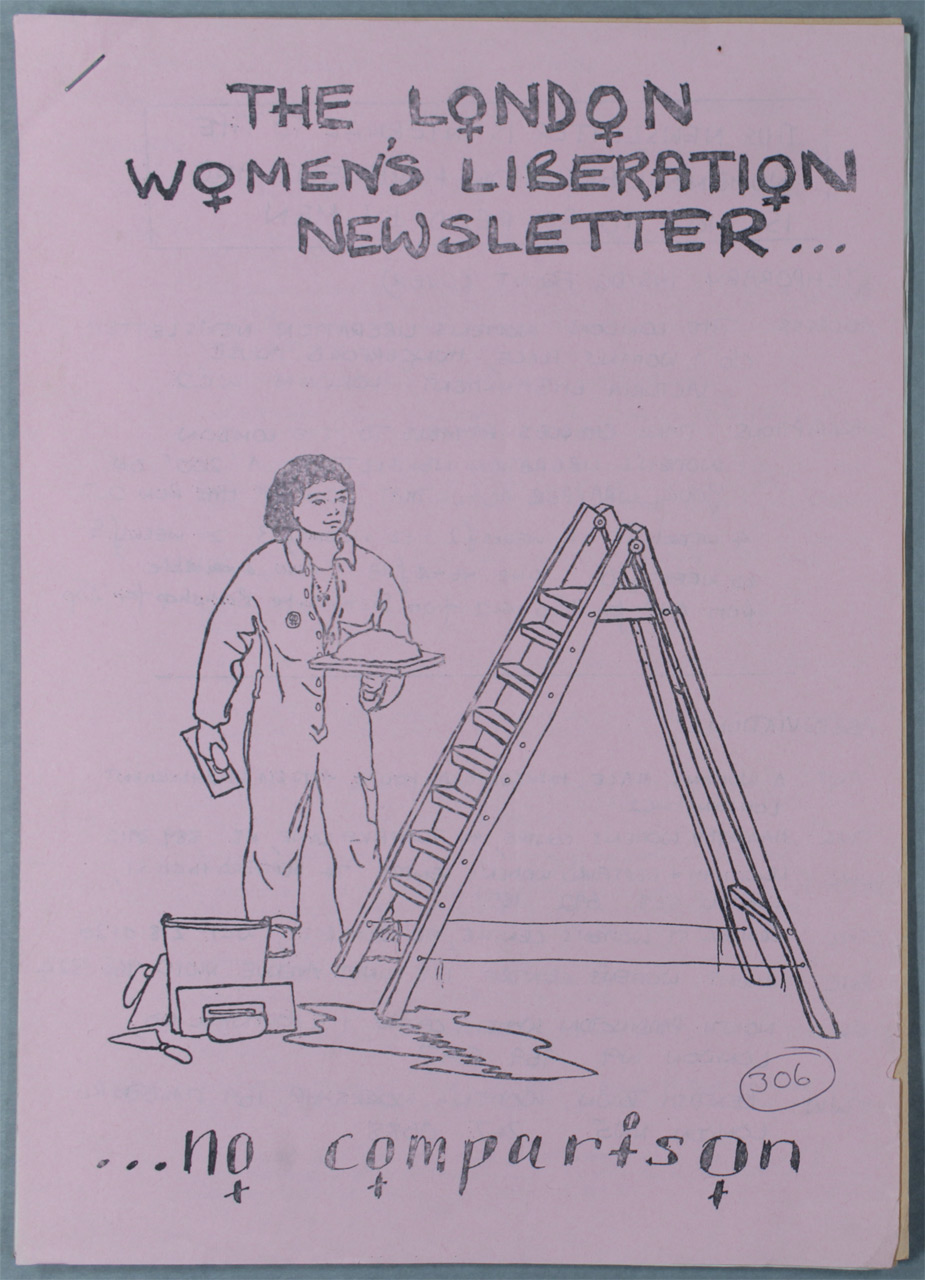 HΛABPYΣ / Lavrys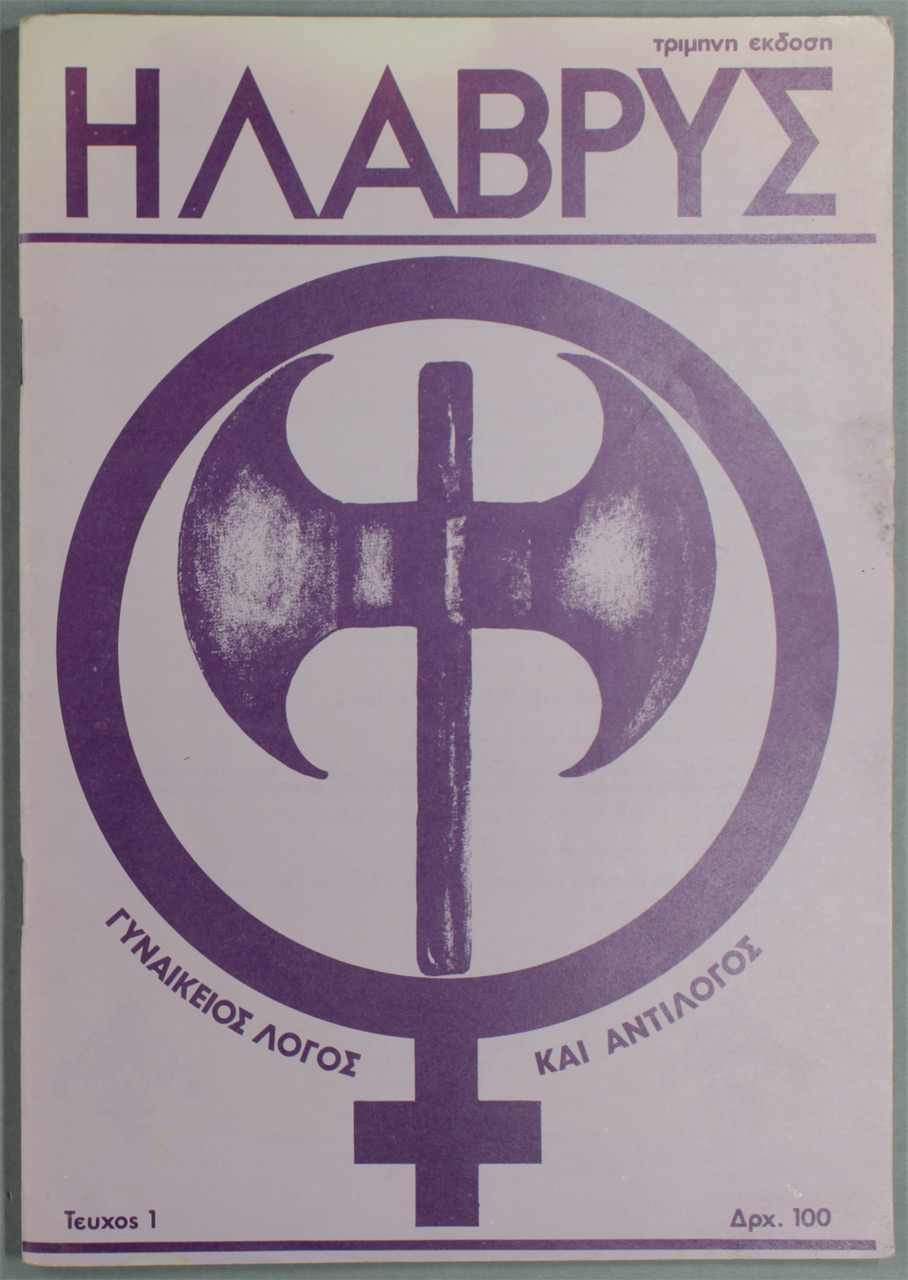 Lavrys (in English, "labrys") was the first outwardly lesbian-feminist publication in Greece, and the only one until the late 1990s. Published in 1982, it was discontinued after the third issue, following economic problems and internal disagreements, but for this reason its significance for Greek LGBTIQ+ history is great. The women behind Lavrys were involved with the nascent Greek feminist movement, and also with various communist and leftist groups. They tried to import the style and content of international feminist magazines and zines circulating at the time, by translating important writings by feminist activists and academics. The magazine also published opinion pieces, poetry and fiction, as well as reporting on women's news. Lavrys was strongly connected to the activities of grassroots feminist groups in Athens, and also served as a space for them to promote and develop their engagement with the lesbian and feminist community.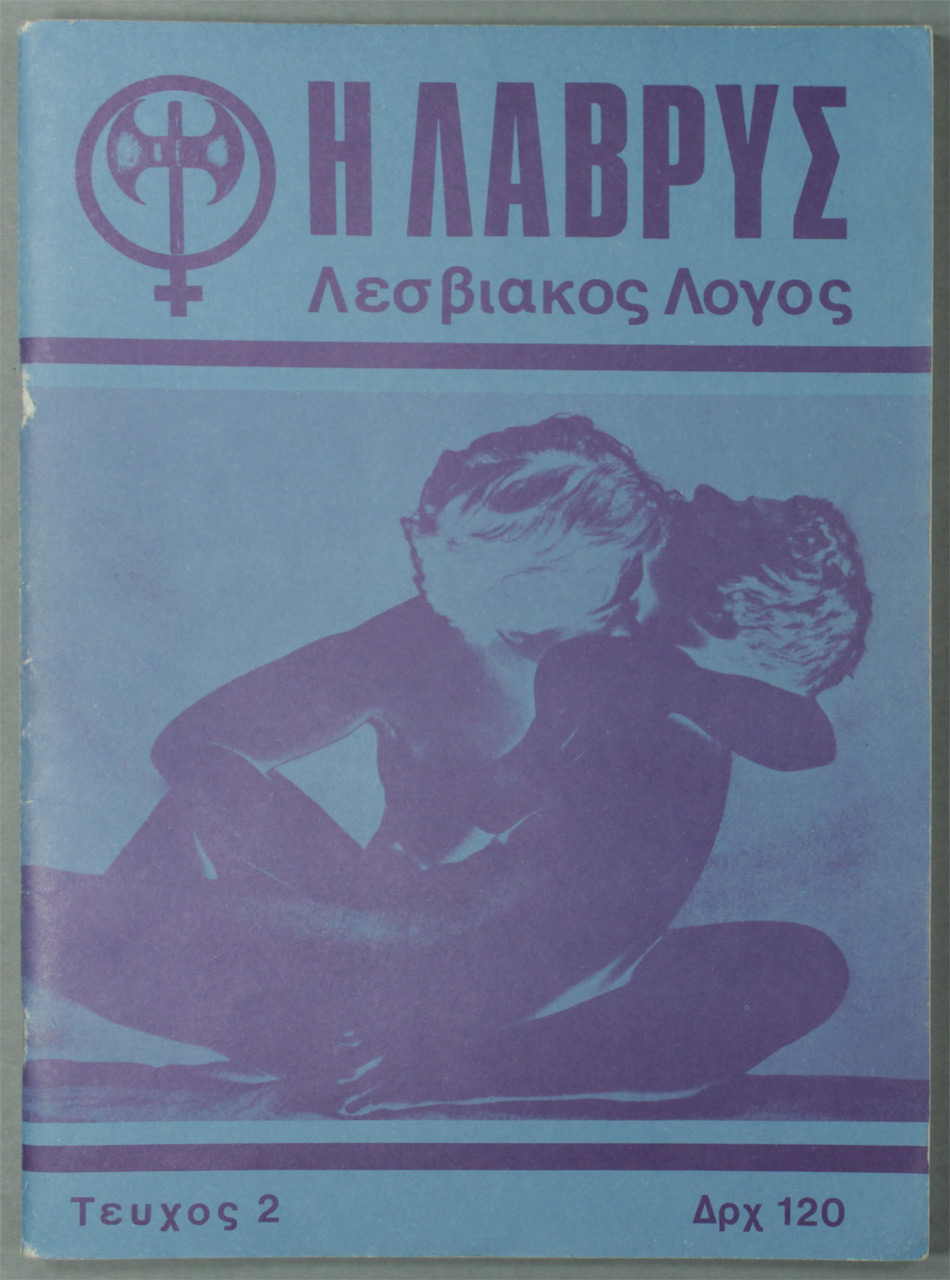 Bolletino del Cli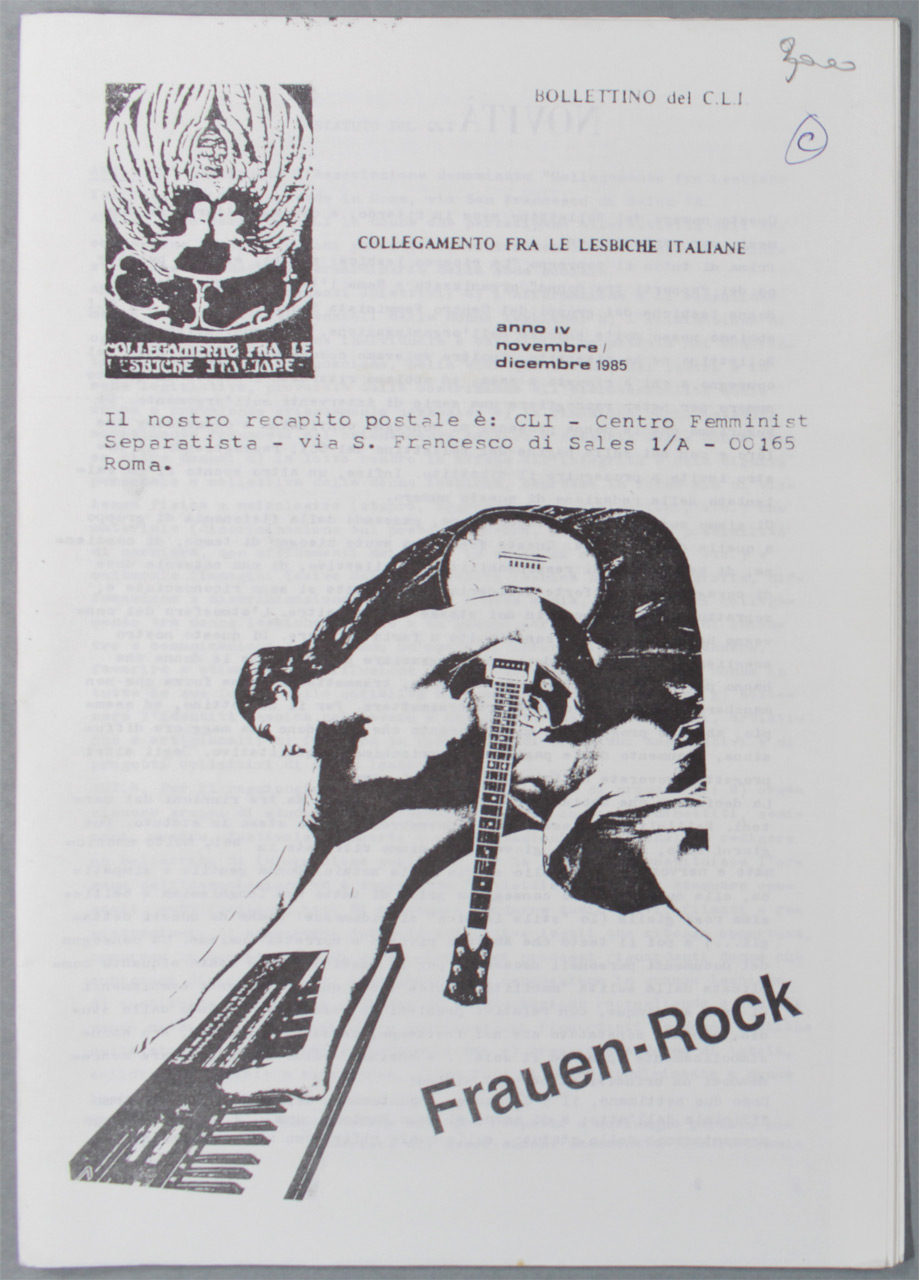 Bolletino del Cli was a Lesbian feminist journal based in Rome in the 1980s and 1990s. It functioned as a national bulletin and newsletter for Lesbian Feminists in Italy, and drew information about resources; events and organisations with an interest in lesbian feminist politics from across the country as well as internationally. It is characterised by its unique design and aesthetics.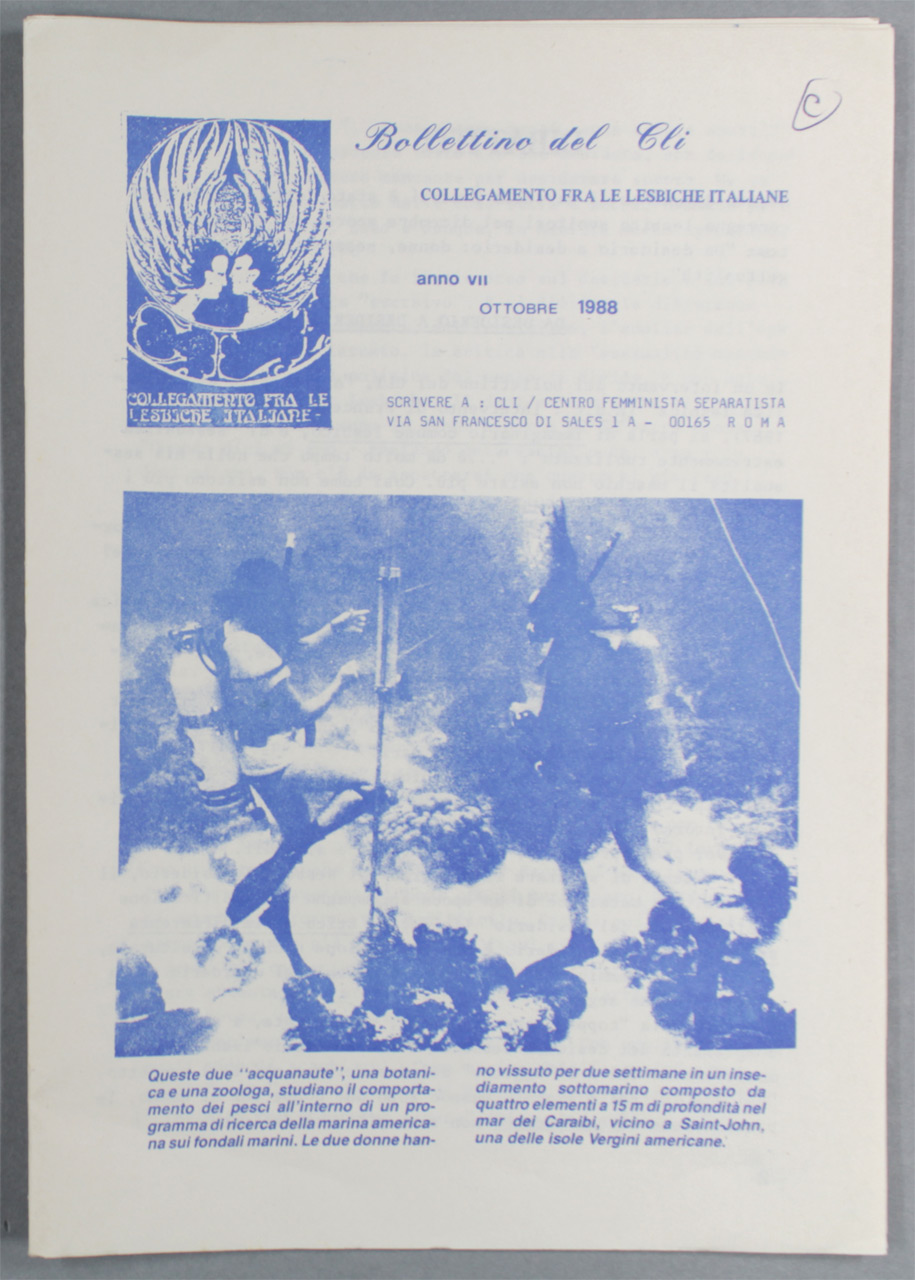 Womenzade Tshirt, unknown designer, circa 1980
This Women's Aid t-shirt forms part of the Lesbian Archive collection, and its presence in the archive illustrates the close relationship between Lesbian and Feminist activism. Women's Aid was founded in 1974 under the name the National Women's Aid Federation, and brought together refuges and support groups for women and children experiencing domestic abuse across the UK. In 1976, Scottish Women's Aid was founded, and Women's Aid became a federalised organisation serving those experiencing domestic abuse as well as survivors. This year, a joint project, Speaking Volumes, between Scottish Women's Aid and Glasgow Women's Library is celebrating the forty year history of Women's Aid in Scotland.
The Sex Wars
Throughout the 1980s and early 1990s the lesbian and feminist community fractured around the issues connected to sexual practices and lifestyles (for example BDSM), as well as pornography. These fractures and arguments are commonly referred to as the 'sex wars', and caused an enormous amount of painful conflict within lesbian and proto-queer politics, as well as feminist politics more broadly. GWL's Lesbian Archive and LGBT collections contain materials which reflect on this particularly polarizing period of Lesbian and Feminist politics.
Off Our Backs magazine
Off Our Backs was a long running and influential feminist publication pulbished between 1970 and 2008. Though based in the US, it aimed "to educate the public about the status of women around the world". It also sought to be a forum for feminist perspectives, and in this way played an important role in sharing radical feminist and lesbian politics and ideas. As its name suggests, it took a strong anti-pornography stance in much of its writing and content.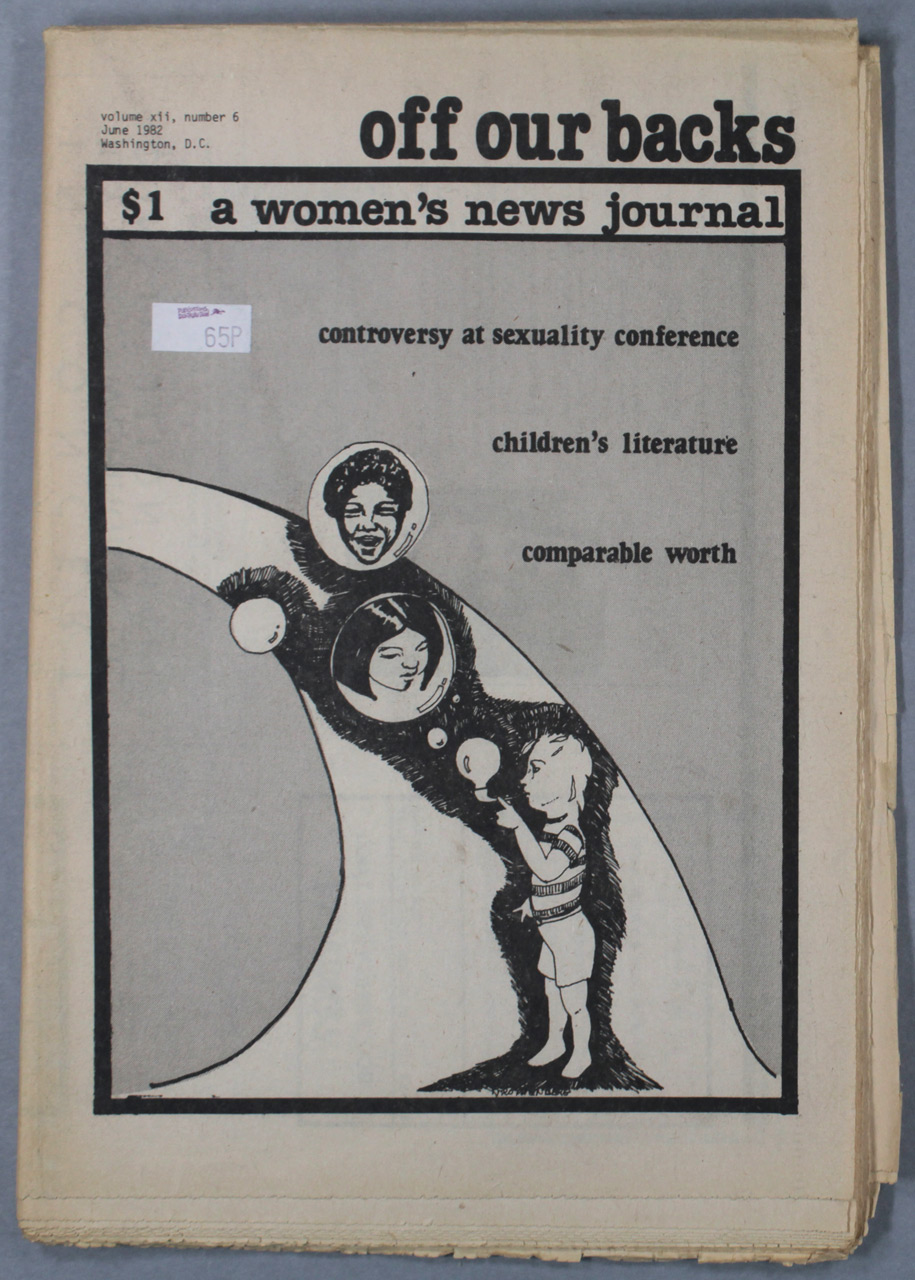 These issues both reflect on the Sex Wars over the course of 10 years. In 1982, a conference called 'The Scholar and The Feminist: Towards a Politics of Sexuality' had been held at Barnard University and sparked controversy by foregrounding the views of sex positive feminists whilst not including anti-Pornography and radical feminist speakers, writers and practitioners. The 1982 issue of Off Our Backs features extended commentaries and criticisms of the conference, and frames many of the arguments and conflicts around Sex in the early 1980s. Some ten years later, the 1993 edition reflects on this event and what came after, and features an interview with Joan Nestle, the founder of the Lesbian Herstory Archives and a prominent feminist activist and popular erotica writer, who had been an invited speaker at the Barnard University conference.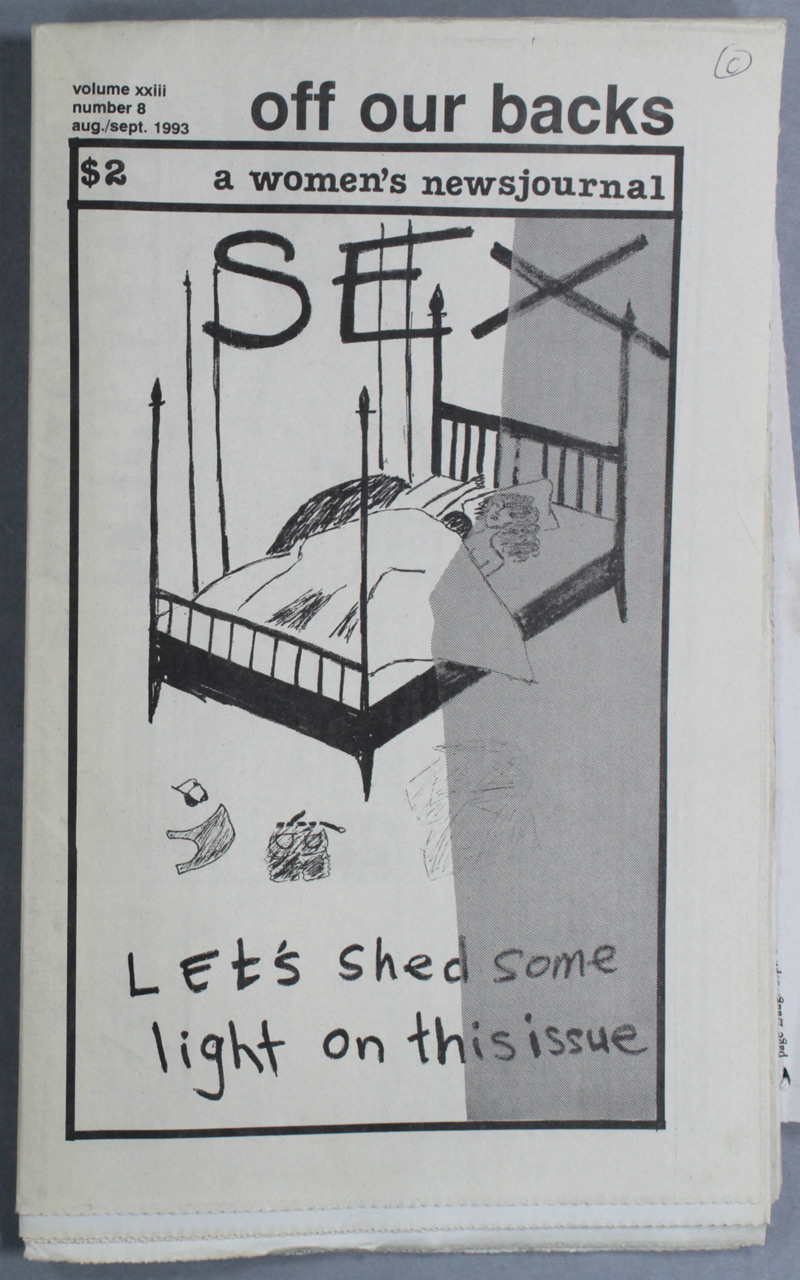 Quim magazine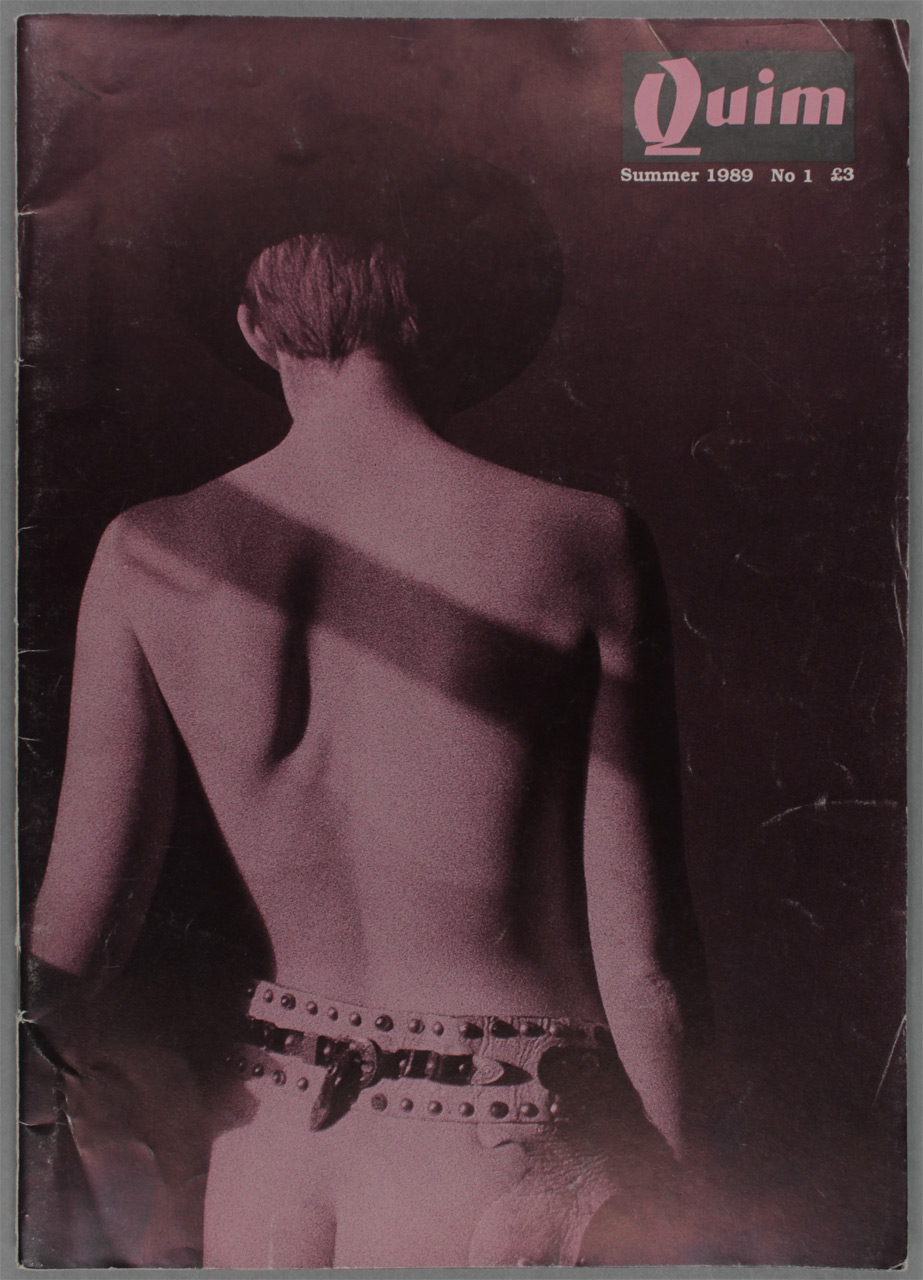 Quim magazine was an erotica and pornography magazine produced in London between 1989 and 1995. It emerged out of the context of the sex wars, and was directly inspired by figures like Joan Nestle. Like the US publication On Our Backs, Quim foregrounded the work of important Queer and Lesbian artists like Tessa Boffin and Della Grace. As well as photography the magazine contained articles, stories and letters pages. Though it only ran for a few issues, it has become an iconic British Queer Feminist magazine.
—
Return to the LGBTQ Collections Online Resource, or find out more about LGBTQ activism in We Recruit!: Campaigns and Organisations
—