Support Glasgow Women's Library as we celebrate our 30th year
To mark our 30th birthday, we are pleased to launch a new fundraising initiative, Women on the Wall, to help us in our ongoing work towards building a sustainable, green future.
Following the success of our Women on the Shelf scheme (placing amazing women on our library shelves and helping us to make our new Bridgeton home fit for purpose), we want to create a new space that links to our museum and archive collections to honour women who deserve recognition, while raising much needed funds.
The money raised will contribute towards GWL's overall aims to become net carbon neutral. We are working hard to reduce energy consumption and are steadily making improvements to our historic building. During the Covid-19 pandemic we commissioned Dress for the Weather to produce an Environmental Action Plan to keep us focussed, prioritise actions, and help us to work towards our own sustainability goals and those of the planet. Actions identified / suggested range from having our loft insulated to devising programmes of green themed events with our local community.
Women on the Wall fundraising will help us to achieve our aims whilst honouring women* who have made their own positive impact on the world. Nominated names will feature in the fabric of our beautiful building. Women on the Wall will be a wall of beauty, professionally designed and immaculately executed in environmentally sound materials. The names of women featuring on the wall will have further information shared about them on a dedicated section of our website.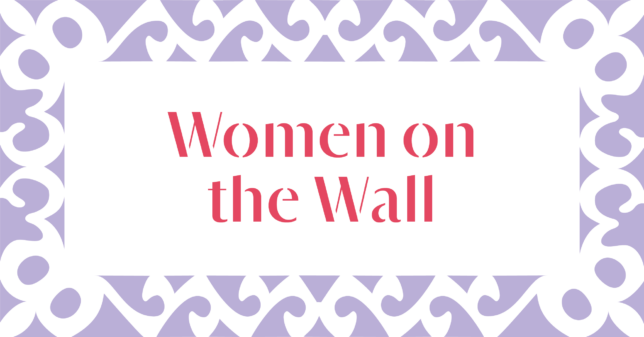 Women on the Wall will be a living tribute to great women, whether that's someone from the past or someone making an impact today, a pioneer in their field or an extraordinary colleague, friend or family member. They will be women whose work and lives chime with the values of GWL and who we can add to our collective history.
We are honoured that a donation has been made to enable us to confirm that the very first woman to be nominated as our Inaugural Woman on the Wall is Emma Ritch. You can read about her life and work here.
In this first phase we anticipate that a limited number of 200 women will feature, so if you want to honour someone remarkable, past or present, who shares our values, supports our work and needs to be remembered for the impact they have made, please nominate them below. Once we receive this nomination we will contact you for payment.
The cost is £150 – raising £30,000 towards our green vision for GWL.
(*All women-only opportunities and events at GWL are inclusive of Trans and Intersex women, as well as non-binary and gender fluid people who are comfortable in a space that centres the experience of women.)
I support Women on the Wall at Glasgow Women's Library!
Complete and submit the form below to nominate a woman for the GWL walls – once the nomination is confirmed, we will send you payment details.