When Camden Lesbian Centre opened its doors on Saturday 31st October 1987, it signalled the arrival of more than just a queer social venue – the Centre quickly became home to a broad range of collectives organising for vital political and social change, from Black liberation to lesbian motherhood. In this blog, we'll get to know some of the key collectives based at 54-56 Phoenix Road throughout the 1980s and 1990s.
GEMMA
GEMMA is a friendship network for lesbians with and without disabilities across the UK, established in London in 1976 with a view to lessening the social isolation faced by many disabled lesbians. The group is still active today, keeping its members in touch by email, phone and post, as well as publishing a quarterly newsletter.
From the late 1980s until its closure in the mid 1990s, GEMMA was based at Camden Lesbian Centre, where they held regular socials and editorial meetings for Sparkles, the network's annual anthology of creative writing from members. It was at Phoenix Road where members began to sketch out and shape another publication: the Disabled Gays Guide. This guide is an indispensable resource which provides thorough, accessible information on everything from pubs and clubs to trans social groups, queer theatre to women mechanics. Wherever a venue is listed, its specific access conditions are also supplied – for example, a section titled 'Hotels and Guest Houses Welcoming to Gays' supplies door frame measurements for wheelchair clearance, states whether specific establishments provide room service, lists the number of flights of stairs to bedrooms, and so on. Under 'Nightclubs and discos', the Guide's authors have included anecdotal observations about how accessible such spaces actually are; such remarks act as a sobering reminder of how disabled people are marginalised even within purportedly inclusive queer spaces. Publications like the Disabled Gays Guide took common knowledge and turned it into a tangible resource – a survival guide, even – at a time when few similar resources existed for queer and disabled people specifically.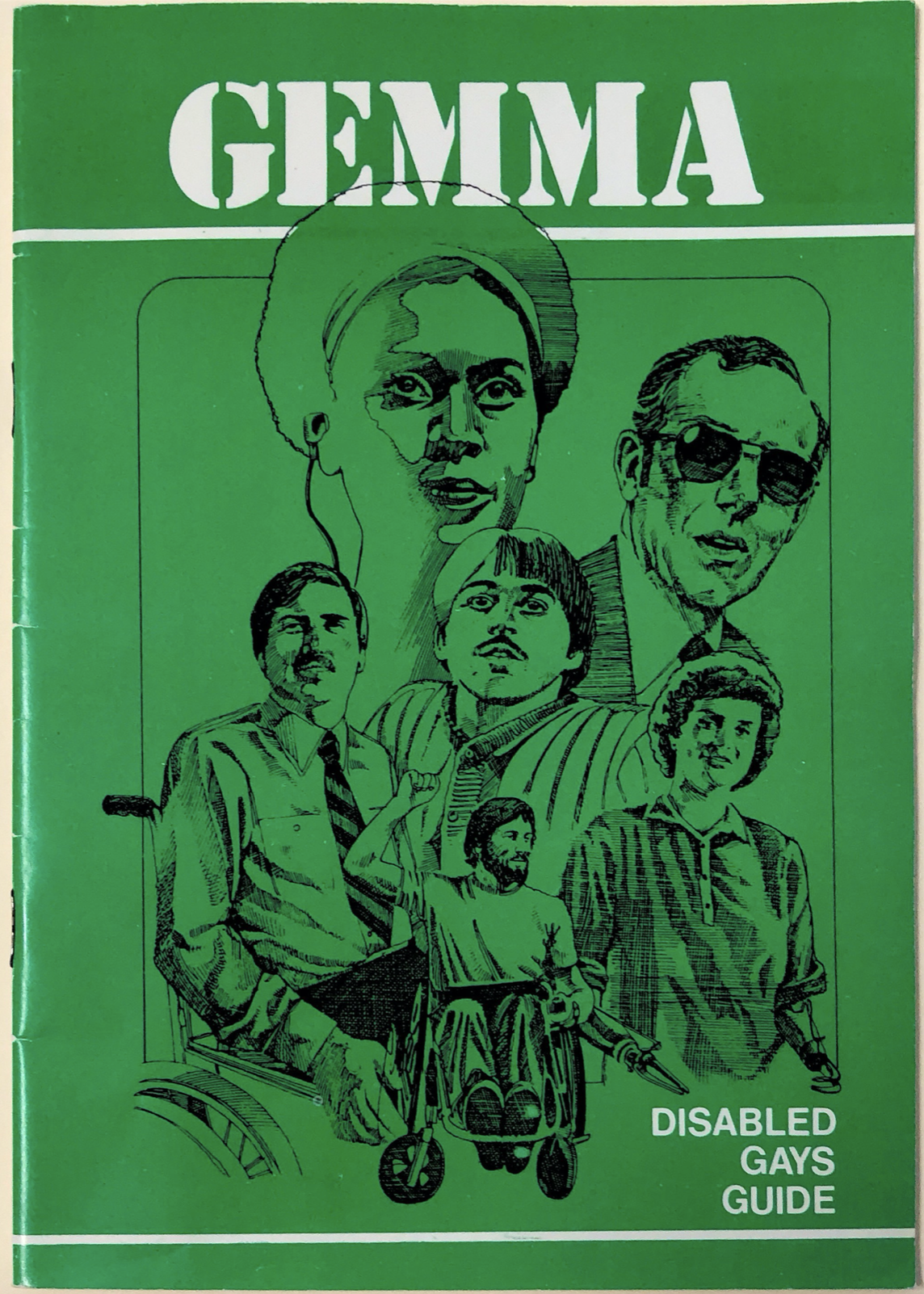 Elsewhere in the CLC&BLG Archive, correspondence between GEMMA and the Centre's core team documents how GEMMA advised the Camden workers on accessibility – for example, GEMMA sent over accessibility specifications which were then forwarded to everyone who regularly held or advertised events at the Centre. Largely because of its relationship with GEMMA, the Centre adopted a policy of only advertising events that stated their access conditions or provided an access code, ensuring that all members of the lesbian community – not only able-bodied women – would feel welcome in the space.
Zamimass
In early December 1990, a group of Black lesbians gathered in Elephant and Castle, South London, to begin planning an alternative celebration to Christmas, which they experienced as an oppression that 'denie[d] our existence as Black Lesbians.' The group named themselves Zamimass after Audre Lorde's 1982 biomythography Zami: A New Spelling of My Name, and their first event – Zami Love Day – brought together Black lesbians and lesbians of colour on Christmas Day 1990 to celebrate one another through poetry, music, and a communal meal.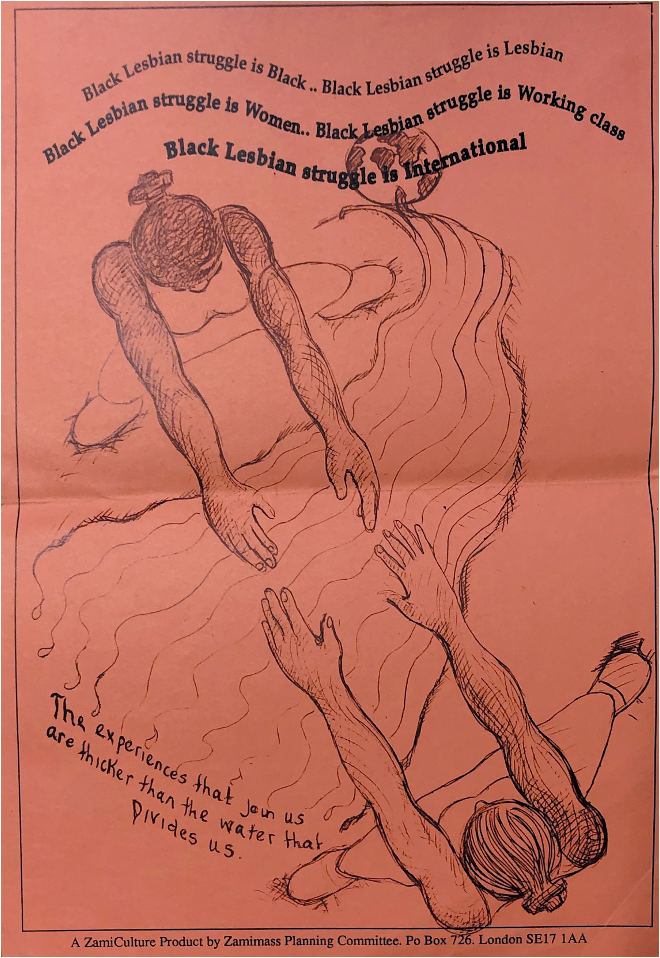 The following year, Zamimass began meeting regularly at Camden Lesbian Centre. From 54-56 Phoenix Road, they coordinated direct actions, publications and posters (below), and arts events. The group's manifesta – of which there's a copy in the CLC&BLG Archive – sets out the nuanced intersectionality of their vision and work, pushing for liberation along lines of class, race, gender, sexuality, the family, children, young people, disability, and employment. They state:
It would be easier for an elephant to pass through the eye of a needle than for a capitalist society to reform itself to reform itself in order to meet our needs as working-class, Black, Lesbian women. We believe that a whole new society is needed.
The group stresses that liberatory work takes time and perseverance, urging other Black lesbians and lesbians of colour to '[j]oin us today for all of our tomorrows.'
When Camden Lesbian Centre faced imminent closure in the mid 1990s, Zamimass was one of many groups to write directly to Camden Council to proclaim the Centre's vital importance for its community. This missive and others like it, bundled together in the Camden archive, ultimately couldn't save the Centre, and the core Zamimass committee continued to meet and organise elsewhere until the end of the decade.
ONYX
Shortly after Zamimass started up, another Black lesbian collective moved into Camden Lesbian Centre – ONYX, self-described as a 'social and discussion group for Black lesbians and lesbians of colour'. Founded in 1989, ONYX members initially met at London Friend, an LGTQ+ wellbeing foundation about fifteen minutes away from the Centre. In 1991 they moved their meetings to Phoenix Road, after London Friend was apparently only able to provide a white male facilitator to lead a workshop specifically for Black lesbians. At Camden Lesbian Centre, ONYX hosted monthly discussions and activities centred on a different theme or issue each month, ranging from mental health, to activism on lesbians and HIV/AIDS, through to creative sessions and poetry readings.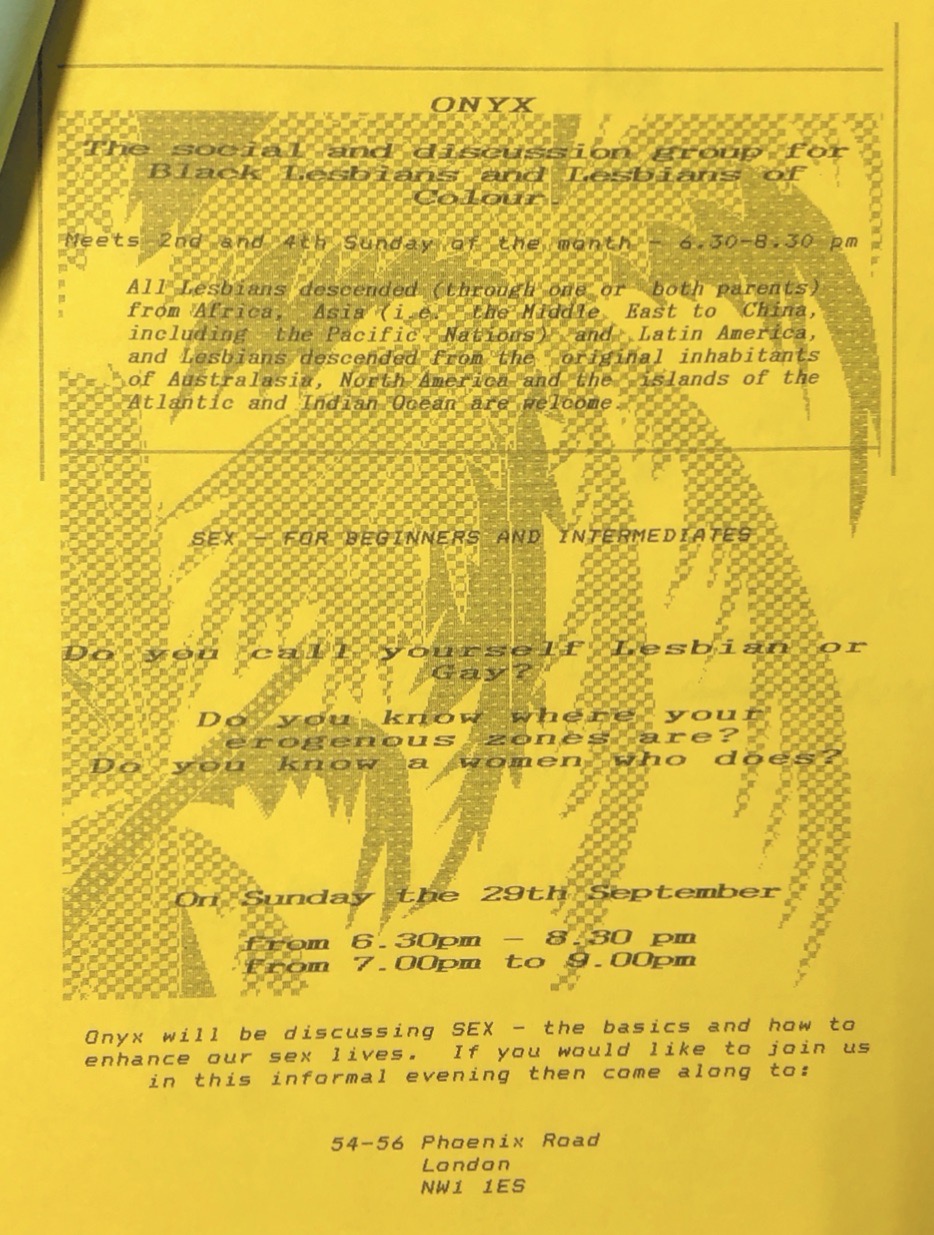 As well as discussion groups, ONYX also ran workshops on aspects of lesbian life that might otherwise be awkward or difficult to broach – for instance, one of their first workshops at 54-56 Phoenix Road was on lesbian and gay sex for beginners. The group was openly sex positive, and as such the poster for this session (above) promises an informal event that gets to grips with the basics of sex and explores how to enhance your sex life. Some of ONYX's material, including flyers, letters, and posters for events like this one, is contained within the CLC&BLG Archive.
The Lesbian Unwaged Club
Camden Lesbian Centre was also a key place for lesbians to organise around key issues like employment, discrimination, and unwaged labour. Accordingly, Centre workers forged close working relations with a group known as Lesbian and Gay Employment Rights (LAGER), who pushed for legal protections for lesbian and gay workers and mandates around homophic and discriminatory employment practices. LAGER wasn't based at Phoenix Road, but the Centre's logbooks document countless callers or visitors who've been unfairly dismissed or refused employment because of their sexuality, and who have been subsequently referred to LAGER by CLC&BLG workers.
A related collective that was based at the Centre itself was the Lesbian Unwaged Club – above, an excerpt from a 1989 CLC&BLG newsletter issue supplies details of their regular socials. The Lesbian Unwaged Club held these socials in daytime, 'working' hours as a means of connecting many women who might otherwise have been isolated, and/or who lived outside of heteronormativity, such as lesbian mothers and caregivers.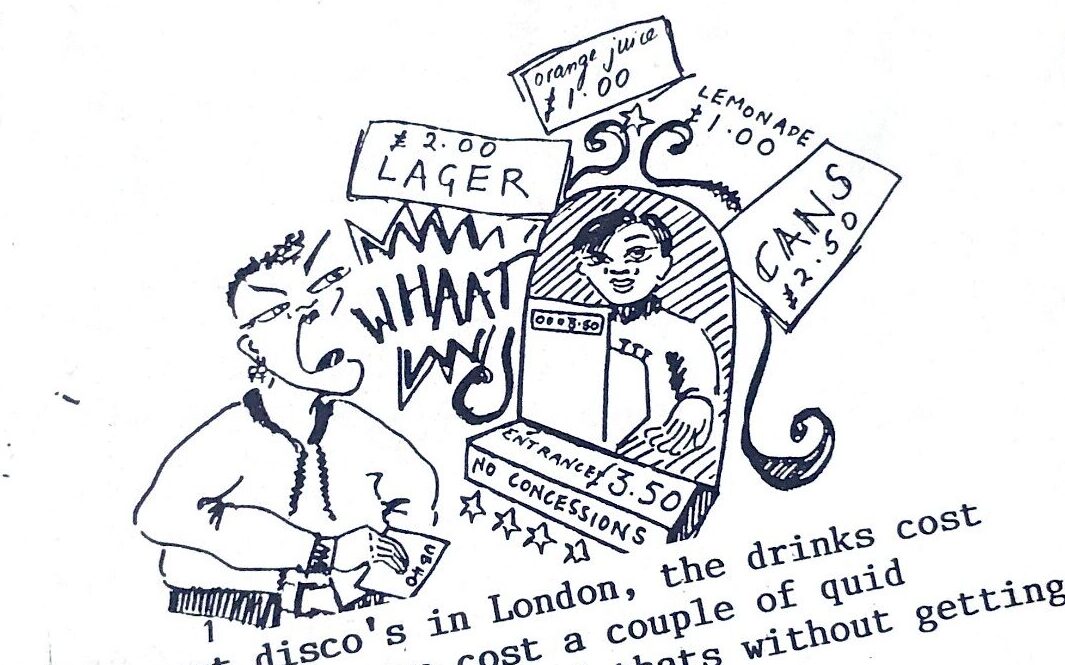 In an article for another CLC&BLG newsletter, one Lesbian Unwaged Club member underscores how the state reinforced – and continues to reinforce – oppressive heteronormativity:
'[s]tate benefits are paid out in ways that support the assumption that women perform unpaid caring labour in the home and are generally economically dependent on men'.
In coming together and nourishing each other creatively outside of this heteronormative framework, then, the Lesbian Unwaged Club were doing something inherently political. Valuing one another's time, company, and labour outside of the constraints of capitalism was a means of embracing the idea that pleasure and creative expression aren't things to be earned through wage labour, but fundamental rights that should be afforded to everyone.
Lesbian Mothers Afternoon Teas
As much as anything else, Camden Lesbian Centre provided a much-needed space in which to care for one another. Since the group's earliest incarnation as Camden Lesbian Working Group, they actively fought to defend the legal rights of lesbian parents to retain custody of their children, so it follows that as soon as they secured a permanent space, the provision of free childcare and a safe, supportive environment for lesbian mothers and caregivers became top priorities. Several workers and members established Lesbian Mothers Afternoon Teas, a collective comprising around ten regular lesbian parents who met regularly for day trips, seaside excursions, and socials at the Centre itself. For its members, LMATs was far more than just a social group – in the words of one regular:
[The group] became a forum in which we, as Lesbian mothers and carers, could talk around issues of lesbian sexuality, childcare, recreation and so on, but in a very informal and unstructured environment.
LMATs also connected with legal advocacy groups like the Lesbian Custody Project, an information campaign that equipped lesbian mothers with the tools and support to fight for their custody rights in court. Together with related campaigns like the Lesbian Law Project and more localised collectives based at other women's centres, these groups built a strong support network which provided a reprieve from the difficulties of everyday life.
Where did they go?
When a community space as vital as Camden Lesbian Centre is threatened with funding cuts and closure, what happens to the groups that use it? First things first, they rally round and fight. When Camden Council's grants division wrote to CLC&BLG to inform them of a devastating 35% cut to their services in 1989, almost all of the collectives explored here wrote to the Council to stress the Centre's importance and value – and it worked, reducing the actual cut to around 12%. When this happened successively, year after year, more letters of support came in from the Centre's regular users, but by the time its core staff was whittled down to just two part-time posts in 1993, the fight to keep Phoenix Road was losing momentum. As members of respective groups got older and moved away from London, they relinquished their responsibilities with few or no newcomers to pick up where they left off.
Reduced to a skeleton staff with increasingly limited opening hours and resources, Camden Lesbian Centre found itself operating in a vastly different political climate in the 1990s – one which embraced individualism and market values over identity politics and collective action. In 1995, Camden Council put the final nail in the coffin by announcing that the Centre would receive no grant funding in the next financial year, effectively closing it there and then. The CLC&BLG Archive was donated to the Lesbian Archive and Information Centre in 1995, and when that centre faced a similar fate shortly thereafter, Glasgow Women's Library stepped in to take care of the Lesbian Archive's collections. Since then, the archive (comprising around one-third of our total holdings) has travelled with us from 109 Trongate to Parnie Street to the Mitchell Library to 23 Landressy Street, where this trove of queer, feminist history is accessible to all. The CLC&BLG Archive has recently been catalogued, making it more accessible than it's ever been; in turn, we hope the legacy of this once thriving hub of lesbian feminist activism can be retraced and brought alive today.
You can explore the Camden Lesbian Centre and Black Lesbian Group Archive here. To arrange to view the collection at GWL, or for any questions, please contact our Archivist by email at nicola.maksymuik@womenslibrary.org.uk.
About the author: Lucy Brownson (she/her) is an archivist and PhD candidate at the University of Sheffield. In her doctoral research, Lucy explores the history of archival practices at Chatsworth House through a feminist lens. She's also an organiser of Sheffield Feminist Archive, a community archive documenting grassroots feminism in the Steel City. Lucy is undertaking a placement in the GWL archives from July-October 2021; you can keep up to date with her work on Twitter.