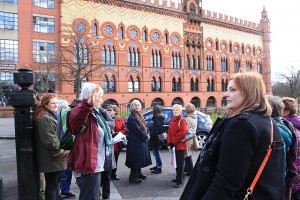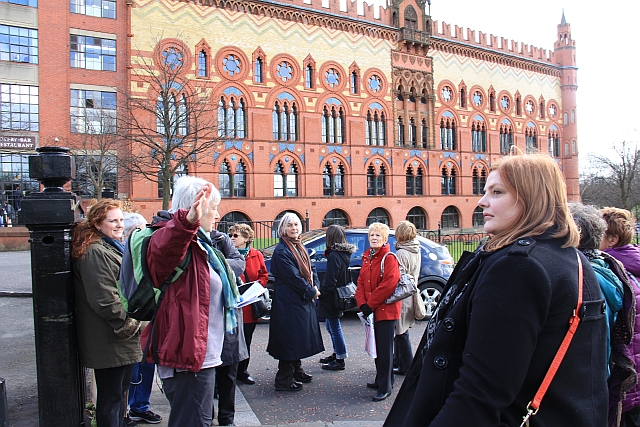 Po ogromnym sukcesie naszego Spaceru po East End śladami dziedzictwa kobiet (wraz z mapą), nasz zespół "Kobiety Tworzą Historię" postanowił stworzyć wersję audio tego spaceru po Glasgow.
Jeśli chcesz dowiedzieć się więcej o kobietach które pracowały w fabryce Templeton, sufrażystkach, które były przetrzymywane w więzieniu przy Duke Street, lub o kobiecie, która była założycielką Barrasów (i wielu innych miejsc), zapraszamy do ściągnięcia tej wycieczki w formacie audio. Przeprowadzi cię ona przez East End, zaczynając przy Mercat Cross oraz zatrzymując się przy miejscach takich jak Glasgow Green, the Gallowgate i Bridgeton.
Niniejsza wycieczka audio została stworzona w językach angielskim, francuskim, polskim i niemieckim dzięki pomocy Glasgow International w 2014 roku. Otrzymaliśmy również pomoc z Instytutu Goethego w Glasgow przy tworzeniu wersji niemieckiej.
Pobierz swoją kopię już teraz: East End Kobiet Heritage Walk Wycieczka audio
Lista rozdziałów:
The Mercat Cross
Święty Andrzej na Placu
Fontanna Wstrzemięźliwości, Glasgow Green
The People's Palace
Fabryka Templetonów i Drying Green
Szkoła im. Logan i Johnston oraz Fabryka Singera
Glasgow Women's Library oraz Bridgeton Umbrella
Abercromby Street i Sklep Betty z owocami morza
Barrasy i Studio East Campbell
Głowa Saracena
Mercat Cross
Możesz również ściągnąć mapę spaceru po East End tutaj. W chwili obecnej mapa jest dostępna tylko w języku angielskim.