Working towards a Women's Archive in Scotland
Our collections are an invaluable and unique resource, which provides vital evidence of women's achievements, culture and lives. As such the library is committed to safeguarding these collections for the future.
In 2006 the library was awarded a major grant of £410,000 by the Heritage Lottery Fund to enable us to create the first ever Women's Archive in Scotland. The award had two aims: firstly to fund the construction of a dedicated archive space and secondly to recruit a full-time Archivist for three years.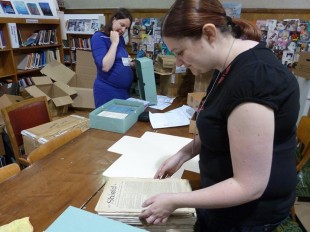 In 2009 Hannah Little was appointed as archivist to work with the collection, to train volunteers in archive and conservation skills, and to run a series of national events related to the collection.
Since then she has worked with numerous volunteers and, alongside our lifelong learning team, has run workshops, provided hands-on archive sessions and talks to a wide range of groups. Work has begun on sorting, appraising, listing and cataloguing GWL's collections and in addition developing GWL's collections management.
This work was vital in order for GWL to become accredited as a museum, which was granted to the library with full status in 2010.