LGBTQ+ people have been a part of Glasgow's history as long as the city has existed. Although the histories of the LGBTQ+ community are often ignored or not recorded in traditional ways, we can find traces of their lives and experiences. From the court records of male sex workers in the Broomielaw to listings and adverts for club nights in the 2000s, and from memories of the saunas and club scenes of the 1980s to the direct action and activism of LGBTQ+ groups like the Lesbian Avengers.
This map highlights just some of the people, places and spaces that have been a part of Glasgow's LGBTQ+ heritage and history. It's not exhaustive, but we have tried to make it as representative and inclusive of all LGBTQ+ people and experiences as possible within the limitations of the records available to us. The map has been created with the help of a team of Glasgow Women's Library's History Detective volunteers in our Stride with Pride workshops in 2019. This trail was funded by Tesco Bags of Help Community Grant Scheme.
The walk takes you from Glasgow Green, the start and end point of many Pride marches over the years, to our very own Carnegie Library building which houses the UK's Lesbian Archive collection, and onwards to Glasgow Film Theatre and The Mitchell Library.
Audio Tour
If you'd prefer to take the tour at your own pace, you can download an audio version or a PDF map to explore the locations. The audio version is available to download below in MP3 format. Please note that the audio tour is supplied as a .zip folder – you will have to download and un-zip this folder before transferring the audio tour to your audio player or smart phone.
Download the Stride with Pride: LGBTQ Heritage Trail Audio Tour
Stride with Pride: LGBTQ Heritage Trail Map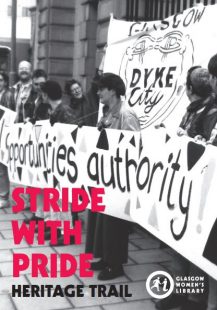 Stride with Pride: LGBTQ Heritage Trail is also available as a map, so you can enjoy the highlights of the tour in your own time. The map is free to pick up from GWL or you can download a copy below.
Download: Stride with Pride: LGBTQ Heritage Trail Map (PDF)
Download: Large Print Stride with Pride: LGBTQ Heritage Trail
Acknowledgements
Thank you to our 15 amazing volunteer History Detectives who worked so hard to create Stride With Pride, including Juanita Spooner, Freya May Taylor and Marta Canadell – and those who want to remain anonymous.
Audio Tour Credits
2 / Pride House – Anonymous local government officer
4 / Glasgow Women's Library – Adele Patrick (Lesbian Archives) and Sue John (LIPS project)
5 / Edwin Morgan – Colin Waters from The Scottish Poetry Library
7 / Lesbian Line – Pauline Kelly
10 / PHACE West – Jim Whannel
11 / Glasgow Film Theatre – Patrick Harvie MSP
12 / Jackie Kay, Rose Street – Jackie Kay discussion + reading
13 / The Two Roberts at GSA – ft. Free Pride organiser Ciara MacGuire
15 / The Mitchell Library, Lesbian Avengers – Sue John
16 / Scottish Homosexual Rights Group, SMG – Steven Whinnery