Description
To mark Glasgow Women's Library's 21st anniversary, the Library commissioned 21 women artists to create new work inspired by items and artefacts in our collections.
One of each limited edition will join the GWL Archive Collection, while the rest are being sold to raise money for the Library. This is your chance to buy an exclusive artwork and support the Library's work at the same time!
Elspeth Lamb, Timepiece, 2012
Digital pigment fine art print on paper, 24cm (w) x 46cm (h), Edition of 20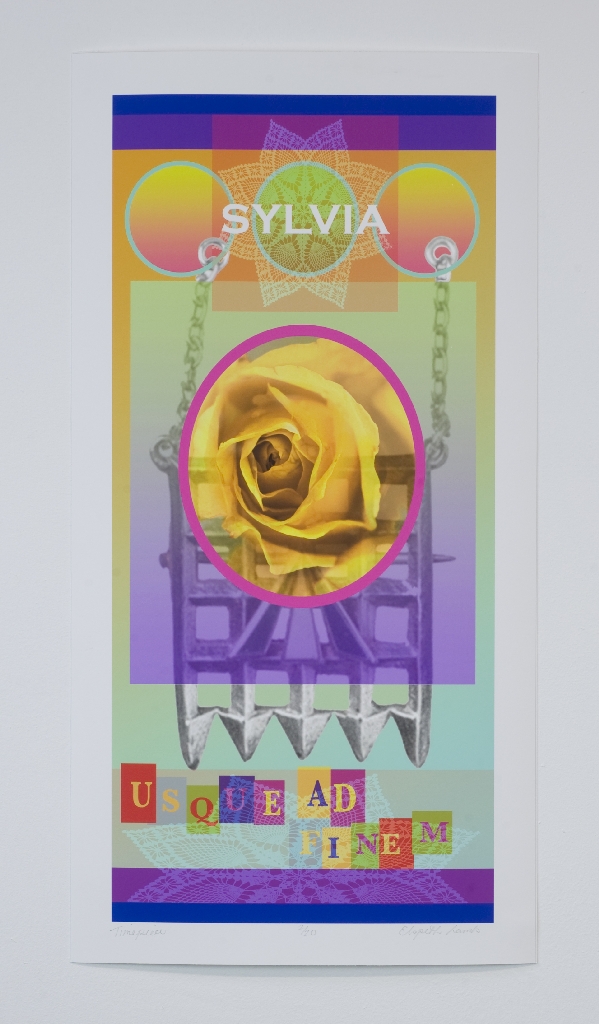 The object that sparked off the research for the banner and edition Timepiece was the small Victorian fob watch in the GWL collection.
"I was intrigued by the small flower which appeared to be a yellow rose at the centre of the watch and I discovered that the yellow rose was the symbol of the American Suffragists. Further research into the UK Suffragette movement led to the idea of making a banner as the Women's Social and Political Union is reckoned to be the first campaigning body to use colour and design to create a corporate identity."
"This banner is dedicated to the memory of Sylvia Pankhurst who was not only a militant agitator for the Suffragette movement but also a gifted artist."
About Elspeth Lamb
Elspeth Lamb studied at Glasgow School of Art, Manchester Metropolitan University and the Tamarind Institute of Lithography, University of New Mexico USA, her main specialism being printmaking. She is an elected RSA Academician, and an elected member of the Society of Scottish Artists and Royal Glasgow Institute and has taught several workshops in lithography at the Joan Miro Foundation in Mallorca, Spain.
She has won several awards for her work, which is also included in major collections such as the Japanese Consular Collection, The British Council, the MAG Collection, and the Joan Miro Foundation Collection, as well as being represented in several Art Galleries and Museums both in the UK and abroad.
For 21 years she taught at the Edinburgh College of Art, latterly as Head of the Department of Printmaking and she has been visiting lecturer at many colleges in the UK. She chose to give up all academic teaching commitments in 1999 to pursue her artistic career. Her most recent residencies have been in Bulgaria, Canada and Newfoundland, and she exhibits regularly at home and abroad.
Buy Elspeth Lamb's Timepiece now
This print is available for £250. You can arrange to pick the print up at GWL, or have it sent by post (£20 UK/£40 International). Please select the option you prefer from the drop-down menu above. You can also buy the print directly at GWL.
The print is also available framed for £325. We are not able to send framed prints by post – we will contact you when the framed print is available to pick up.