Description
To mark Glasgow Women's Library's 21st anniversary, the Library commissioned 21 women artists to create new work inspired by items and artefacts in our collections.
One of each limited edition will join the GWL Archive Collection, while the rest are being sold to raise money for the Library. This is your chance to buy an exclusive artwork and support the Library's work at the same time!
Nicky Bird with Alice Andrews, Raging Dyke Network, 2012
Colour postcards, 15cm (w) x 10cm (h), Variable edition of 20, each work is 1 of 2.
Raging Dyke Network (RDN) was a group of radical separatist lesbians active in the late 1990s. It spanned across 52 locations from the UK, Europe, Canada and USA. At the network's centre was an activist in Norwich, who donated materials – including personal letters and zines – to the Lesbian Archive at Glasgow Women's Library in 2000.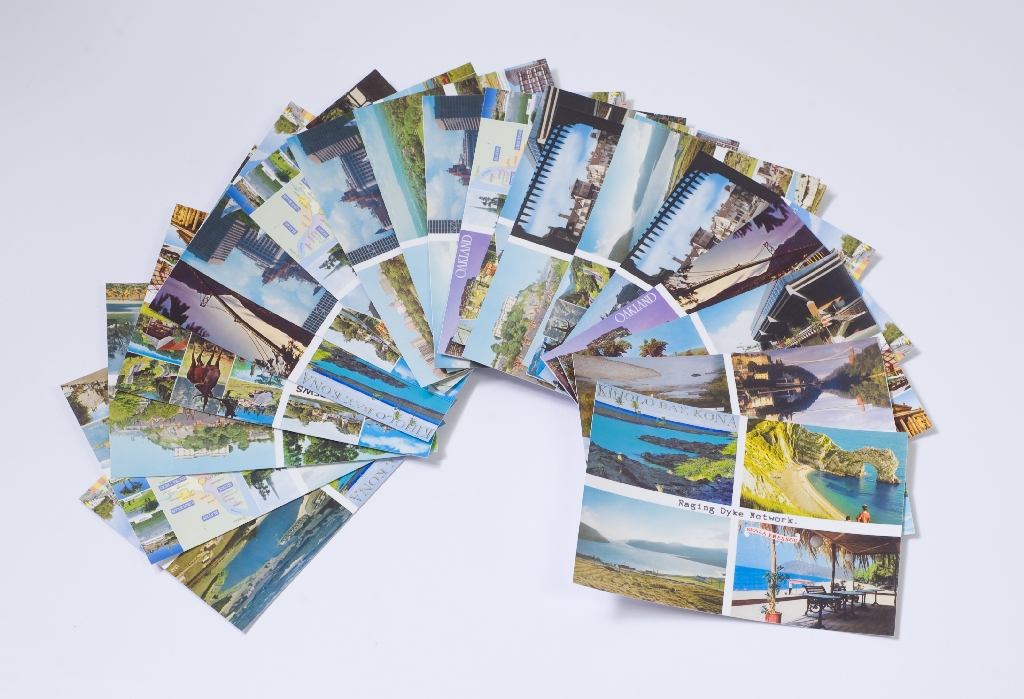 This edition of 20 postcards aims to represent the network's scale and make visible a history often overlooked, without revealing the personal and political content that belonged to a group who identified themselves in terms of their separatist gender politics.
 About Nicky Bird
Nicky Bird is an artist whose work investigates the contemporary relevance of found photographs, their archives and specific sites. Since her practice-led PhD at Leeds University (1994-99) she has explored this through photography, bookworks, the Internet and New Media. In varying ways, she creates artworks that make visible the process of collaboration with people who have significant connections to a hidden history.
In 2008 she received a major Stills photographic commission for the project Beneath the surface / Hidden Place, which toured across Scotland over two years before culminating in a book publication (2010). Residencies, such as the Glasgow Women's Library (2009-10), and solo shows – from Question for Seller (2006) to Archaeology of the Ordinary (2011) – have all played their part in shaping her working with photography in its widest sense.  This shifts from finding family photographs on eBay to recent use of local press photography, along with oral reminiscence and archaeological methods. Alongside residencies, exhibitions, and contributions to arts journalism, Nicky is currently a part-time PhD Co-Coordinator at Glasgow School of Art.
Buy Nicky Bird's Raging Dyke Network now
These prints are available to buy for £40. You can arrange to pick the print up at GWL, or have it sent by post (£10 UK/£20 International). Please select the option you prefer from the drop-down menu above. You can also buy the print directly at GWL.