Description
To mark Glasgow Women's Library's 21st anniversary, the Library commissioned 21 women artists to create new work inspired by items and artefacts in our collections.
One of each limited edition will join the GWL Archive Collection, while the rest are being sold to raise money for the Library. This is your chance to buy an exclusive artwork and support the Library's work at the same time!
Kate Davis, Not Just The Perfect Moments, 2012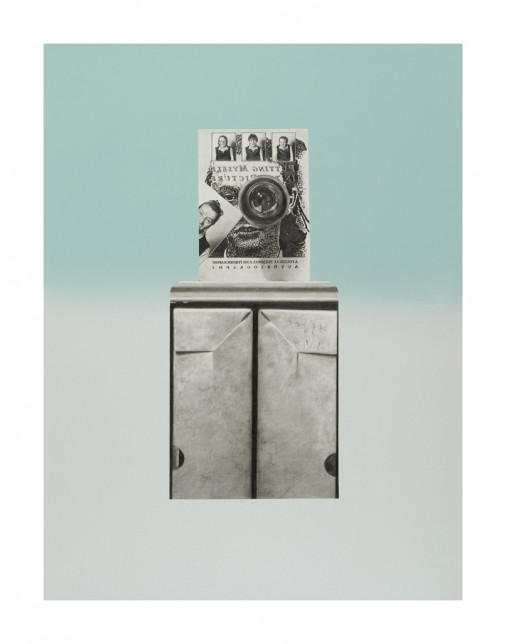 Digital pigment fine art print on paper, 32cm (w) x 40.5cm (h)
"If we train ourselves to 'see' differently, visual markers of various rites of passage which are socially tabooed within the family album can be made: for example, divorce, illness and death; undervalued everyday events such as signing on for the dole, childcare, schooling, housework, visiting the doctor"

Jo Spence, Cultural Sniping, 1995
In this work, as is the case with much of Davis' practice, photography and drawing are brought into close relation, and both are questioned as techniques for representing, and caring for, the past. The British artist Jo Spence (1934-92), whose significant autobiographical text Putting Myself in the Picture is the focus of this print, often asked who owned images, and especially images of the body. Davis reinstates such questioning here by treating Spence's publication as the subject, and Glasgow Women's Library as the subject's stage.
"What we need to do with our own pictures and with our own self image, if you like, is to shift the emphasis back to a point where we understand that everything we do as women has a validity – not just the perfect moments."

Jo Spence, Spare Rib Reader, 1968
About Kate Davis
Born in 1977 in New Zealand, Kate Davis lives and works in Glasgow. Questioning how to bear witness to the complexities of the past, Davis' artwork is an attempt to reconsider, reclaim and reinvent what certain histories could look, sound and feel like. This has often involved responding to the aesthetic and political ambiguities of historical art works and their reception. Informed by successive waves of feminist art and theory, Davis works across a range of media, including drawing, installation, bookworks and film. Davis is a visiting lecturer at Glasgow School of Art.
Kate Davis has presented her work in solo and group exhibitions across the globe. Current and forthcoming projects include eva International and a group exhibition at Museo Rufino Tamayo, Mexico, as well as a solo exhibition at The Drawing Room, London (all 2012).
Kate Davis is represented by Galerie Kamm, Berlin. Further information and images can be found at: www.galeriekamm.de/en/artists/kate-davis.html
Buy Kate Davis' Not Just The Perfect Moments now
This print is available for £300. You can arrange to pick the print up at GWL, or have it sent by post (£20 UK/£40 International). Please select the option you prefer from the drop-down menu above. You can also buy the print directly at GWL.
The print is also available framed for £365. We are not able to send framed prints by post – we will contact you when the framed print is available to pick up.