Our Women Making History in West Dunbartonshire memory boxes are full of artefacts and information about the lives of women in that area during the 1950s and 1960s.
1. Carpet beaters, 50s & 60s but still available today. Before hoovers became commonplace carpet and rugs had to be removed, hung over a washing line and beaten with a beater made from twisted bamboo or willow. Hard dirty work! Donated by Sheila Campbell.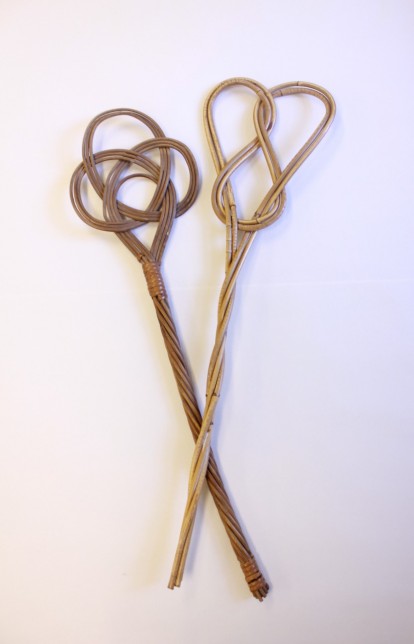 2. Teapot, teacup and milk jug made by Covelands, England. Extremely fine china with gilt scalloped edging donated by Christine Walker.
3. 'Old money' pre-decimalisation. From left to right: crown, florin, shilling, sixpence, thru'pence, penny, ha'penny and farthing. All dated 1950s or sixties except the farthing which is 1902 but would still have been in use. A crown was t'wo shillings and sixpence, a florin was two shillings, a shilling was twelve pennies, a 'thru'penny bit' was three pennies, a ha'penny was half a penny and a farthing was a quarter of one. In the 60s, a chocolate bar was less than sixpence (2.5p) Donated by Marion Lees, Rena Hector & Cath Barrett.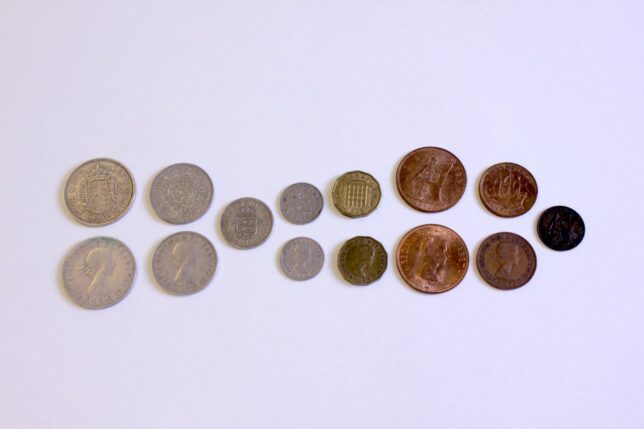 4. Curtain with swirly pattern in a new synthetic fabric from the 1960s. With ironing not required, this fabric was also tough and durable, so very popular.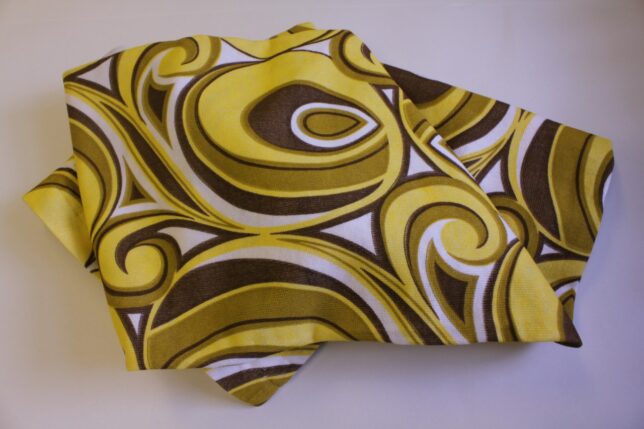 5. Coat-hangers with hand-knitted covers. Take one wooden hanger and knit a cover. Popular item at jumble sales. Donated by Christine Walker.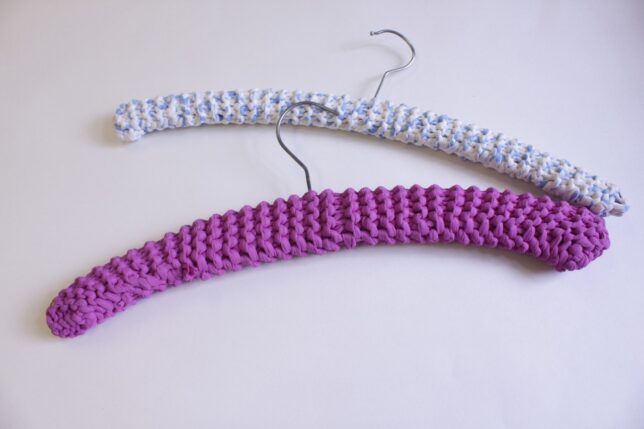 6. 4 cookbooks: The Scottish Cook Book by the People's Friend magazine, Everybody's Home Recipe Book, by Odhams Press, Be-Ro Home Recipes, and Lofty Peak recipe book from Lofty Peak millers of Leith. These were the popular cookbooks of the day with many simple practical recipes for every day cooking.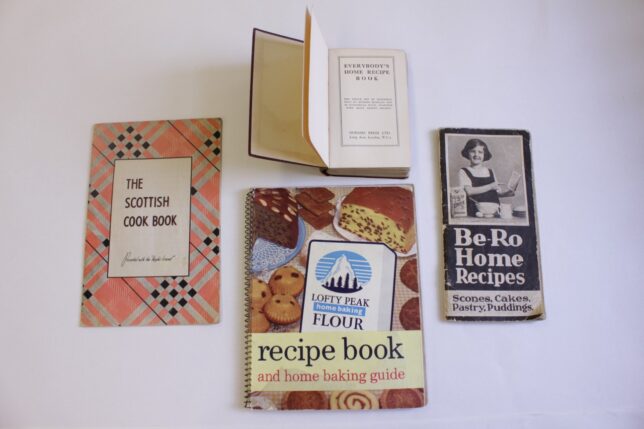 7. Sewing pattern for a wedding dress and a photo of Margaret McDougall who both made it and wore it on her wedding day in 1964. She made the same dress in light turquoise for her bridesmaid.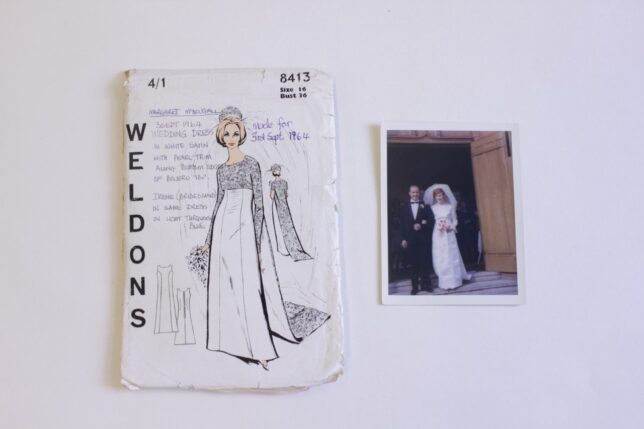 8. Variety of sewing patterns. Including for daily wear, pregnancy, alayette (preparing for a new baby) and kids. 50s and 60s. Donated by Mavis Allen & Margaret McDougal.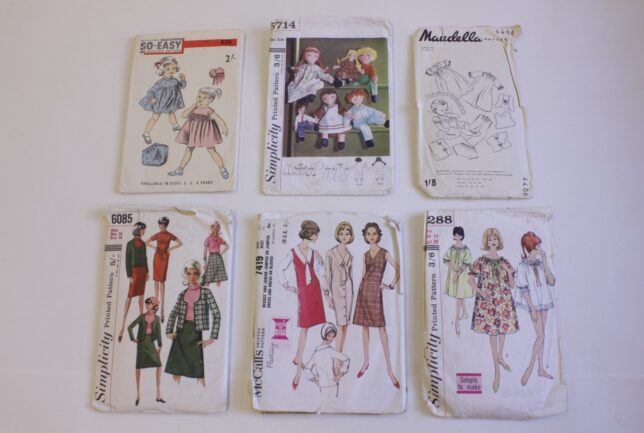 9. 'Safety Electric Iron' by Morphy-Richards. This thing weighs a ton! Not literally but probably not much lighter than an old cast-iron one. Light socket plug in indicative of its times.
10. Mortgage Documents. State for Settlement Letter & Payment Book. These documents indicate the social status of women in the 1960s as women could not receive a Mortgage for their home. The mortgage and payments of were under the Husbands name despite women being who managed the income and so the payments of such debts. Donated by Cath Barrett.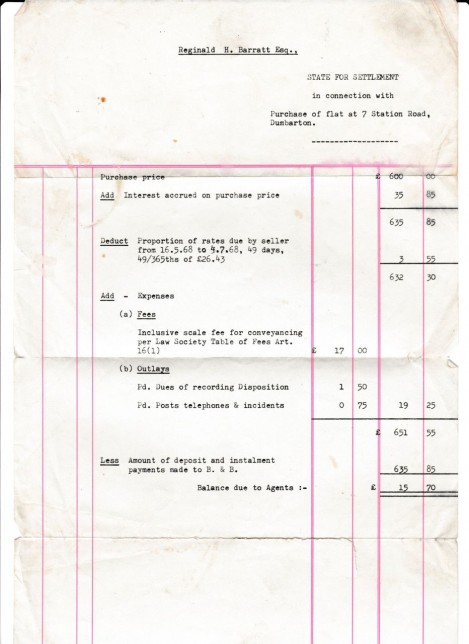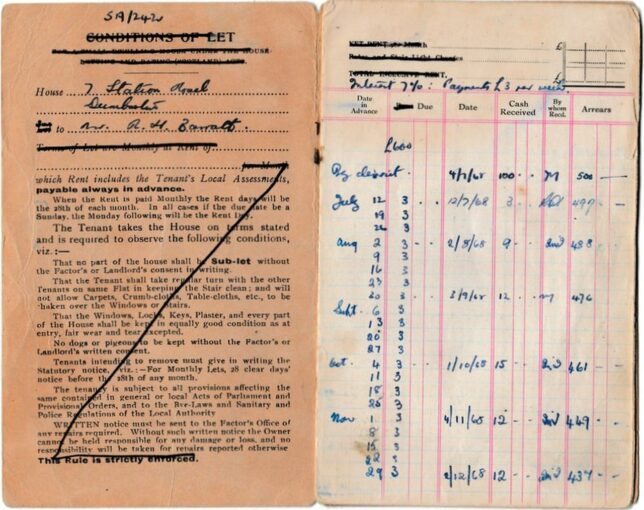 11. National Savings Book 1959. A scheme that provided an easy and safe way for ordinary women to save small sums of money, particularly during the initial peace times of the 1950s. Donated by Christine Walker.
12. Co-operative Members Share Book 1957. Co-operative Membership earned the women of these decades a dividend, or 'divvy' as was known, which was a share of the Co-ops profits based on purchases. Without hesitation these women can still recall and recite theirs, their Mothers and even their Grandmothers 'divvy' numbers off by heart today. Donated by Christine Walker.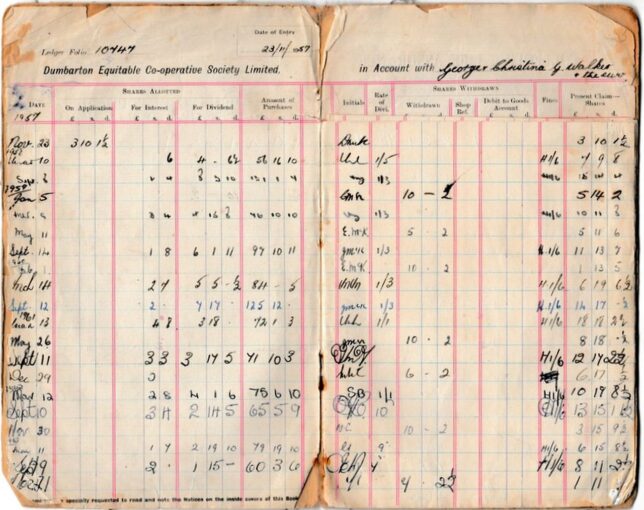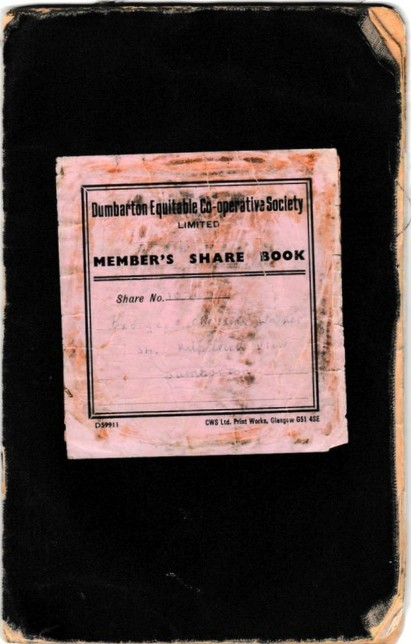 Find out about borrowing one of our memory boxes for your community or educational event by contacting Glasgow Women's Library on 0141 552 2267 or emailing morag.smith@womenslibrary.org.uk, or continue exploring the memory box online.