Our Women Making History in West Dunbartonshire memory boxes are full of artefacts and information about the lives of women in that area during the 1950s and 1960s.
1. Tweed pencil skirt, 1954. A present for Moira Salter, nee Tough, from her parents, Jack and Jean Tough when she graduated with a degree in Zoology. Bought at Forsyth's in Renfield Street in Glasgow.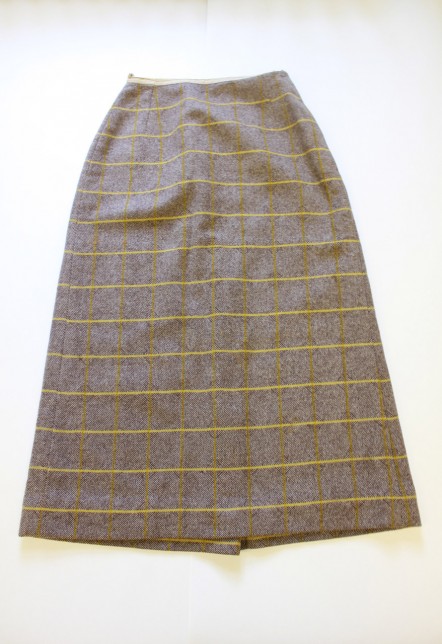 2. Gold stiletto shoes, 1950s. Made by Radella. These would be worn to the dancing but probably swapped on arrival for pumps, which would be easier to move around in.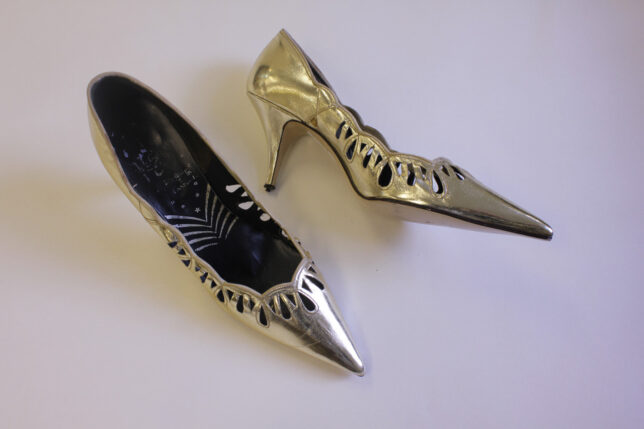 3. Black fake leather handbag with clip and inner zipper. All the rage in these times.
4. Clutch bag for evenings. Epitome of style.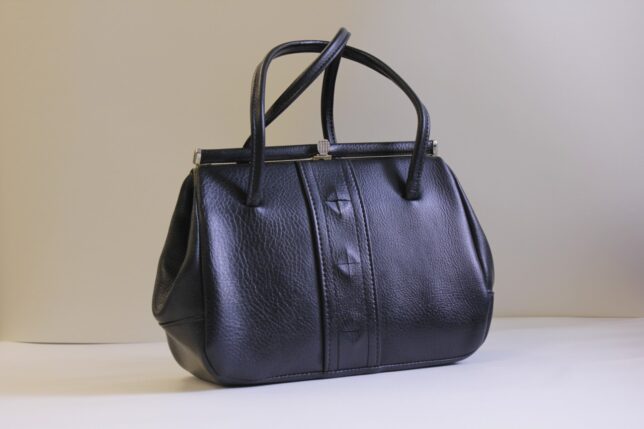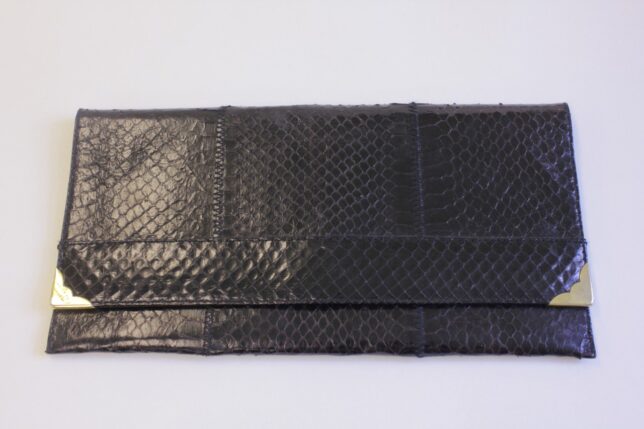 5. Beauty case with lotion jars and perfume bottles, hair-brush and comb, and everything for beautifying your nails.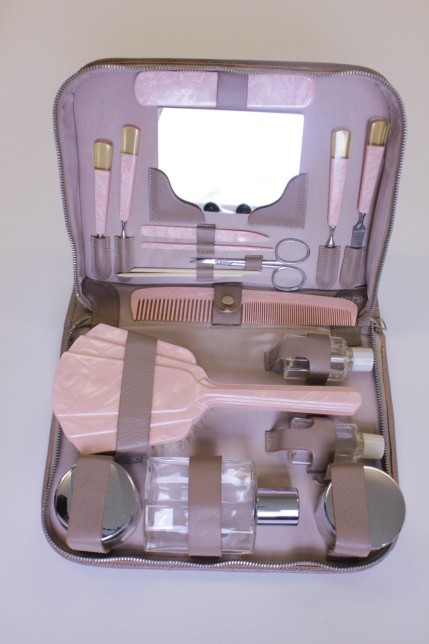 6. Early 1950's Emergency sewing kit for repairing stockings, with stocking thread, pins and safety pins, and additional 'Kirby' hair grips added by owner. On the outside it says 'A stitch in time saves ladders.' There were also shops you could take your damaged stockings into to have them repaired for you, one such shop was Mary Pollock, 165 High Street Dumbarton. Donated by Molly McGinley.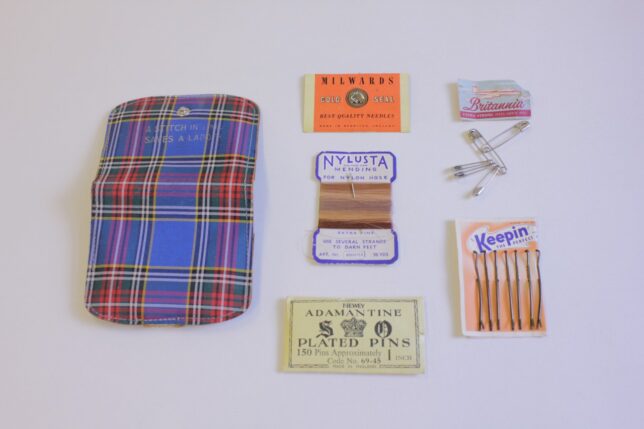 7. 'Noiseless' hair dryer made by Morphy-Richards. Repaired with sticky plaster to prolong its service. Reminiscent of hairdryers nowadays but the spirit and necessity of 'Make do and Mend' was alive and well.
8. Hairdryer by Neptric, 1950s. An ingenious and compact little gadget for use with a vacuum cleaner, despite having an attachment that looks like a light fitting. Donated by Sheila Roberts.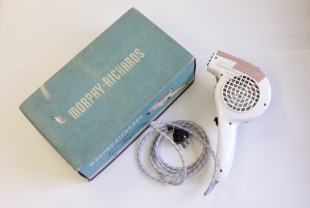 9. Dirndl skirt, 1950s. The skirt of the decade, this was worn for the dancing, often with a broad belt round your waspish waist which was secured with the buckle at the back. The look was changed only by wearing a different blouse. This skirt has a beautiful diamante button detail. A voluminous starched underskirt would also be worn underneath to make it stand out. You had to be careful how you sat down to keep your modesty.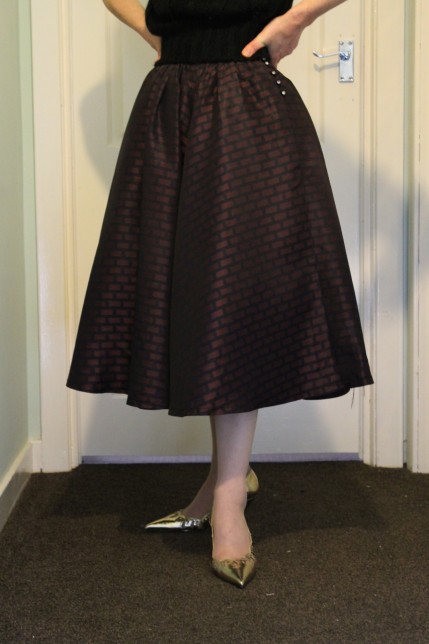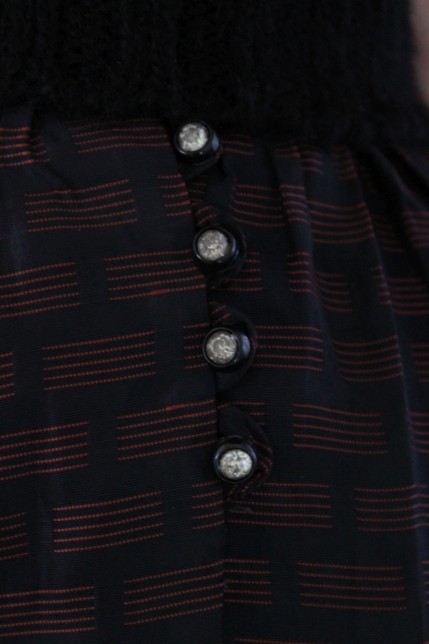 10. White kid leather gloves. Not practical items for keeping your fingers warm, these were about style, and this pair are teeny delicate little things.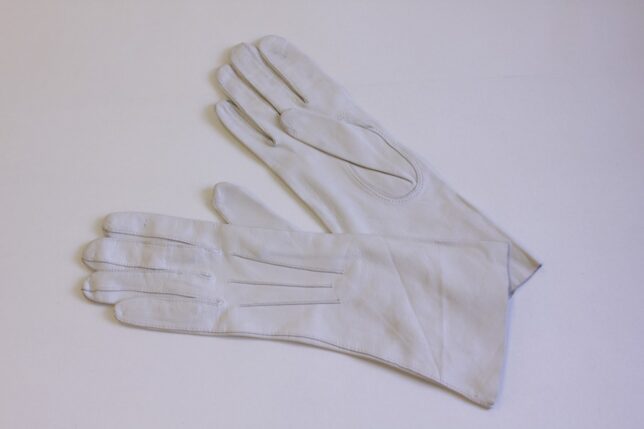 11. Bra with hooks, and girdle with clips for stockings. Undergarments not designed for comfort that's for sure as many women of the time expressed.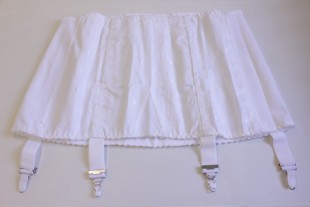 12. Blue & yellow hats with netting for a wedding or church. More decorative than practical.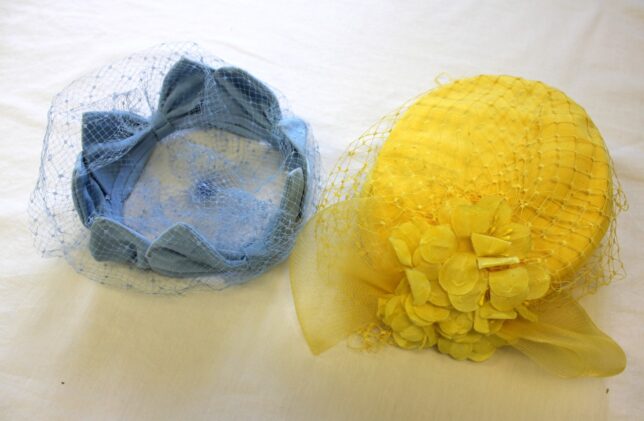 13. Turquoise homemade miniskirt skirt, 1960s. Made by Silvia Manser as indicated by the name label on the waistband. The iconic fashion symbol and must have of the 1960s.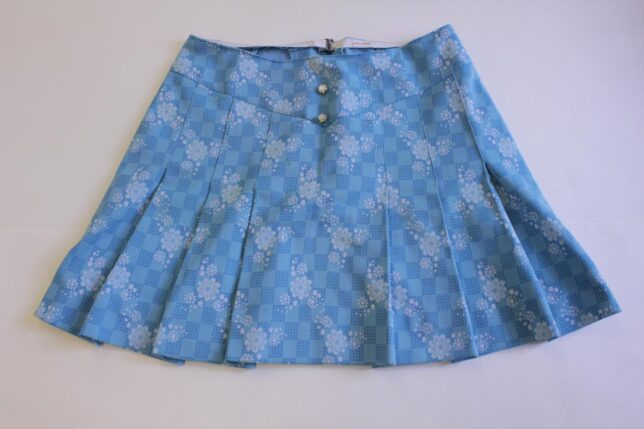 14. Waspi belts for wearing with skirts like the pencil or dirndl skirts. Narrowed and accentuated the waistline and the buckle would often be worn at the back.
15. 'Silk' scarves which would be worn round the neck or over the head and tied under the chin leaving a point down the back. Sometimes you'd wear it over your curlers until you arrived at the dancing, then you'd hurry into the ladies and remove both ensuring your curls were perfectly set for your 'ladies choice'.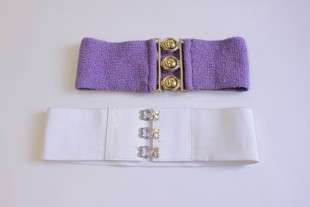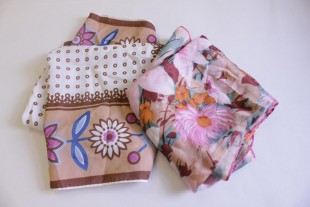 16. Bottles of perfume: Eau de Je Reviens by Worth, Muguet de Bois by Coty, Apple Blossom by Helena Rubenstein (Donated by Christine Walker), and a miniature of Evening in Paris by Bourjois. Donated by Christine Walker.
17. Clips and original box for setting hair. Donated by Sheila Roberts.
18. Curlers, net, hair tissues and pins, all for setting hair. Donated by Sheila Roberts
19. Selection of 3 beauty products. Fantasy bath cube by Morny, compact case for inserting choice of face power, and trial size of 'corn silk' face powder. Donated by Sheila Roberts
20. Ladies' razors, one still with box and spare blade. These are tiny and cleverly compact, everything fitting neatly inside. Donated by Christine Walker.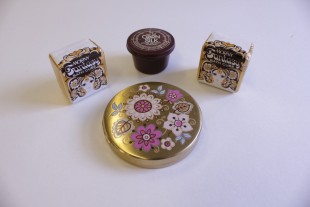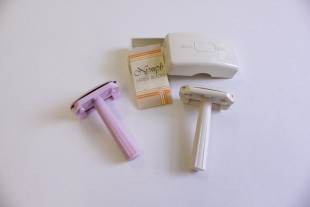 21. 2 pairs of stockings. DayLifeLong by Taylor-Woods (Donated by Molly McGinley) and 'Lucky Charm' (Donated by Mr Ben Vintage Clothing Shop Glasgow). These are gossamer fine, so delicate you'd be terrified to wear them, but they were the height of luxury in the early 1950's particularly.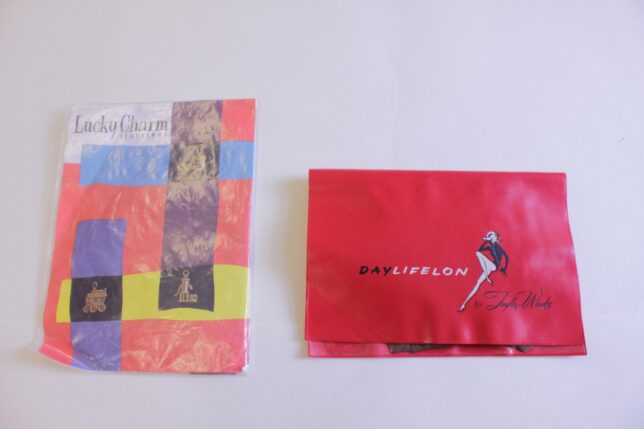 22. 1960s Carmen heated roller set with pins, conditioning lotion and instructions. Donated by Cath Barrett.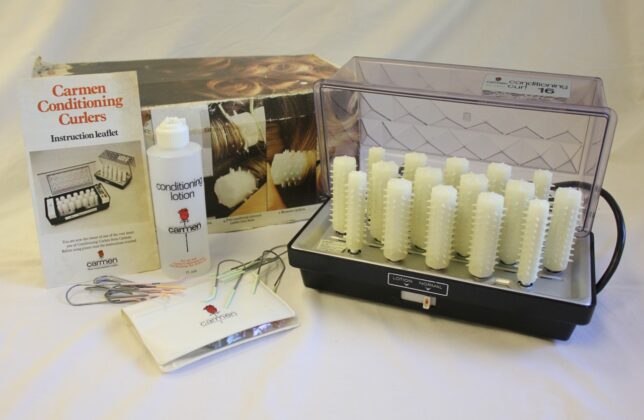 Find out about borrowing one of our memory boxes for your community or educational event by contacting Glasgow Women's Library on 0141 552 2267 or emailing morag.smith@womenslibrary.org.uk, or continue exploring the memory box online.