Our Women Making History in West Dunbartonshire memory boxes are full of artefacts and information about the lives of women in that area during the 1950s and 1960s.
1. Exam Result Certificate 1966. By late 1960's more girls were being given the opportunity to remain at school and attain Ordinary or Higher grade qualifications in academic subjects which was a considerable advancement from the young girls of previous decades for whom 'domestic' classes comprised their education in preparation for a life of domesticity as a housewife.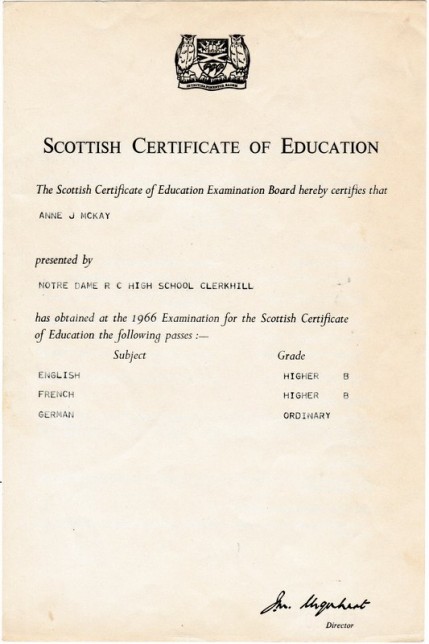 2. School Leaving Certificate. Girls left school aged 15 during the 1950s & 60s at which stage they would receive a 'Leaving Certificate'. For Nancy Macdonald her certificate indicates she left school to attend Day School which was to attain skills in secretarial duties which was one of the only main career opportunities available to young women at this time.
Find out about borrowing one of our memory boxes for your community or educational event by contacting Glasgow Women's Library on 0141 552 2267 or emailing morag.smith@womenslibrary.org.uk, or continue exploring the memory box online.