Description
To mark Glasgow Women's Library's 21st anniversary, the Library commissioned 21 women artists to create new work inspired by items and artefacts in our collections.
One of each limited edition will join the GWL Archive Collection, while the rest are being sold to raise money for the Library. This is your chance to buy an exclusive artwork and support the Library's work at the same time!
Shauna McMullan, 165 Stars, Found in GWL Lending Library, 2012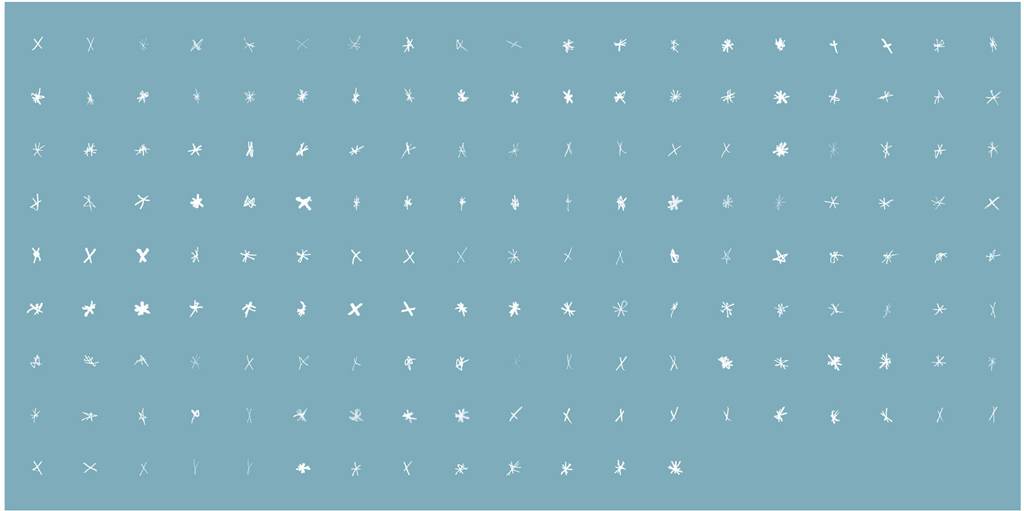 Digital pigment fine art print on paper
Shauna Mc Mullan combed GWL's lending library collecting the marginalia and specifically the asterisks and starred items from hundreds of the donated volumes. The resulting work, a piece composed of the marks made by women in the books that have ended up as part of GWL's collection placed on a blue ground resonates with recent work including Blue Spine and Something about a Word. In the former, Shauna worked with over 500 women in GWL's and her own networks to create a new composite temporary public artwork made from donated books by women with a blue spine and in the latter she worked with 100 people whose handwritten sentence about the colour blue was translated into an artwork that inscribed the 100 handwritten sentences into steel with the work installed in the Atrium of Eastgate, London Rd, Bridgeton, the neighbourhood of GWL's future home.
About Shauna McMullan
Shauna McMullan studied Fine Art in Cheltenham, England followed by a Masters Degree at Glasgow School of Art and The School of the Art Institute of Chicago. She has received a number of awards including a Scottish Arts Council Scholarship at the British School at Rome and residencies at the NIFCA (Nordic Institute for Contemporary Art) in the Faroe Islands and Triangle Artist Workshop in Karachi, Pakistan. Her work has been shown nationally and internationally at major museums as well as through permanent public commissions
Buy Shauna McMullan's 165 Stars, Found in GWL Lending Library now
This print is available for £250. You can arrange to pick the print up at GWL, or have it sent by post (£20 UK/£40 International). Please select the option you prefer from the drop-down menu above. You can also buy the print directly at GWL.
The print is also available framed for £325. We are not able to send framed prints by post – we will contact you when the framed print is available to pick up.