Open the Door 2021: Absence/Presence
20th May at 6:30 pm

-

8:00 pm

Free
Maud Sulter was an artist, writer and curator born in Glasgow. In this virtual workshop we'll learn more about Maud Sulter and her work. We'll look together at books and feminist magazines from GWL's library and archive that highlight some of the important Black feminist and lesbian projects Maud was involved with from the 1980s.
Absence/Presence, Thursday 20th May, 6.30pm to 8pm, Online, 16+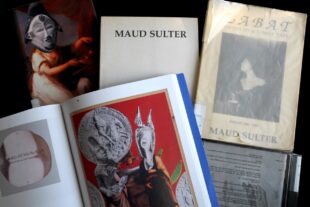 Led by writer and cultural producer Tomiwa Folorunso and hosted with Rhubaba Gallery and Studios this discussion-based workshop will include written exercises that focus on rewriting and reimagining archives. Presented virtually by Rhubaba, this workshop is part of their ongoing project on Maud Sulter which will feature a publication, exhibition, and public programme of events.
"This whole notion of the disappeared, I think, is something that runs through my work. I'm very interested in absence and presence in the way that particularly black women's experience and black women's contribution to culture is so often erased and marginalized." – Maud Sulter
This event is part of GWL's Open the Door women's writers festival. In our inaugural festival we honoured the work of Maud Sulter, alongside writers Catherine Carswell and Emma Tennant. This year we celebrate writers who are artists / artists who are writers and are excited to collaborate with Rhubaba to recognise Maud Sulter's work again in this context. See all our Open the Door events here.
Tomiwa Folorunso is an Edinburgh-raised, Brussels-based writer and cultural producer, and is currently studying a Cultural Studies MA at KU Leuven. Her thesis explores the experience of contemporary Nigerian diaspora and their relationship with their homeland. Tomiwa is Fringe of Colour FIlms sub-editor, has written for the Herald and contributed to the anthologies 'So Hormonal' (Monstrous Regiment) and 'Imagined Spaces' (The Voyage Out Press). Tomiwa was previously the Black Ballad regional editor for Scotland and in 2020, Tomiwa presented the BBC Radio 4 Documentary; The Art of Now: Black and Creative in Scotland. In 2021 she co-produced 'Welcome To' at Glasgow Film Festival, a programme of films and events challenging the belief that Black and Scottish people are not present in Scottish film and culture.
This event was previously listed as being led by Sekai Machache, who is no longer available. However, we are delighted that Tomiwa will now lead this workshop.
Rhubaba Gallery and Studios is an artist-run organisation in Edinburgh that provides studio space for twenty-two artists and practitioners across fifteen studios alongside an annual programme of exhibitions and events. It was established in 2009 in response to a gap in appropriate studio provision for recent graduates and through the desire to create a space dedicated to both the production and presentation of contemporary art. Rhubaba aims to give early-career artists the opportunity to produce new work in a discursive environment, work collaboratively with other artist-led initiatives and explore wider debates in contemporary art, bringing exciting and challenging works to Scotland. The programme is shaped by the committee members (currently Khadea Kuchenmeister, Laura Tully, Lindsay Boyd, Reba Martin, Freya Yeates and Natasha Ruwona) and is funded by Creative Scotland. The committee is joined by two Project Assistants working on our Maud Sulter project, Keisha Rowe and Rebecca Ayalew.
This workshop is one of our "take part" events this Spring.
Event Outline
6.30pm: Welcome
6.35pm: Introductions from hosts and participants
6.45pm: First writing activity
7.10pm: Group discussion with prompts
7.20pm: Break
7.30pm: Second writing activity
7.50pm: Final thoughts and session ends
Booking
This event is now fully booked. To be added to the waiting list, please email emily.ilett@womenslibrary.org.uk
The event is free and open to all (16+). To attend, please book below and we will share an email invitation with you.  If you would like to make a donation to Glasgow Women's Library, you can do so here. Please note that booking will close on Wednesday 20th May and you will receive your email invitation a few days before the event takes place.
Accessibility
This session takes place via an online video call link. If you would like to attend, please book below and we will share an email invitation along with simple and straight forward instructions on how this will work. If you have any concerns about how this will work for you, please do get in touch and we'll do all we can to support you in joining the session.
An automated live transcript using Otter.ai is available during this event. We also have a small amount of funding available to provide live captioning through Stagetext for some of our Spring events. Stagetext captioning is provided in-person and is therefore more accurate. Please get in touch with Emily on emily.ilett@womenslibrary.org.uk at least 3 weeks before the event if this would be helpful to you and we'll work to arrange this. See here for upcoming events where live captioning with Stagetext is arranged.
Related Events