Open Forum: Housing is a Feminist Issue
22nd September, 2021, 2:00pm

to

5:00pm

Free
Women have played a vital role in housing struggles across the globe. Presented in partnership with Living Rent, Scotland's tenants' union, this online workshop will explore housing activism as part of feminist struggle, with a focus on creative organising and union-building.
Open Forum: Housing is a Feminist Issue, Wednesday 22nd of September, 2.00pm to 5pm , Online
Six invited speakers will contribute short presentations on their experiences and research followed by collective feedback and more focused small group discussions. Our speakers include Kashfi Ahmed (Ubuntu Women Shelter), Elizabeth Blaney (Union de Vecinos), Meg Bishop (Living Rent and The University of Edinburgh), Kirsteen Paton (The University of Glasgow), Loa Pour Mirza (Ubuntu Women Shelter), Adebusola Ramsay (artist), Martha Rosler (artist and theorist) and Emma Saunders (Living Rent).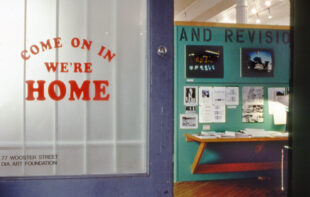 This workshop forms part of a programme of activities connected to Martha Rosler's If You Lived Here… (1989 – present) which has been re-imagined as part of the Life Support exhibition. This project prioritises women's experiences and highlights the central role that women have long played in housing struggles. The book associated with the original exhibition was dedicated to 'women around the world who organize their buildings and their blocks and their neighborhoods to secure decent conditions for everyone and to maintain a sense of place'.
Following Rosler's insistence that housing is a feminist issue, we will work together to explore topics including: how to move beyond 'resilience' narratives to instead build solidarity and care into organising strategies; the ways in which housings question intersects with racism, migration and legal status; and the relationship between art, gentrification and housing struggles in the 21st century.
Since its founding in 2014, Living Rent has fought for improvements in the daily lives of communities while also impacting policy at a local and national level.  The union's successes continue to build with the recent coalition deal between the SNP and the Scottish Greens featuring vital measures for tenants including promises for a national system of rent controls. This workshop will bring together a range of perspectives, encouraging connections both locally and internationally to unpack the realities of housing struggles and to inform future priorities.
Booking
This event is now fully booked.
This event is free and open to all. To attend, please book below and we will share an email invitation with you.  If you would like to make a donation to Glasgow Women's Library, you can do so here. Please note that booking will close at 12pm on Wednesday 22nd of September. 
*All women-only events are inclusive of Trans and Intersex women, as well as non-binary and gender fluid people who are comfortable in a space that centres the experience of women.
Accessibility
This session takes place via an online video call link. If you would like to attend, please book below and we will share an email invitation along with simple and straight forward instructions on how this will work. If you have any concerns about how this will work for you, please do get in touch and we'll do all we can to support you in joining the session.
Live captioning is also available at this event. Stagetext Live Captioning is available at this event. See all events with Live Captioning here.
This event will be recorded with presentations available afterwards on the Life Support and GWL website.



Related Events