Inspired by the "Volunteer Profiles" which featured in the GWL newsletters published in the 1990's and 2000's, we're introducing some of our current volunteers, to highlight how they support our work and why they do it.
This is Anabel's story….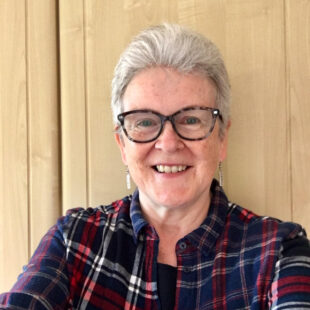 After deciding at the age of 8 or 9 to be a librarian (for all the wrong reasons – I thought I could read all day) I stuck with my career choice and happily spent 35 years in a variety of public and academic libraries. In 2012, because of the closure of the library I worked in, I faced a stark choice and took the path of early retirement. However, I wasn't quite ready to hang up my metaphorical date stamp, and eleven years later I still describe myself as a librarian thanks to Glasgow Women's Library.
Yes, GWL was the first place I headed to volunteer, and I became part of the cataloguing team, adding books to the Heritage computer system so that library users can find and borrow them. This is an aspect of library work I'd never been interested in before, but now I find it very enjoyable – the output is so measurable apart from anything else: looking at my pile of catalogued books at the end of a session is extremely satisfying.
GWL also helped me to rekindle an old interest. It's 45 years since I completed my undergraduate degree in history and, although occasionally useful for library enquiries, history was never again a big part of my life until I became a guide on GWL's women's history walks. This led me a to take on a similar role with Maryhill Burgh Halls near my home, something I probably wouldn't have considered without the experience at GWL. I really enjoy researching women's history and presenting it in tours and talks: it's been life-enhancing.
These are the two main areas I have worked in but, of course, once you start at GWL you will always find other opportunities to get involved. I've helped at stalls and events, led a Story Café, taken part in dramatic events such as March of Women, and many more things. As one of the longer standing volunteers, I've also had the privilege of training and mentoring new volunteers in my fields of expertise.
So although I came into GWL with a specific skill-set in libraries and history which I am still using, those skills have grown and developed in ways that I have sometimes found surprising. For example, I would not have guessed that I had the patience to be a cataloguer or the confidence to be a public speaker and performer. GWL has taught me that I have both, but it's not just the skills that are important. Above all, I feel that I am still part of a team, something that I knew I would miss enormously when I retired. GWL is the most supportive environment I have ever worked in, and I have made some wonderful friends through it. I hope in another eleven years you will still find me in the library surrounded by a pile of books, or tramping the streets of Glasgow telling folk about all the fabulous women who were not on my curriculum 45 years ago.
This blog post is licensed under a
Creative Commons Attribution 4.0 International License
.