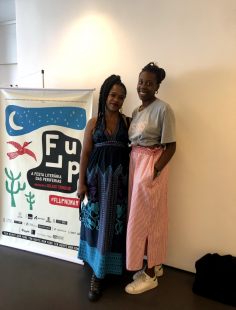 In this first episode of Glasgow Women's Library and FLUP the podcast, Tomiwa Folorunso sits down with author, curator and lecturer Dr. Natasha A. Kelly. From Rio de Janeiro they discuss Natasha's activism, her work as an academic, artist and what it is like to exist in this world with a black body.
Transcript
If you'd like to read a transcript of this podcast episode, you can download a word version here.
Find Out More
Natasha A. Kelly: http://natashaakelly.com/about-me/
Natasha's Edinburgh Film Screening (Milli's Awakening): http://www.rhubaba.org/only-nothing/
Tomiwa Folorunso: https://www.tomiwafolorunso.com/
Tomiwa's Blog Post about FLUP: https://womenslibrary.org.uk/2019/11/25/gwl-x-flup/
FLUP: http://www.flup.net.br/flup2019/
This podcast was produced with kind support of the British Council.
Listen

Podcast: Play in new window | Download