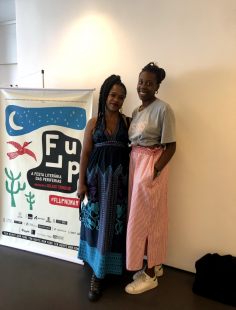 In October, members of the GWL team headed to Brazil to attend FLUP, a literary festival that takes place in Rio de Janeiro. This trip was made possible thanks to funding from the British Council. Here Tomiwa Folorunso reflects on her time at FLUP.
When I first accepted the offer to head off to Rio de Janeiro, Brazil with Glasgow Women's Library, I thought writing this reflective piece would be the easiest part. It is however, proving the most difficult, how do you reflect on an experience that was a reflective experience?
FLUP is a Literary Festival for the Peripheries, a literary festival for those on the edge and the margins of cities and communities. This year's eighth edition of FLUP took place over four nights and five days in the Rio Art Museum (MAR). In an area of the city called 'Little Africa'. By the name, I assumed this area would be bursting with Afro-Brazilian restaurants, shops and people but I soon learnt this name was a tribute to Brazil's hidden history. During the Atlantic slave trade, Little Africa was the one of the final destinations for the Africans who had survived the inhumane conditions of the slave ships.
For FLUP to not only just take place in Rio but to physically take up so much space in an area of the city that has time and time again been rebuilt on the pain and suffering of the enslaved, to celebrate Black womxn, felt pretty revolutionary.
I watched and listened to Black womxn from across the African Diaspora share their knowledge, research and experience on navigating the world with a Black body. I learnt so much that I'm still thinking about.
And every night I felt so seen as I watched sixteen Black poets, under the Brazilian night sky take to the stage to share their pain and their hopes and dreams, their fears and their lives and themselves. They shared so much of themselves and I feel so grateful to have been able to see that.
I told you this was a hard one to write, but maybe come back to me in a few months. FLUP was magical and part of the reason I can't quite get my words out on this one is because it was a very personal experience in a very public space.
To begin to understand, have a listen to this poem 'Black Girl Magic' by Mahogany L. Browne: https://www.youtube.com/watch?v=ftnt8AU_4L4