My name is Rhia, and I'm currently working on my master's degree in Gender Studies at Stirling University, and diving into the archives here at Glasgow Women's Library. As part of a project with Glasgow Women's Library, I'm investigating the ways ephemeral items are considered in the archives.
I'm especially interested in asking "How does something end up in the archive?" In this blog, I am going to take a look at one collection of ephemera, and discover what it can tell us about the woman whose life it reflects – Dorothy Dick. Dorothy's life is a story told in images and papers which detail her joys and achievements from childhood, and tell a story as distinct as it is rich.
The collection came to the library as a donation and Nicola the archivist told me that Dorothy's items came to the library with the information that Dorothy had been a pupil at St Leonards School, from a donor whose mother had been a friend of Dorothy's. Very little else was known about the collection at the time, and with limited information, it seemed likely that the collection would have been a clearer fit for an archive related to the school Dorothy had attended.
It was only in the process of organising and cataloguing the items in the collection, that the archivists discovered that Dorothy Dick had been an ambulance driver during the second world war. Her commission letter (pictured) shows the beginning of a career of driving ambulances to attend air raid casualties in Glasgow, during the busy period of the war, which sealed the collections place in the library's archives.
While its important to make sure that the archive doesn't hold collections and objects which are more relevant to another organisation, Dorothy's history is significant to the archives here at Glasgow Women's Library especially because she worked and lived in Glasgow for a large portion of her life. Included in the collection are documents from the Air Raid Precautionary service, confirming Dorothy's acceptance as an ambulance driver in 1939, at the start of the Second World War, and photographs of Dorothy learning to drive and posing for photos in her full ambulance driver's uniform with a dog named Towser.
The collection also holds some of Dorothy's training literature – a copy of the Red Cross First Aid Manual and a Nursing and Hygiene Handbook both give details of conditions and diseases she might have encountered, ranging from bumped heads and cuts or infected wounds to diseases like smallpox, a dangerous virus which no longer exists, thankfully. The books provide a window into the rigorous training Dorothy would have undertaken in order to do what was certainly a dangerous job.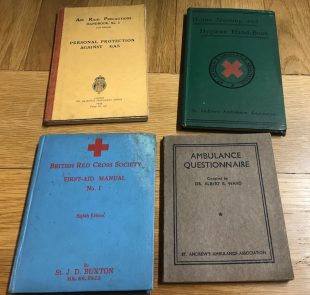 With its Clyde-side heavy industry, during the second world war Glasgow was a target for aircraft looking to disrupt the British and allied armed forces, and so the city would have been on high alert every night during the worst years of the war.
Beyond her work as an ambulance driver, Dorothy was a keen animal rights activist and a lover of dogs. Throughout the collection are photos of dogs, lovingly posed. From Mitchel, the house dog from Dorothy's time at St Leonards School in St Andrews, to Frisko, who appears to have been Dorothy's last dog, there is no shortage of photographic evidence of Dorothy's love of dogs. Collections of photos even show Frisko dressed in some tailored doggy clothing, which would make even the best dressed pets of today jealous.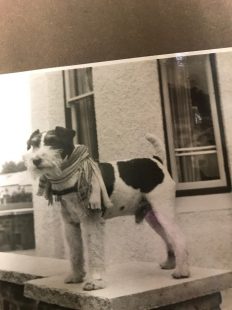 Frisko most of all was clearly a beloved pet, and Dorothy even signed him up to the Scottish Tail Waggers' Society, a humane society, who worked alongside the Scottish Society for the Prevention of Vivisection in working to register and buy licences for dogs in Scotland in order to prevent unclaimed lost dogs from being given to laboratories. This activity was part of a much larger movement which would eventually end vivisection of dogs in UK laboratories. Dorothy's registration subscription for Frisko would have provided a small part of funding which led to that big change.
Dorothy's collection gives us an exciting chance to explore the life of a woman who was doing a dangerous and exciting job at a pivotal point in history, and lets us frame her fascinating life with details which can tell us so much about who she was when she wasn't driving during the air raids of the second World War. A life lived in pictures, Dorothy smiles at us from various moments in her life, and her pets and children smile out at us too. When we are thinking about archives and museums collections, it becomes very easy to think of the lives and stories represented there as being removed from our own, and yet as the familiarity of the Dorothy Dick collection demonstrates, that separation is often our own creation. For a closer look at the Glasgow Dorothy would have driven around, why not come along to the library to see "Lizzie, Lady of Hozier Street"? Based on true events, the play tells a story of life in post-War Bridgeton, with performances on May 31st and June 2nd.
If you're interested in finding out more about what kinds of materials there are in the archive here at Glasgow Women's Library, head over to the archive home-page and get searching.