All those tuned in to Lauren Laverne's show on BBC Radio 6 Music a few weeks ago will have heard the familiar tones of our excellent Makar and friend of GWL,  Jackie Kay, revealing the location of this year's 6 Music Festival:
"Glasgow – gallus, glitzy, fu o' grace. This city's
Heartbeat's your own. Art in its DNA. No self-pity."
Gaun yersel'! The festival, now in its 4th year, will be making use of some of the city's most vibrant sectors to showcase bands, artists, poets and comedians to loyal pilgrims from far and wide. If you missed out on tickets, never fear! Here at Glasgow Women's Library we thought we'd give you a taste of some of the banging female performers and complement them with some of our own offerings to celebrate what will surely be an amazing weekend in a very special city.
Girl Ray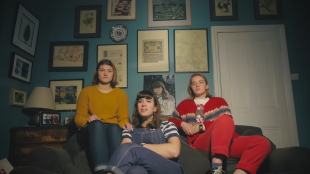 Bringing some summery indie pop to the Barras is North London lady trio, Girl Ray. Their recent release 'Stupid Things' is despondent and self deprecating in a fuzzy, catchy kind of way, and it'll be great to see which hits they bring to showcase alongside Cate Le Bon, Dutch Uncles and Duds on the Friday night slot at St. Luke's.
If you feel like exploring Merchant City from a different perspective, why not wander round our Women's Heritage Walk? It incorporates GWL's former premises as well as Strickland Press, a publisher set up by two swashbuckling anarchists. Pop into the library to pick up a leaflet or download one here.
Victoria McNulty & Cat Hepburn
Spoken word poet and performance artist Victoria McNulty will be sure to deliver some thought-provoking lines in her Sunday daytime slot at Tramway. Her brilliant poem 'Coffins from Derry' is a hard hitting message of solidarity to refugees and well worth a listen. She'll be appearing alongside Cat Hepburn, who's 'Love Letter to Glasgow' is sure to give you a hit of nostalgia and pride for the good city.
We at the library love to showcase poetry both written and spoken. If you're out and about on Saturday 25th March, do come along to the launch of 'House of Three', a new poetry press featuring established and emerging voices from the world of women poets. It's a free event with plenty of readings and, as ever, probably lots of tea. 
Sacred Paws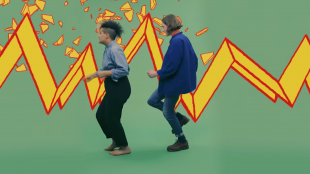 St. Luke's on Saturday night will play host to those coolest of cats, Glasgow/London duo Sacred Paws. The novel layered vocals and punchy riffs of their most recent album, 'Strike A Match' are proper great, if you don't catch them this weekend, keep an eye out for upcoming Glasgow gigs. 
If you want to witness some more creative efforts of the talented women of Scotland, come down to the library to see the current touring exhibition 'When the Light Shifts'.  
Julia Jacklin
Whoever masterminded the formidable touring partnership of Whitney and Julia Jacklin, I applaud them. Laced with bittersweet, youthful romance and the highs and tragedies of growing older, Jacklin's lyrics glide between themes of familial femininity and post-adolescent womanhood. Ranging from the dreamy clean guitars and introspection of 'LA Dream' and the boisterous pop of 'Coming of Age', her first album is an excellent one. She'll be playing the O2 on Sunday night.

Keen for some Sunday tunes and food for thought but just can't shake a leg? Let yourself be roused from slumber by the sizzling aroma of GWL's Sunday Brunch takeover on Subcity Radio on 26th March.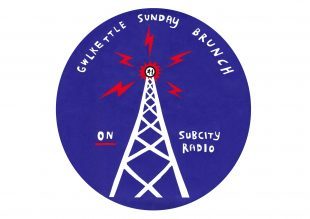 As ever, we love to see new faces at the library, so if you're only in town for the weekend, be sure to come and say hello at 23 Landressy Street, Bridgeton. Have a great festival all!