Thank you to everyone who helped us to make the Suffragette Oak Scotland's Tree of the Year! Below is the information about the competition, and to see photos of the GWL team at the award ceremony please visit the Woodland Trust's website.
This year we nominated the Suffragette Oak for Scotland's Tree of the Year and it is one of the six finalists in the annual competition which searches for the nation's best loved tree.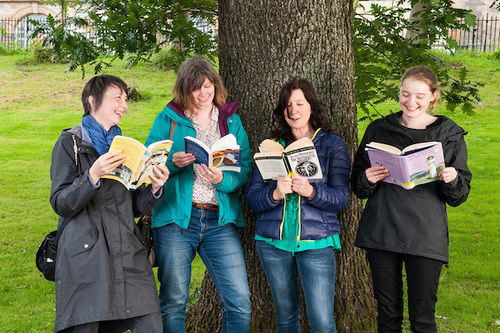 Earlier this year a group of GWL staff and tour guides visited Kelvingrove Park for an unusual photo shoot with the Suffragette Oak all in the name of celebrating Scotland's Trees. We are delighted to announce that the Suffragette Oak has successfully reached this year's finals.
Now we need your help to give the Suffragette Oak the recognition of Scotland's Tree of the Year by voting for this much loved tree online here.
It's fast and easy to vote – just select 'Suffragette Oak Glasgow,' at the end of the voting page and submit your vote! The winning tree will compete against trees from all over the Continent for the title of European Tree of the Year, organised by the Environmental Partnership Association.
There are five other trees nominated for Scotland's Tree of the Year so do read about them on the webpage, below is more information about the Glasgow Women's Library Nominated Suffragette Oak.
Suffragette Oak, Glasgow
Oak, nominated by Glasgow Women's Library
This relatively young oak within Kelvingrove Park is a big part of the history of Glasgow's women. It was planted by suffrage organisations on 20 April 1918 to commemorate the granting of votes to women.
Beside the tree is a beautiful plaque, placed by Glasgow District Council in 1995. It is a favourite spot on the Glasgow Women's Library West End Women's Heritage Walk.
To read more about our Women's Heritage Walks which we programme throughout the year to highlight the hidden heroines of Glasgow please visit our events page here.