Every year Glasgow, and many other cities across the country,have a doors open day event and this year the library was able to host it's event at it's new home in Glasgow's East end.The day was quite simply a phenomenal success. There was over 100 visitors throughout the day all of whom seemed extremely interested in the fast approaching move to the East end and the work the library does. There was a huge variety of visitors some whom had never heard of the library before and some who had been planning to visit for sometime.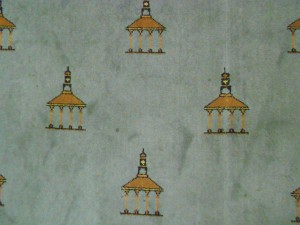 Furthermore many of the people who came to the open day event were regular visitors to the old Bridgeton Library, which was once located in the libraries new premises. It was fantastic hearing old stories about the building and learning about it's history.One interesting fact that we discovered was that the carpet featuring the Bridgeston Umbrella in the space, which will soon be home to the library's book collection, was made in the historic Templeton Carpet Factory. It was lovely finding that the building seemed to be a beautiful piece of east end history and to find that the visitors seemed enthusiastic to see what the Glasgow Women's Library could do with it.
Throughout the day we asked visitors to leave comments about how they found the library's event, all of which were positive. Many of the people who commented had never been to the Glasgow Women's Library before, some not understanding why a women's library even existed, but by the end many of them seemed intrigued by the numerous projects ongoing at the library and excited to see what it would be like once the library has fully settled into it's new home.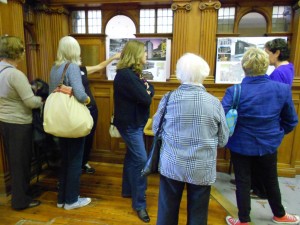 There was information about all the library's projects at the event either through leaflets or the videos that were playing throughout the day and I don't think any of them didn't have at least one person who seemed curious about them. It was fantastic to see people watching the videos with genuine interest in the immense amount of work that had been done at the library. It was also lovely simply being asked so many interesting questions about the different projects and the library's history. You know people are interested when they ask you questions that are so in-depth you actually have to think about them yourself before you're able to answer.
From a volunteer's perspective, who was visiting the new premises for the first time, it was extremely exciting seeing all the possibilities that the library will have in Bridgeton. Since the open day it has also been nice spotting visitors from that event appearing in the library to find out more. It is nice to see that we did really spark a rather significant interest in the library.