Once again, it has been a busy couple of months since our last update. There have been many wonderful donations to the Collection, including lots of badges for our Badges of Honour project. Our fleet of Oral Histories volunteers are working on the stories captured for Badges of Honour and we're looking forward to making them available in the near future. You can get a sneak preview of some of the women interviewed for the project, so far, here. Back to the accessions and here are some of the highlights from the past couple of months:
Bout programmes from Glasgow Roller Derby League, showcasing their matches from 2012 (ref no: 2013-46)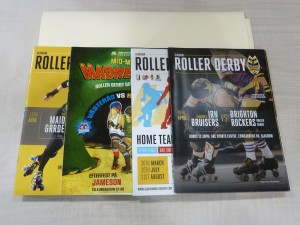 Delphine Dallison's Glasgow School of Art degree show 100 Stories about Women in Glasgow (ref no: 2013-57)
Additions to our Zine collection, including Yuck and Yum, TYCI and the latest issue of Hens Tae Watch Oot Fur (you can purchase your own copy of Hens from the website here)
All of the latest additions to our Collection are being carefully packed up as GWL prepares to relocate to its new home in Bridgeton. Stay tuned for more updates as the Collections will be working on listing the Collection post-move!
We are always looking for new material to add to our archive and museum collections. To find out more about donating material, click here.