It has been one of our busiest years for acquisitions – and it's only March! Since January, we have received over twenty donations to the museum and archive collections. Here are some of the highlights:
Mary Gordon knitted this scarf to celebrate One Billion Rising; a campaign that took place on the 14th February. It was pioneered by Eve Ensler to bring attention to violence against women across the world.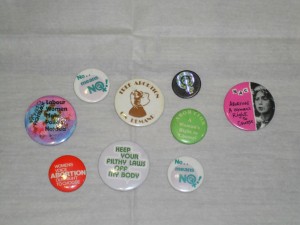 This lovely anonymous donation of badges was posted into the Library early March. It's a great addition to our extensive badge collection that includes badges ranging from campaigns, such as the Poll Tax and the Scottish Abortion Campaign, to dancing medals. Are you the person who sent in these badges? We'd love for you to get in touch, especially with our upcoming project Badges of Honour.
We also received some acquisitions to our collection of personal papers. Rosemary Manning (1911-1988) was known for her semi-autobiographical novel, The Chinese Garden, and the Dragon series of children's books. We were delighted to acquire her collection and the Collections Team is looking forward to cataloguing Rosemary's papers over the coming months.
We are always looking for new material to add to our archive and museum collections. To find out more about donating material, click here.