On Monday 29th October, the eagerly anticipated Music and Liberation exhibition opened at the Library. The exhibition has been curated by Debi Withers, one of the women behind the Women's Liberation Music Archive. Here she gives an account of the exhibitions journey so far. You can meet Debi at The Message was in the Music on Saturday 3rd November from 1.30pm at the library. 
Music & Liberation has arrived at the third destination on its UK tour: the Glasgow Women's Library. It has been really interesting to see how the exhibition has changed as it has made each venue its temporary home. In Cardiff, being able to use all three of the Butetown History & Arts Centre's light galleries gave the exhibition plenty of space to show off the images and exhibition boards. In Manchester the exhibition took on a more rugged, improvised feel, as we transformed the corporate shell of Three Piccadilly Place into an impromptu display of women's musical heritage. We propped objects on crates and used whatever we could find to help present the material to audiences.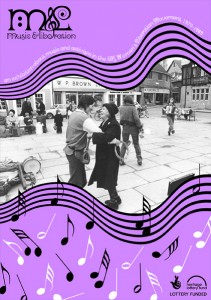 In the Glasgow Women's Library the exhibition has changed yet again. Displayed in the homely and busy space of the Library, every available piece of wall and bookshelf has been used to accommodate the pictures and exhibition boards. This means the exhibition materials are integrated in the library, as artefacts are placed next to books, enticing visitors into surprise engagements with the musical histories featured in the exhibition. The environment of the Glasgow Women's Library is ideal for part of my vision for Music & Liberation: to create a space where people can spend a good amount of time watching, listening, reading and looking at the materials that have been collected for the Women's Liberation Music Archive.
Included in the exhibition are five oral history films collected especially for this project. The memories of Maggie Nicols, the Fabulous Dirt Sisters, the York Street Band, Jam Today 3 and Siren Theatre Company are animated by these films, which were shot and edited by London-based filmmaker, Emma Thatcher. Films that include rare archive footage of acts such as Veronica 4 Rose (featuring the Mistakes and Friggin' Little Bits), Silk Sow's Ear (featuring Sista Culcha and Ginger and Spice) and In Our Own Time by the Bristol Women's Music Collective, are also available to watch. There is a series of audio oral history interviews with the folk singer Frankie Armstrong, Ruth Novaczek who was in Abandon Your Tutu and the Real Insects and Angie Libman, member of the Northern Women's Liberation Rock Band.
There is plenty to read too – publications relating to women and music, such as Woman Sound, Drastic Measures and Hot Wire, and articles about music in iconic feminist publications such as Shocking Pink and Spare Rib (including one by Rock Against Sexism founder Lucy Whitman/ Toothpaste) are available to read on music stands. A collection of ephemera, such as personal diaries, songbooks, letters, account books, manifestos, badges and workshop notes are also displayed, along with musical objects like clogs, rhythm sticks, knee cymbals and drums.
Finally, of course, there is music. Music & Liberation contains all of the music featured on the Women's Liberation Music Archive and more. A large amount of the music has never been released officially, and you will no doubt encounter many bands and performers you have never heard of before. Hi-Jinx, Sadista Sisters, Ova, Proper Little Madams, Bright Girls, Stepney Sisters and No Rules OK are just some of the bands featured, as well as the other acts mentioned in this article. There is also a unique opportunity to listen to the processes of feminist music making, as there are a recordings of practices, live shows and improvised performances. We are lucky to have live recordings of the Feminist Improvising Group and Contradictions, some of the only documentation of these ground-breaking collectives.
You can also take the exhibition home with you should you wish to. There is a postcard set featuring images from the exhibition, and a CD, Music & Liberation: A Compilation of Songs from the Women's Liberation Movement, which is only on sale during the tour.
Music and Liberation remains in Glasgow until the 24 November before it heads south for the London leg. Hope you can make it down to the GWL to see it!
The exhibition will be accessible Monday – Friday 09.30 – 16.30 and will be hosted at GWL until Friday 24th November. Come down and see it before it goes off on its travels!