July's Archive Item of the Month has a sporting theme to it. Elaine, one of our volunteers, explores the fascinating travel album of Elaine Frances Burton and her many achievements.
Archive Item of the Month
Celebrating Women in Sport
In relation to the much anticipated Olympic Games in London this summer, this month's archive item of the month is an autobiographical album of photos,
newspaper articles and tourist memorabilia of the sports figure and leading politician, Elaine Frances Burton, Baroness Burton of Coventry, documenting her three month tour of America in 1948.   In an article in a Massachusetts newspaper on 4 March 1948 during her tour, she is described as "a teacher, settlement worker, public relations consultant" and "a sprinter of world championship standard and a hockey-player for her native county of Yorkshire." Add to this, by her death in October 1991, her achievements of being a published writer, an ardent feminist, a Labour politician, inventor of a card game (yes, really!), a founding member of the Federation of Business and Professional Women and also the newly constituted Sports Council, and a Social Democrat spokesperson in her later life, it would be fair to comment that she was not only a champion in the sports arena, but also in the political arena too.
Elaine Frances Burton was born on 2 March 1904 in Scarborough, Yorkshire, as the only child of Lesley Aubrey Burton and his wife Frances Butler. Although it is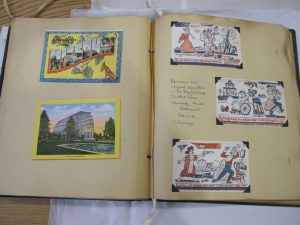 not clear how close her relationship with her father was it was believed that it was he that gave her a lifelong enthusiasm for sports, being himself a hurdler in the 1908 Olympics Games. By 1919 she had won the 100 yards sprint at the Northern Counties Ladies' Championships in Manchester aged just 16, but from the beginning sports was never her only priority, she also wanted a career out with the sporting arena.  She studied to be a teacher in Leeds City Training College and taught in primary schools and evening classes in Leeds from 1924 to 1935, where she also coached city sports teams and represented Yorkshire in hockey and cricket. However, her sports and political life from this point up until her tour in America seem to coincide with each other, with her political career perhaps taking first place.
From 1937-9 she founded the National Fitness Council and during World War Two she was also a founding member of the Business Federation of Business and Professional Women.  She stood as a Common Wealth Candidate in 1943 which she lost to a Labour Party victory and it was at this point that she switched her alliance to the Labour Party, along with other Common Wealth members, to form a united front against the Conservatives. It was shortly after her return from America that she finally won a seat in Parliament in the constituency of Coventry South in 1950, holding the seat for 9 years.
The album is a delight to look through as she has kept postcards, tourist information leaflets, newspaper articles, dinner name cards and even her tickets to and from her passage from Southampton to New York.  Her travels in America see her go all round the country, from her arrival in New York City on 1 January 1948 to Washington, Chicago, Massachusetts, Kentucky and Ohio, then back to New York for her journey home, where she arrives on 26 March.  Throughout her journey she appears in a series of lectures, talks and visits to different towns and cities promoting the idea that women working in the domestic sphere should receive relevant training of six months, thus qualifying them in skilled employment to increase their wage and move them further up the employment ladder. Looking through the American newspaper reviews and articles about her visits it is clear that her arrival is positively received and her sporting achievements are almost always mentioned, describing her as a woman of many talents and accomplishments.
Elaine Frances Burton was an incredible woman who contributed greatly to both the sporting world and the political world in Britain, changing the rules allowing women to wear shorts in sport and wear hats in Parliament, shows that she was determined and influential in both aspects of her life. She died, unmarried, on 6 October 1991 at her home in Seymour Place, Westminster, leaving an unforgettable legacy behind her.